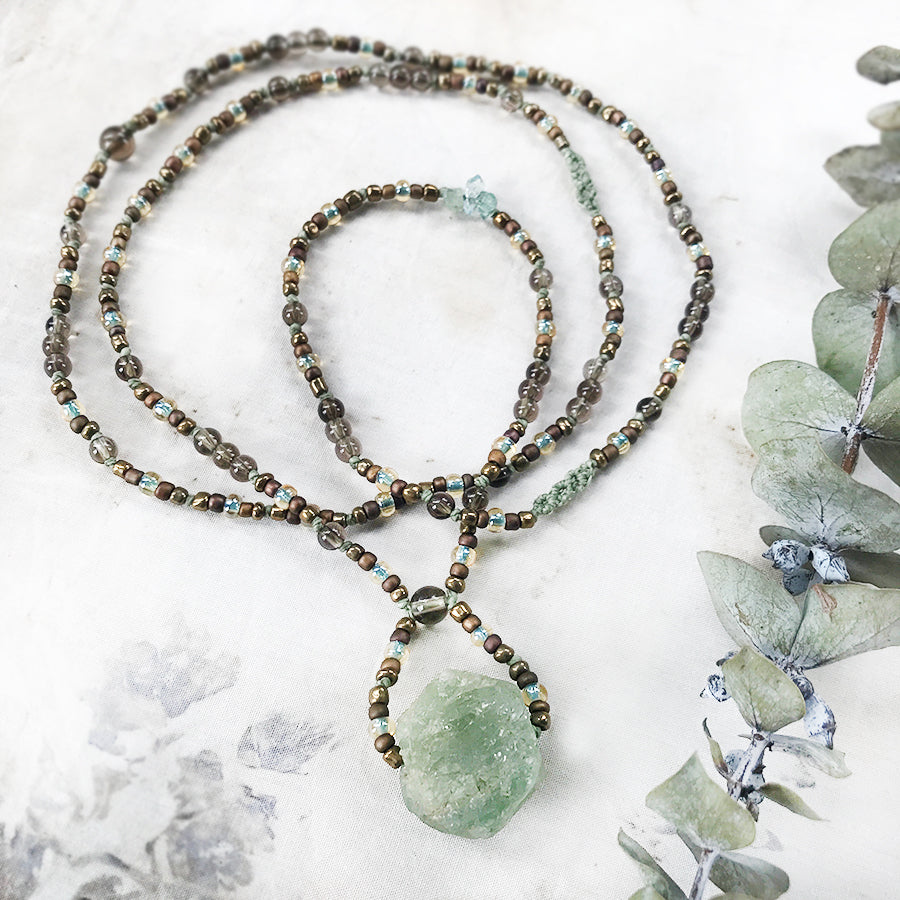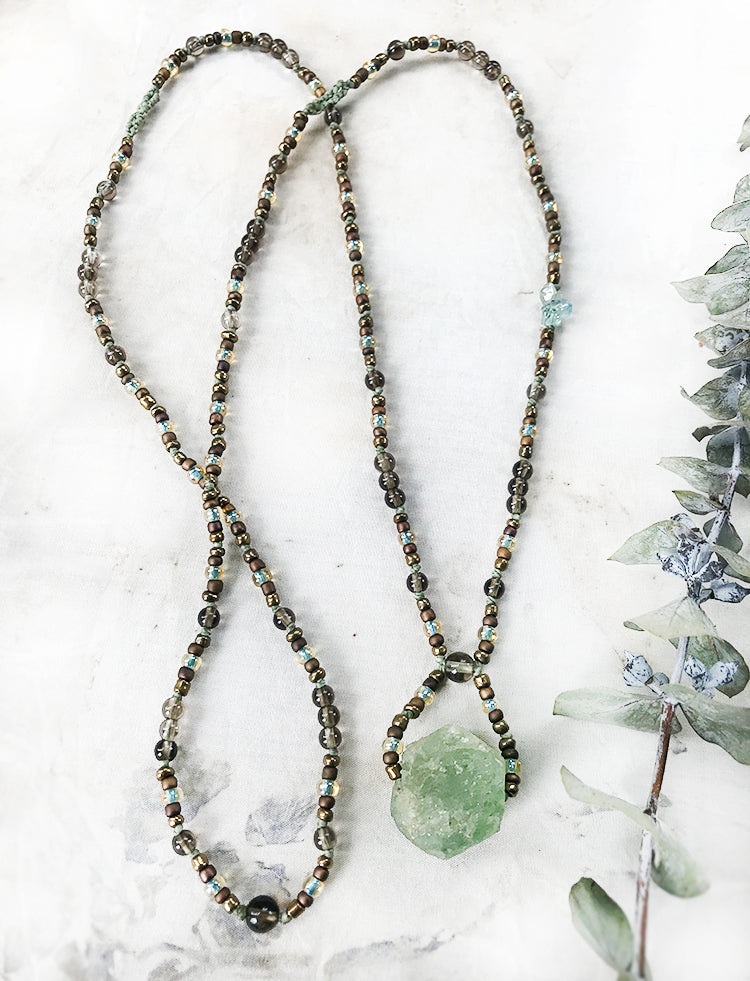 Aquamarine crystal healing necklace
DESCRIPTION
Crystal energy necklace with a lovely raw Aquamarine, roughly hexagonal in shape. The necklace is beaded mainly with tiny glass seed beads in matte brown and gold tones combined with Smokey Quartz crystals, some subtle macrame knotting and a floret of small Aquamarine crystals adorning one side of the necklace. This long, stylish pendant can be worn either by itself for a minimal look or combined with other talismanic necklaces for a more bohemian feel.
The necklace is set length with an all-around measurement of 80 cm (31.5")  so it simply slips over your head without the need for a clasp - simple and easy to wear daily as the colour tones are also quite neutral to match different outfits. The Aquamarine is just over 2 cm (0.8") tall and also approx. 2 cm (0.8") wide and thick.
There are no metals in this necklace so would be particularly suitable for those with metal sensitivities, energy workers and those who simply prefer not to wear metal.
You'll receive this crystal healing necklace in one of my fabric draw-string pouches, great for the safe-keeping of the necklace. Gift-wrapped at no extra charge.

Read here how to take care of your crystal jewellery.
CRYSTAL PROPERTIES
AQUAMARINE
Connected with the throat chakra, easing verbal self-expression. Helps you communicate your own truth and find your voice. Helps in looking at emotional situations from other perspectives, assists in opening up intuition and to calmly be in the flow of life. Aquamarine also aids in reaching deep meditative states. Resonates with the energy of the ocean. Stone of courage and protection.
SMOKEY QUARTZ
A grounding and calming stone that elevates moods and dissipates negative emotions. "A Stone of Serenity", it is comforting and protective for one's aura. Smokey Quartz is thought to assist in creative endeavours and also in setting personal boundaries. Offers protection against electromagnetic rays. A good healing stone for improving general feeling of well-being. Relieves anxiety and worry, wards off confusion. Shielding crystal to create a calm, safe environment.
Recently Viewed