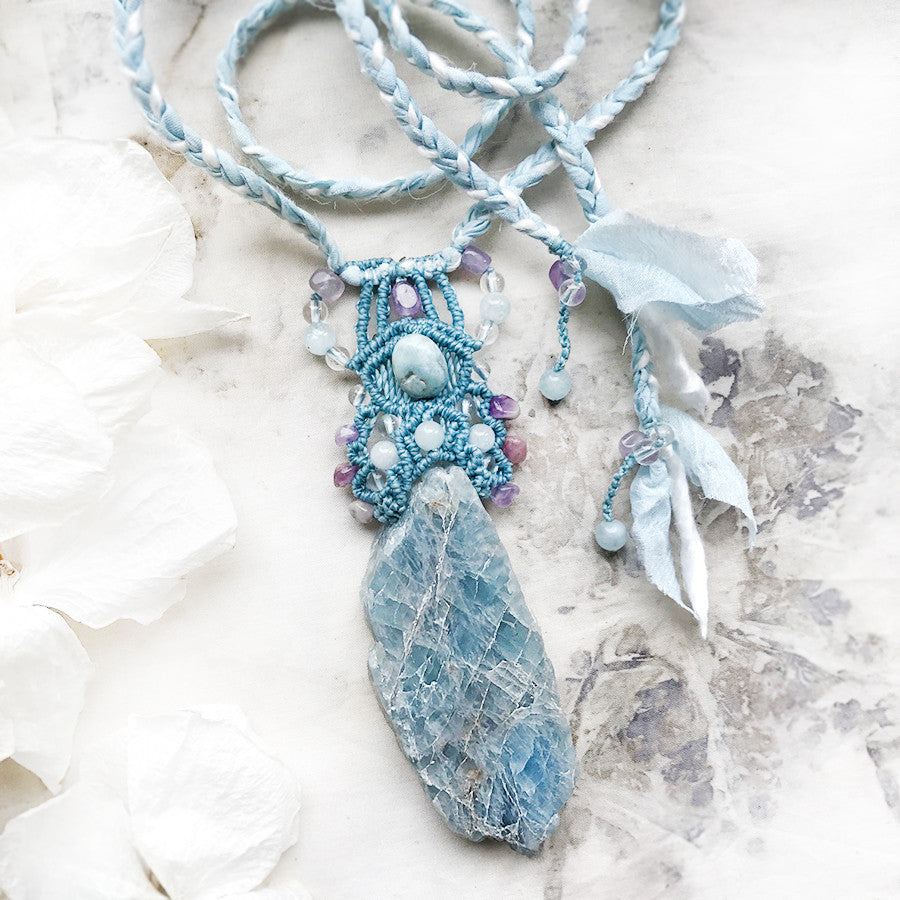 Aquamarine crystal healing talisman
DESCRIPTION
Crystal healing talisman with a large slice of Aquamarine. Watery blue with rough cut, undulating edges, this is quite an eye-catching piece. The Aquamarine is combined with a decorative, intricately knotted panel which is highlighter with Larimar, Amethyst and clear Quartz crystals. This panel attaches to a necklace braid of pale blue silk chiffon and soft white hand-spun silk cord combined with light blue micro-macrame cord. The long braid ends are decorated with small Aquamarine and Quartz crystals and are left open so you can tie the amulet to hang at any desired level.
The Aquamarine is just over 5.5 cm (2.2") tall and approx. 1 cm (0.4") wide. The braids are 38 cm (15") long each and when tied close at their very end, gives an all-around measurement of 67 cm (26").
You'll receive this crystal healing necklace in one of my handmade fabric draw-string pouches - great for the safe-keeping of the necklace. Gift-wrapped at no extra charge.

Read here how to take care of your crystal jewellery.
CRYSTAL PROPERTIES
AQUAMARINE
Connected with the throat chakra, easing verbal self-expression. Helps you communicate your own truth and find your voice. Helps in looking at emotional situations from other perspectives, assists in opening up intuition and to calmly be in the flow of life. Aquamarine also aids in reaching deep meditative states. Resonates with the energy of the ocean. Stone of courage and protection.
LARIMAR
A relatively rare stone, only found in the Dominican Republic. In crystal lore it is associated with the ancient civilization on Lemuria, and also sometimes called a "Dolphin Stone". Larimar is soothing and uplifting, bringing tranquility into heart and mind. It is said to support self-expression, creativity and patience.
AMETHYST
Instils inner peace, promotes self-discovery and aids in relaxation. Associated with the crown chakra, known as a "stone of balance" and positive transformation. Thought to increase spiritual awareness and psychic abilities, initiating higher knowing and greater understanding. Helps in assimilating new ideas and manifesting thoughts into action. Symbolises a connection to the Divine. A well-known support stone for those wanting to break old patterns to create a new, harmonious life.
CLEAR QUARTZ
The universal master crystal that has a harmonising effect on all levels of being. Programmable by intention, so can be used for versatile purposes. Quartz can clear, enhance, amplify, transmute, balance, focus and transmit energy. Raises one's energetic vibration. Brings clarity and filters out distractions. A deep soul cleanser, attuning its keeper to their higher self. Each Quartz crystal is unique with its own character and teachings it offers, all are known as "Stones of Power" and "Master Healers".
Recently Viewed