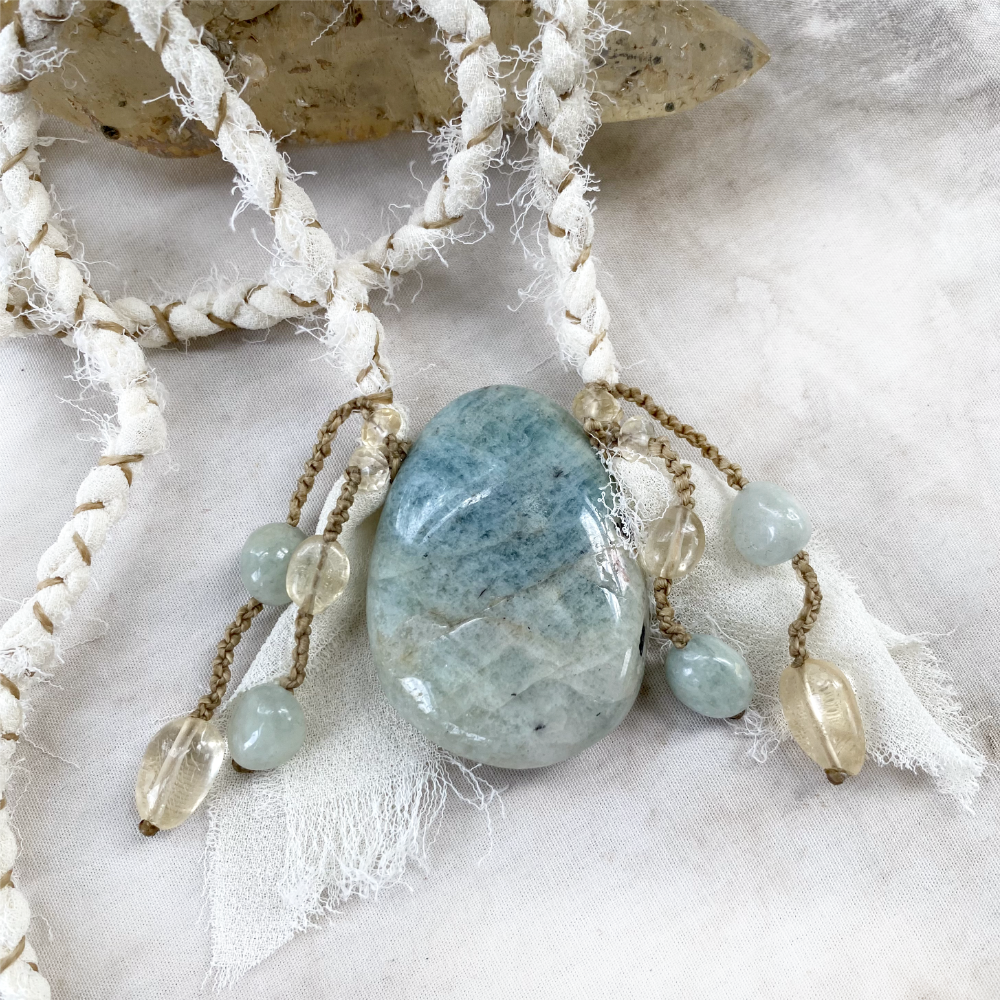 Aquamarine crystal healing talisman
DESCRIPTION
Lovely smooth Aquamarine combined with the energy of Citrine in soft cream tone silk necklace braid. The braid includes golden brown micro-macrame cord for added strength. The highlighting crystals dangling on both sides of the main stone are Citrine and Aquamarine.
The necklace braid is set length, allowing the Aquamarine to settle around the level of solar plexus. The all-around length of the braid is approx. 80 cm (31.5"). 

The size of the Aquamarine is approx. 4 cm (1.6") tall and just under 3 cm (1.2") at its widest.
You'll receive this crystal healing necklace in one of Spirit Carrier's handmade fabric draw-string pouches - great for the safe-keeping of the necklace. Gift-wrapped at no extra charge.

Read here how to take care of your crystal jewellery.
CRYSTAL PROPERTIES
AQUAMARINE
Connected with the throat chakra, easing verbal self-expression. Helps you communicate your own truth and find your voice. Helps in looking at emotional situations from other perspectives, assists in opening up intuition and to calmly be in the flow of life. Aquamarine also aids in reaching deep meditative states. Resonates with the energy of the ocean. Stone of courage and protection.
CITRINE
Affects a powerful alignment with the higher self. Balances the emotions and helps in uplifting one's mood to be more sunny and cheerful. Brings clarity of thought, and attracts abundance and prosperity through joy. Powerful transformer in healing work. Increases self-confidence and optimism, cleanses the surrounding energies and promotes creative thinking. Releases, dissipates and transforms denser energies on all levels, mental, emotional and physical. Works to release limitations and blockages particularly around the sacral / solar plexus area.
Recently Viewed