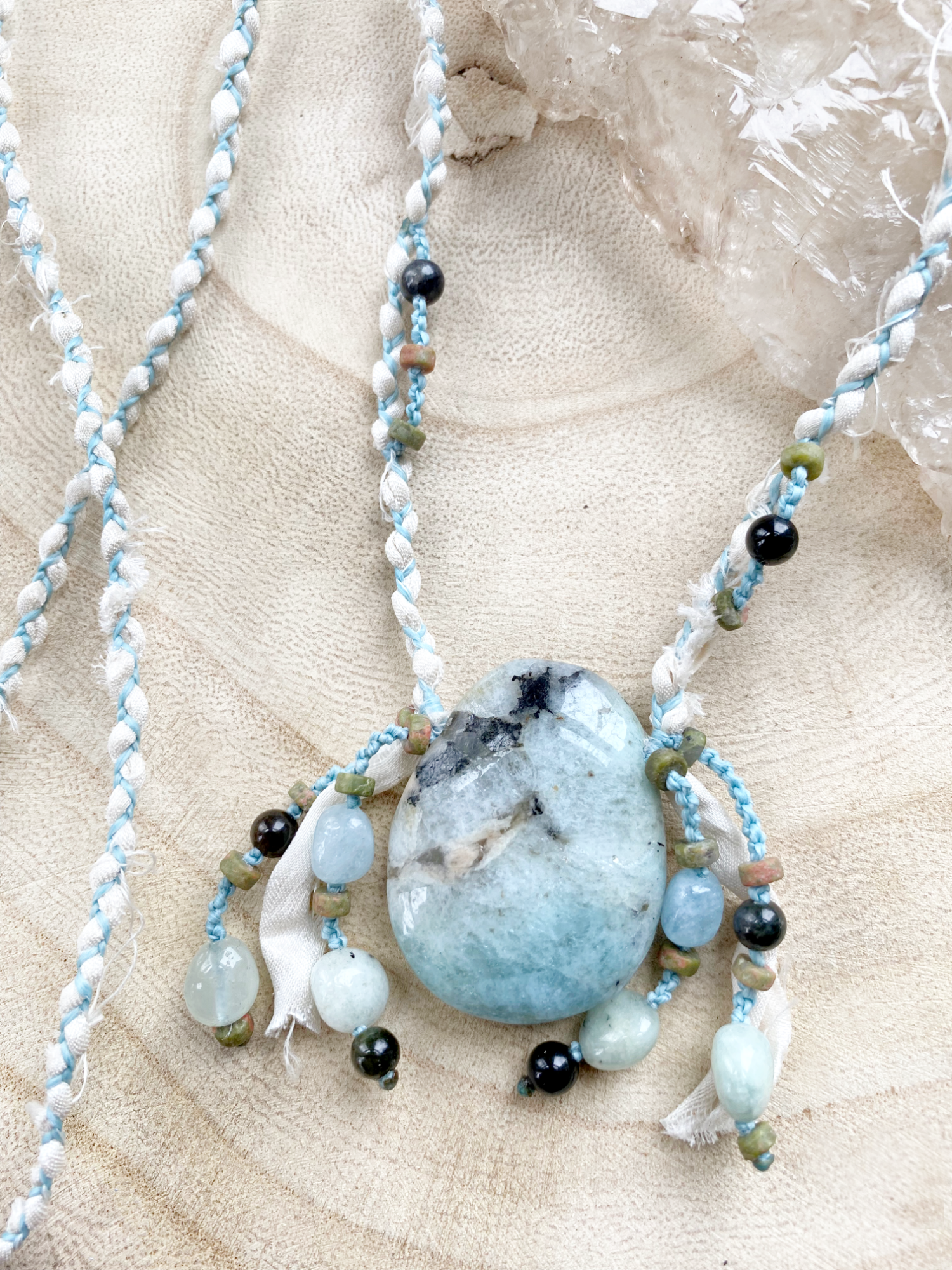 Aquamarine crystal healing talisman
DESCRIPTION
Lovely smooth Aquamarine combined with the energies of Black Tourmaline and Unakite in soft sari silk necklace braid in cream tone. The braid includes muted sky blue micro-macrame cord for added strength. The highlighting crystals dangling on both sides of the main stone include Black Tourmaline, Unakite and Aquamarine crystals.
The necklace braid is set length, allowing the Aquamarine to settle around the level of solar plexus. The all-around length of the braid is approx. 76 cm (30"). 

The size of the Aquamarine is approx. 3 cm (1.2") tall and just under 4 cm (1.6") at its widest.
You'll receive this crystal healing necklace in one of Spirit Carrier's handmade fabric draw-string pouches - great for the safe-keeping of the necklace. Gift-wrapped at no extra charge.

Read here how to take care of your crystal jewellery.
CRYSTAL PROPERTIES
AQUAMARINE
Connected with the throat chakra, easing verbal self-expression. Helps you communicate your own truth and find your voice. Helps in looking at emotional situations from other perspectives, assists in opening up intuition and to calmly be in the flow of life. Aquamarine also aids in reaching deep meditative states. Resonates with the energy of the ocean. Stone of courage and protection.
UNAKITE
Emotionally healing, encouraging loving self-acceptance. Clears energy blockages from past hidden emotions, allowing you to radiate love openly, thus attracting love from others. Peaceful stone of connection that encourages harmonious partnerships. Also excellent stone for protecting from electromagnetic fog.
BLACK TOURMALINE (aka Schorl)
One of the most well-known protective stones, shielding its user from negativity. A shamanic stone used for grounding during vision quests. Empowering for those who work in challenging environments. Purifies and transforms denser energies into lighter vibrations and is also detoxifying for the body. If you're sensitive to electromagnetic smog, you may get relief by wearing black Tourmaline.
Recently Viewed