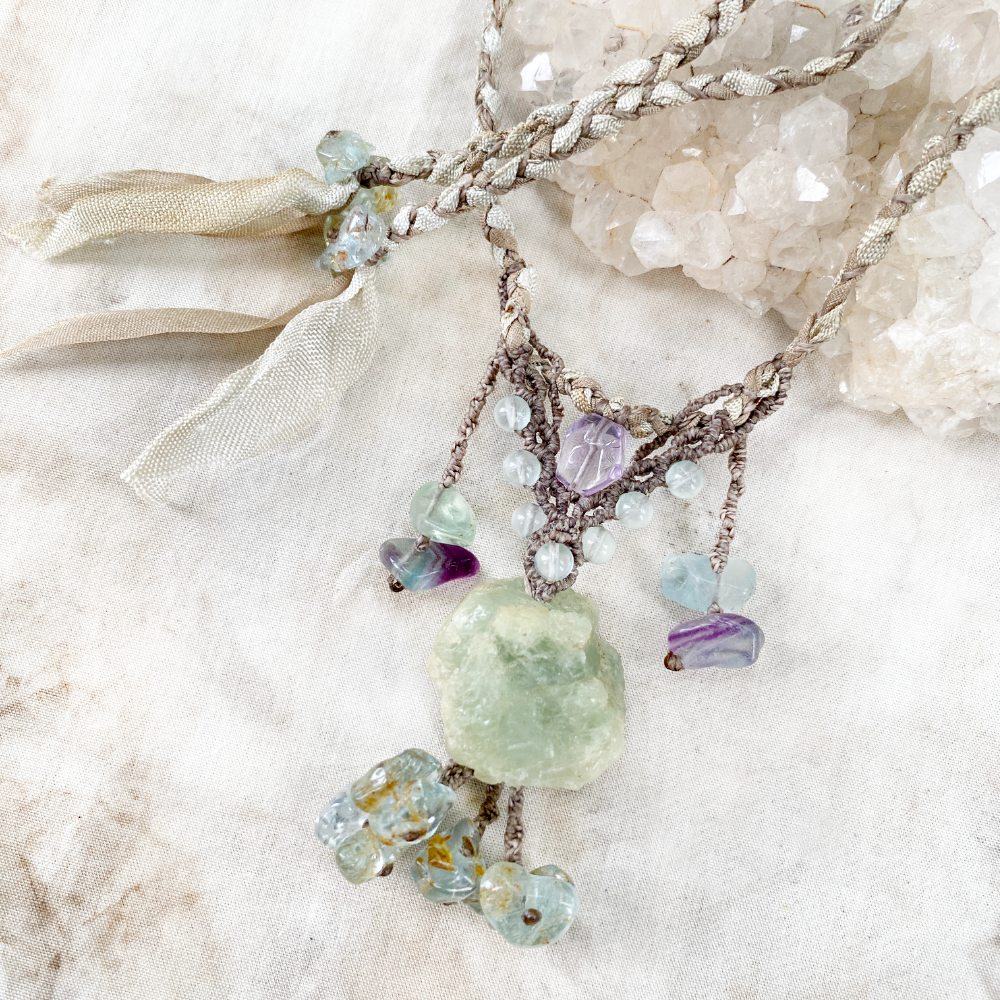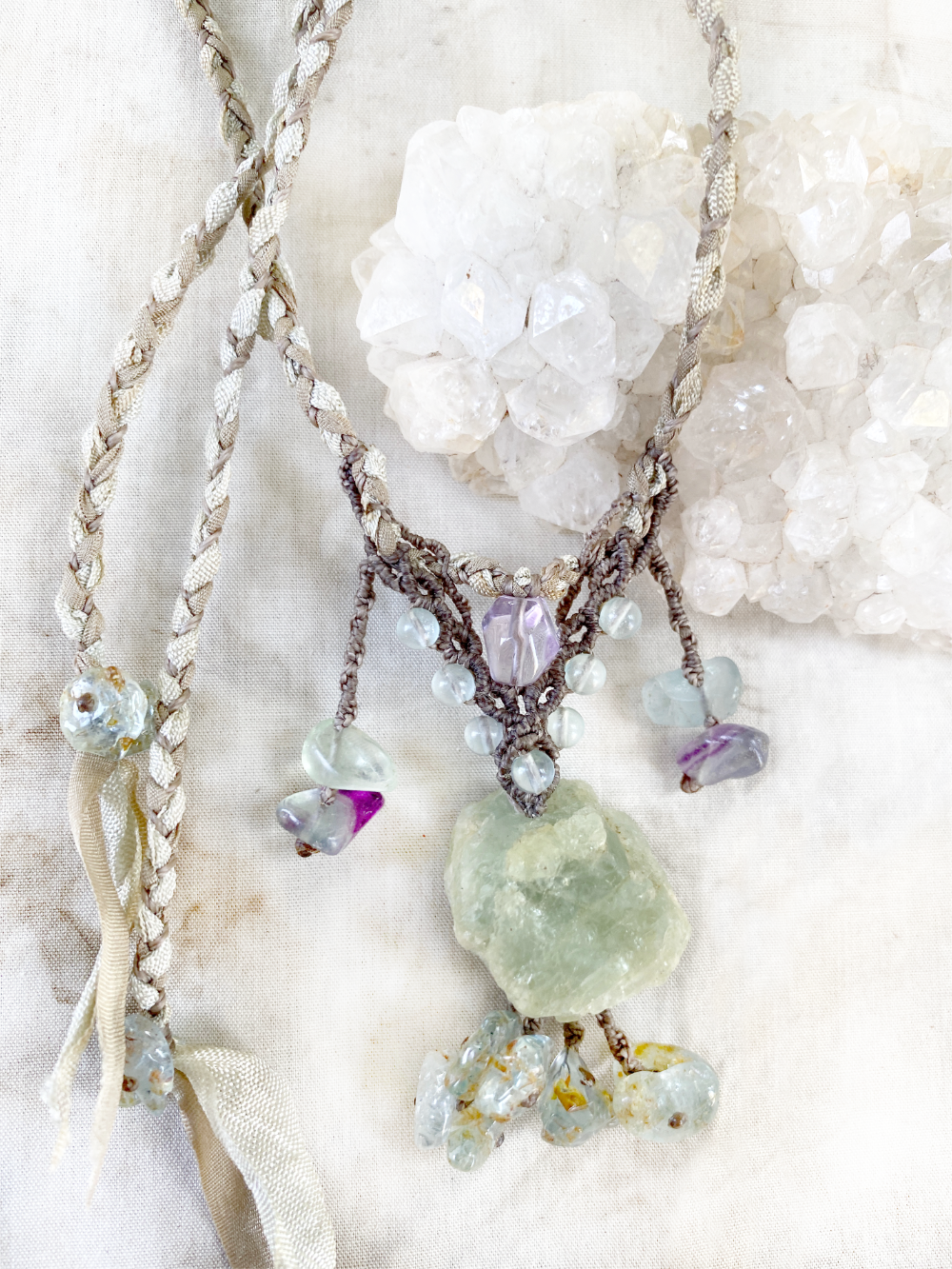 Aquamarine crystal healing talisman with Amethyst & Fluorite
DESCRIPTION
Unusual, intricately detailed crystal healing talisman with a rough cut, organically hexagonal Aquamarine in greenish tone, combined with Fluorite and Amethyst and attaching to a necklace braid of botanically eco-dyed viscose ribbon, taupe tone embroidery silk and grey micro-macrame cord. There is a small 'tassel' dangling from the base of the main Aquamarine, adorned with more translucent, blue hued Aquamarine crystals which also accent the braid ends. The long braid ends are left open so you can tie the amulet to hang at any desired level. This might look particularly beautiful tied close to the throat chakra or near heart area.
The combined height of the pendant part from the top of the Amethyst to the base of the Aquamarine 'tassel' is approx. 5.5 cm (2.2"), the hexagonal Aquamarine has a diameter of approx. 2 cm (0.8") and the braids are 45 cm (17.5") long each.
You'll receive this crystal healing necklace in one of Spirit Carrier's handmade fabric draw-string pouches - great for the safe-keeping of the necklace. Gift-wrapped at no extra charge.

Read here how to take care of your crystal jewellery.
CRYSTAL PROPERTIES
AQUAMARINE
Connected with the throat chakra, easing verbal self-expression. Helps you communicate your own truth and find your voice. Helps in looking at emotional situations from other perspectives, assists in opening up intuition and to calmly be in the flow of life. Aquamarine also aids in reaching deep meditative states. Resonates with the energy of the ocean. Stone of courage and protection.
AMETHYST
Instils inner peace, promotes self-discovery and aids in relaxation. Associated with the crown chakra, known as a "stone of balance" and positive transformation. Thought to increase spiritual awareness and psychic abilities, initiating higher knowing and greater understanding. Helps in assimilating new ideas and manifesting thoughts into action. Symbolises a connection to the Divine. A well-known support stone for those wanting to break old patterns to create a new, harmonious life.
FLUORITE
Excellent for cleansing one's aura, also detaching unwanted energy cords. Grounds excessive energy, beneficial for all levels of healing. Helpful in achieving spiritual wholeness. Protective, stabilising and harmonising stone. Facilitates personal growth. Awareness expanding. Anchors intuitive insights into the physical plane. Offers strong psychic protection, helping to discern energies one comes in contact with. Helps in being objective and focusing on what is essential. Also known as absorbing environmental EMF.
Recently Viewed