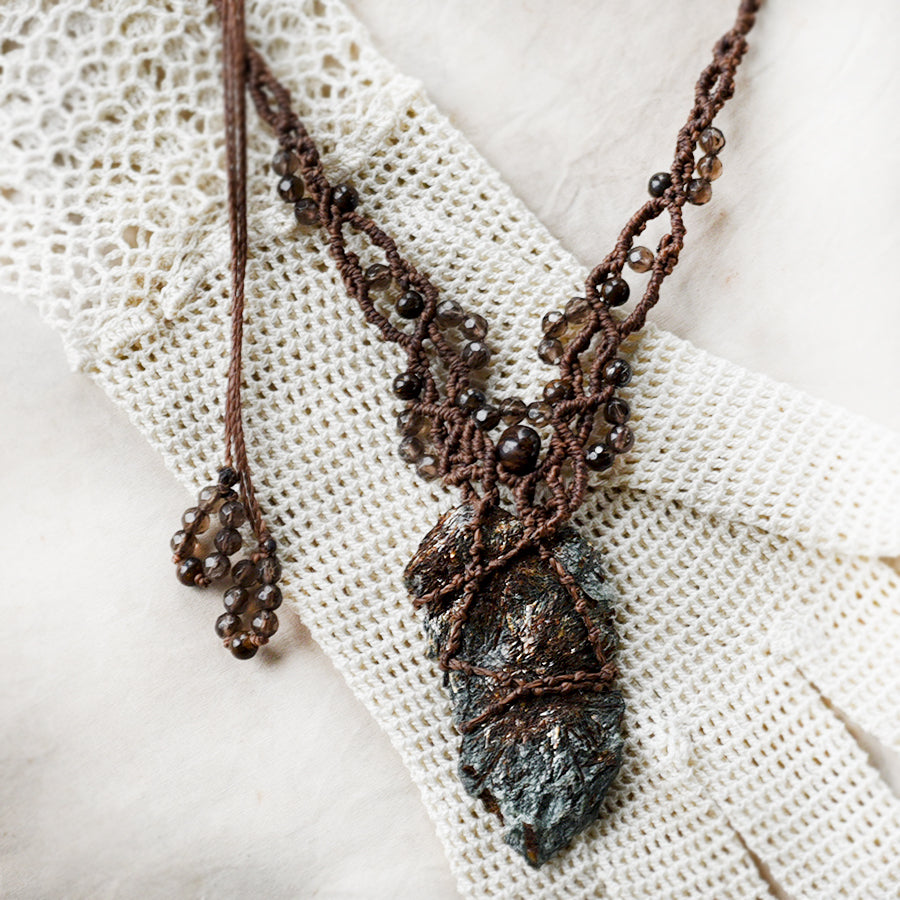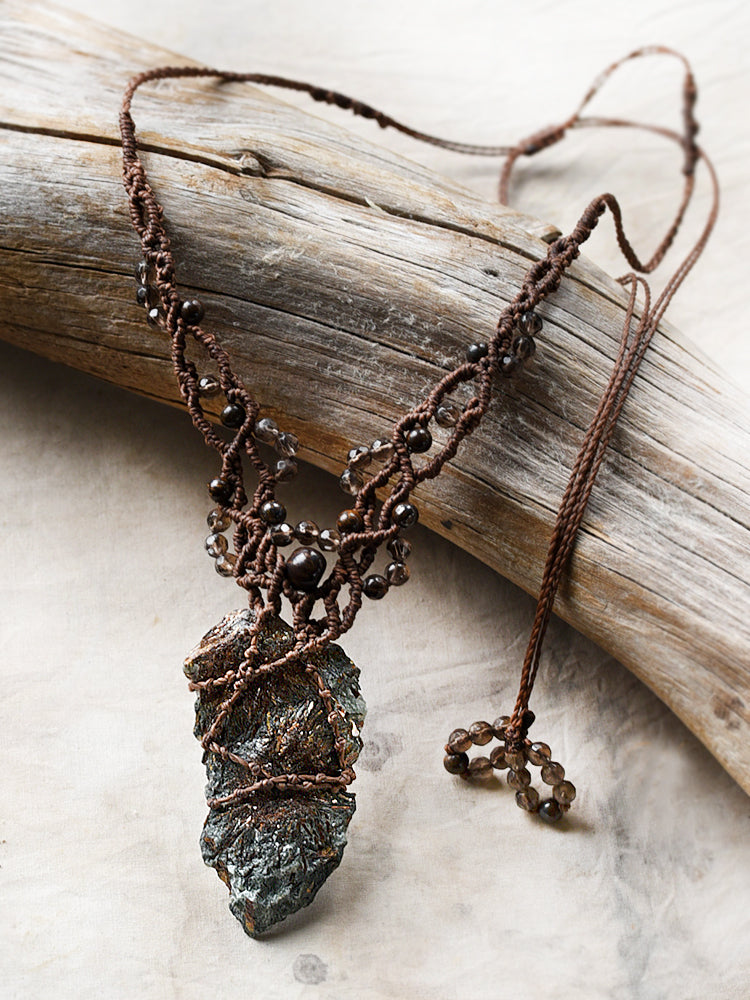 Astrophyllite crystal healing amulet
DESCRIPTION
Crystal healing amulet with a raw, un-drilled Astrophyllite stone, showing some characteristic streaks of bronze-like shimmer on its surface. The necklace is intricately knotted with brown micro-macrame cord, highlighted with Bronzite and small faceted Smokey Quartz crystals. The ends of the adjustable necklace cords are adorned also with matching crystals.
The length of the necklace is adjustable from very short down to just above solar plexus level. The Astrophyllite is approx. 5.5 cm (2.2") tall and 3 cm (1.2") at its widest.
There are no metals in this necklace so would be particularly suitable for those with metal sensitivities, energy workers and those who simply prefer not to wear metal.
You'll receive this crystal healing necklace in one of my fabric draw-string pouches, great for the safe-keeping of the necklace. Gift-wrapped at no extra charge.

Read here how to take care of your crystal jewellery.
CRYSTAL PROPERTIES
ASTROPHYLLITE
Stone of self-knowledge and self-acceptance. Aligns its wearer with their soul purpose, helping to release unhealthy patterns that stand in the way of fulfilling one's life mission. Gives courage to move forward and make major changes that impact life in positive ways. Assists in activating a soul-connection between partners. Connects one's Earth Star and Soul Star chakras. Support stone for achieving one's highest potential.
BRONZITE
Encourages loving, non-judgemental mindset. Helps in gaining certainty about one's decisions and the right course of action. Bronzite is said to bring harmony into discordant situations, protective when the wearer might feel a lack of control. Instills a feeling of calmness when having "many irons in the fire". A stone of focused action. Instils a feeling of "all is well".
SMOKEY QUARTZ
A grounding and calming stone that elevates moods and dissipates negative emotions. "A Stone of Serenity", it is comforting and protective for one's aura. Smokey Quartz is thought to assist in creative endeavours and also in setting personal boundaries. Offers protection against electromagnetic rays. A good healing stone for improving general feeling of well-being. Relieves anxiety and worry, wards off confusion. Shielding crystal to create a calm, safe environment.
Recently Viewed