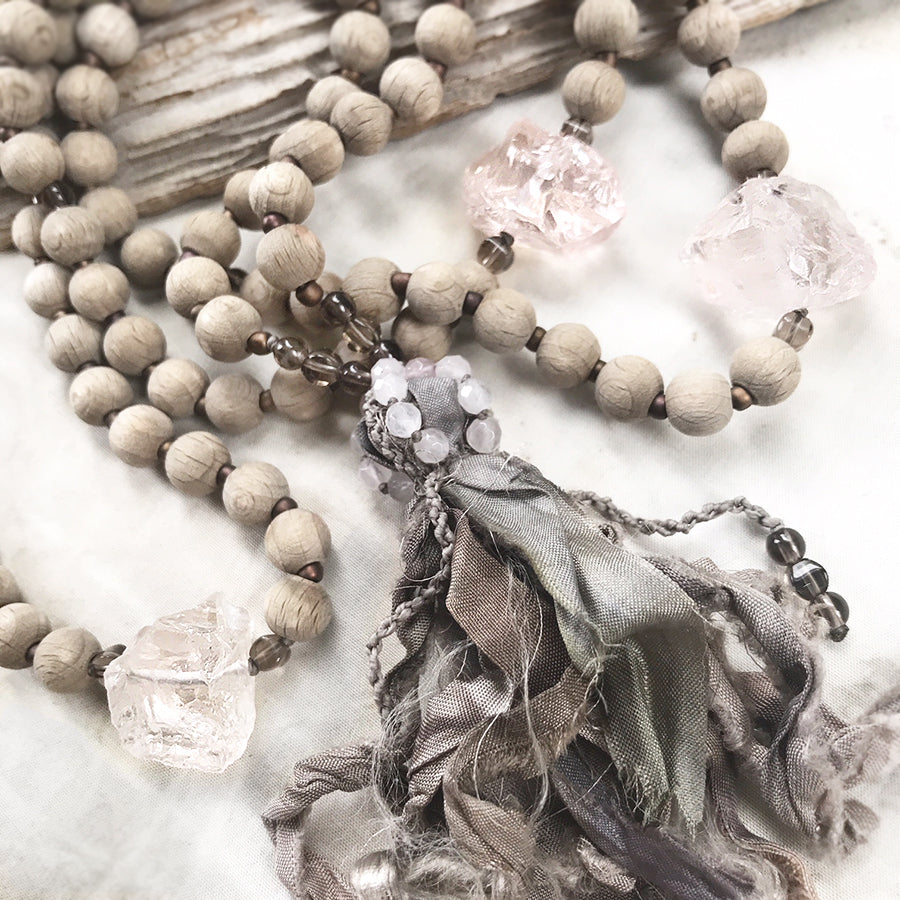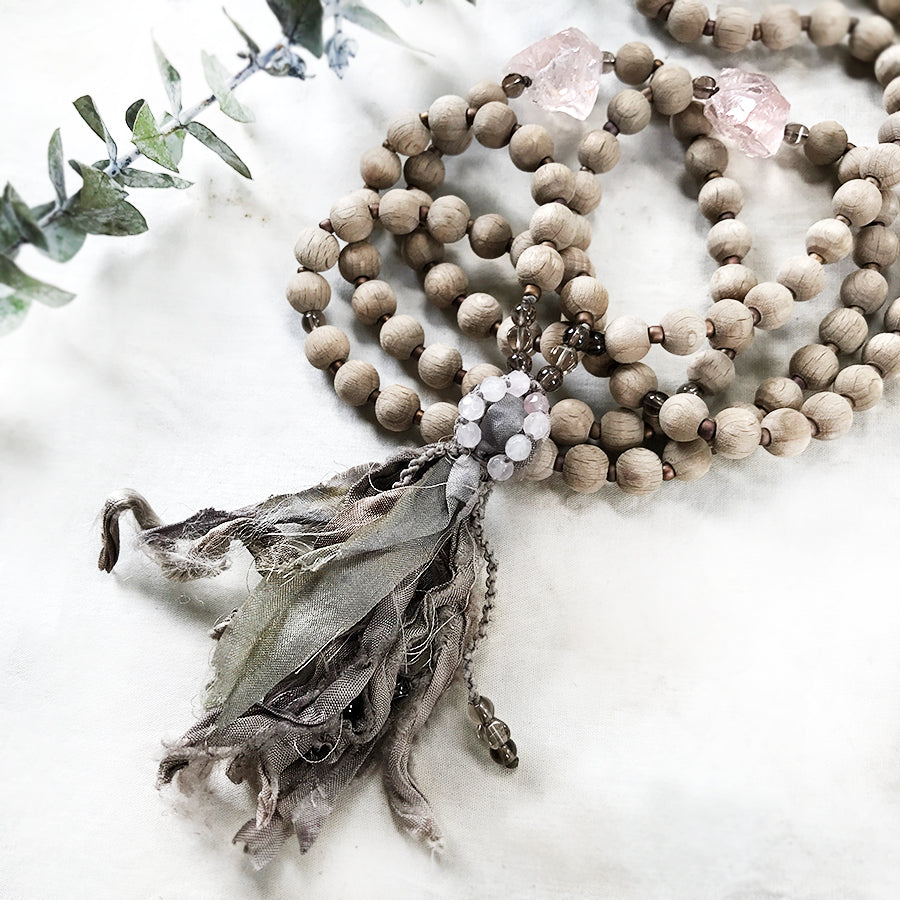 Beechwood mala with Ice Rose Quartz
DESCRIPTION
Unusual, one of a kind contemporary 108 bead meditation mala with aged beechwood counter beads. The three dividers are rough cut Ice Rose Quartz, clear and translucent with a noticeable hint of pink. The guru tassel includes botanically eco-dyed shreds of silk, together with knotted strands of grey micro-macrame cords ending in Smokey Quartz crystals. This understated yet unique meditation mala has quite 'wabi sabi' feel to it. 
The main beads are beech, which I have given an aged patina by eco-dye method using onion skins, strawberries and rose petals. The texture is rough, resembling driftwood - these beads are un-oiled, and thus don't 'slide' through your grip like smooth beads would. If you use essential oils, you could make these beads fragrant, by adding a drop of your favourite aromatherapy scent in its carrier oil to some of the beads, and a different scent on a few other beads etc. A very personal talismanic mala. Each counter bead is spaced with a small matt brown glass seed bead, with the exception of every nine counter beads being knotted with a small Smokey Quartz bead. The wooden beads also make this mala much lighter in weight than full gemstone malas. On average, the diameter of the beechwood beads is approx. 0.7-0.8 cm (up to 0.3").
The all-around measurement of the mala is 43.3" (110 cm) with the guru tassel combination being 4" (10 cm) in length.
This mala comes in one of my handmade soft black leather pouches for safe-keeping, and gift-wrapped at no extra charge. If you would rather have a fabric pouch, please let me know at the time of purchase.

Read more about Spirit Carrier mala beads
CRYSTAL PROPERTIES
ROSE QUARTZ
Powerful love stone, love that is all-encompassing and unconditional. Awakens one's heart to its own innate love, compassion and acceptance. Vibrates its loving energy to all chakras, offering gentle healing. Soothing and calming. Dissolves anger and resentment. Good for raising one's self-esteem and feelings of self-worth. Balances emotions and is said to support all types of healing. Guides one's life path towards a sense of personal fulfilment and contentment.
SMOKEY QUARTZ
A grounding and calming stone that elevates moods and dissipates negative emotions. "A Stone of Serenity", it is comforting and protective for one's aura. Smokey Quartz is thought to assist in creative endeavours and also in setting personal boundaries. Offers protection against electromagnetic rays. A good healing stone for improving general feeling of well-being. Relieves anxiety and worry, wards off confusion. Shielding crystal to create a calm, safe environment.

Wood Symbolism:
BEECH TREE
'Goddess tree' symbolises crossing a threshold into new experiences and new knowledge, whilst drawing understanding from the wisdom of the ancients. Teaches to move forward in openness and to see the bigger picture.
Recently Viewed