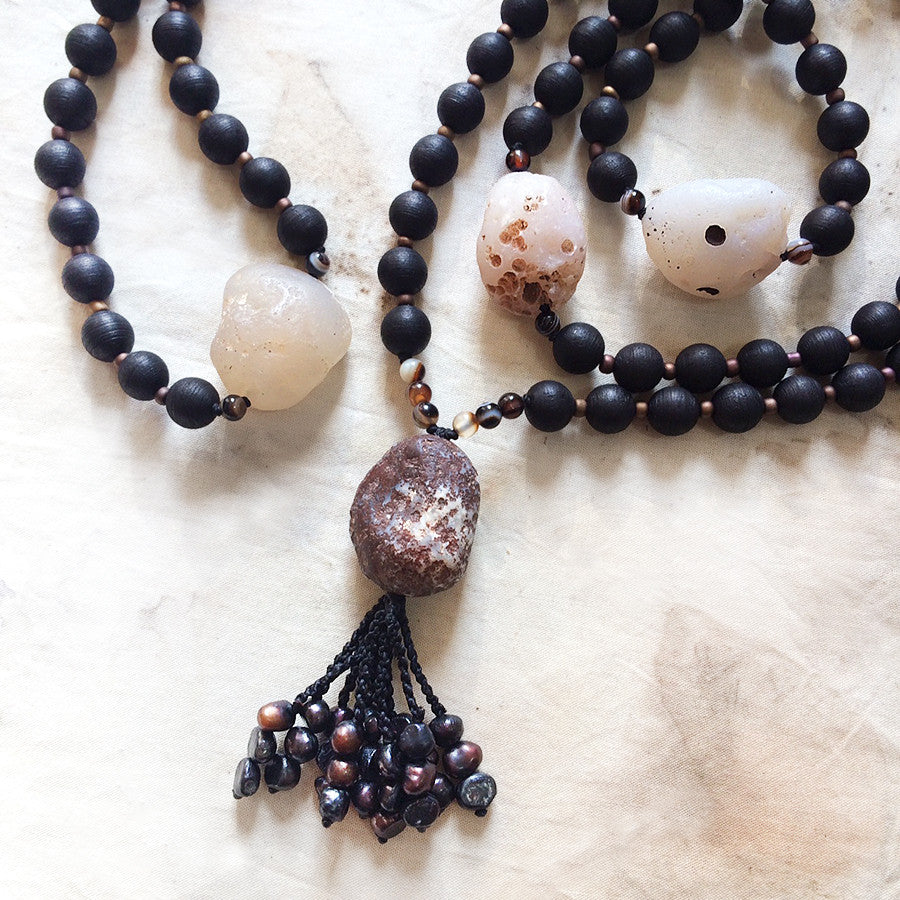 Black Agarwood mala with Agate & freshwater pearls
DESCRIPTION
One of a kind, contemporary 108 bead meditation mala with black Agarwood beads. The three dividers are a combination of rough Agate pebbles with smaller polished Agate cbeads. The guru bead consists of a further brown tone Agate pebble and a 'tassel' of dark tone freshwater pearls. 
The wooden counter beads are spaced with small matte brown glass seed beads in asymmetrical organic shapes, and knotted with black micro-macrame cord at every nine bead interval around a small Agate bead. This mala has a stylish, 'flowing' feel, with the wooden beads softly following the contours of your hand when handled, and would make a beautiful meditation companion for someone who prefers a mala that's very light in weight with a gentle vibe and neutral colours.
All around length of mala: 120 cm (47")
Counter bead diameter: 0.8 cm (0.3")
The width of the divider combination: approx. 2.5 cm (1")
Length of guru bead with 'tassel' combination: approx. 6 cm (2.4")
Please note that Spirit Carrier malas come usually in three sizes, determined by the diameter of the main counter beads - either 8 mm, 10 mm or 12 mm. This mala is the smallest size with 8 mm counter bead diameter (particularly suited for wearing as a necklace due to being lighter in weight and shorter in length than the larger meditation malas).
This unique mala comes in one of my handmade soft leather pouches for safe-keeping. If you would rather have a fabric pouch, please let me know at the time of purchase.

You'll receive this mala gift-wrapped at no extra charge.
Read more about Spirit Carrier mala beads
HEALING PROPERTIES
AGARWOOD
Traditionally regarded as a valuable aid on one's spiritual journey, bringing enlightenment and clarity as well as a sense of deep inner peace. Experienced practitioners recommend Agarwood for providing motivation and devotion for meditation.
AGATE
The oldest good luck amulet. In ancient times Persian magicians were, according to legend, diverting storms with the powers of Agate. Considered a protective stone (especially for travel), said to shield its keeper against dangers. Increases inner stability, enhances personal courage and fosters self-confidence. Grounding and soothing. Balancing stone for one's energy system to experience oneness instead of duality.
FRESHWATER PEARL
Symbol of wisdom, honesty and integrity. Said to grant their wearer astute foresight to make right decisions and be protected from deceit. Helps in getting touch with the pure, simple things in life. Lifts one's spirits and instils a sense of calm.
Recently Viewed