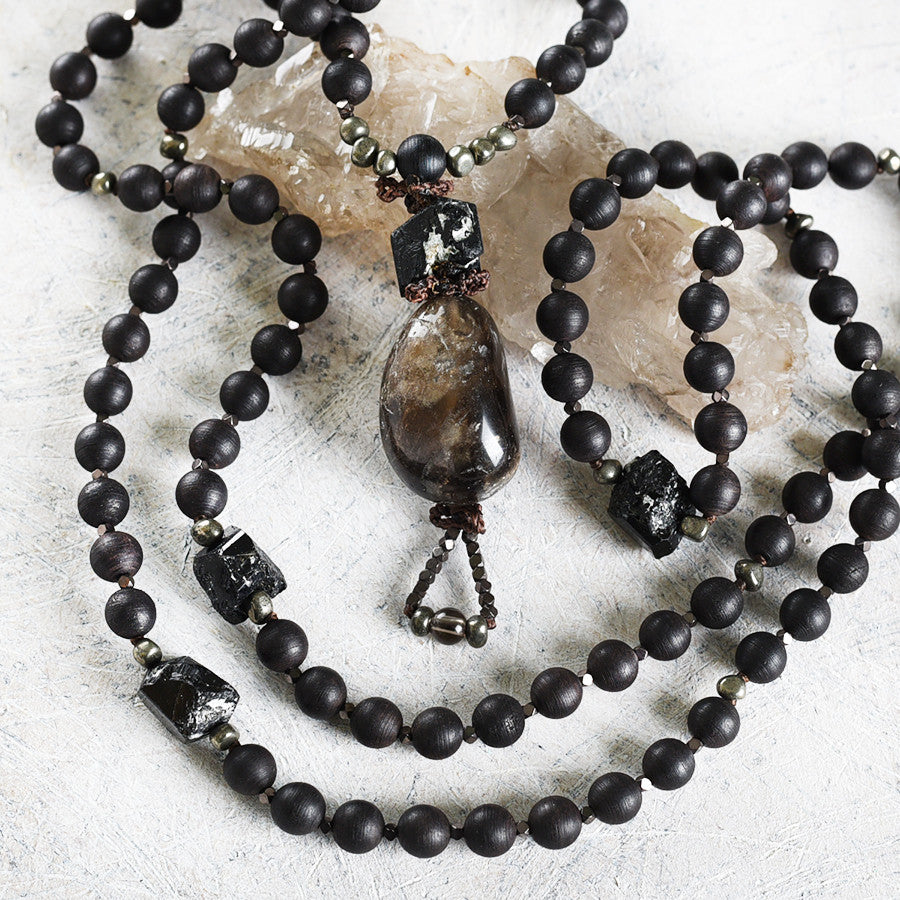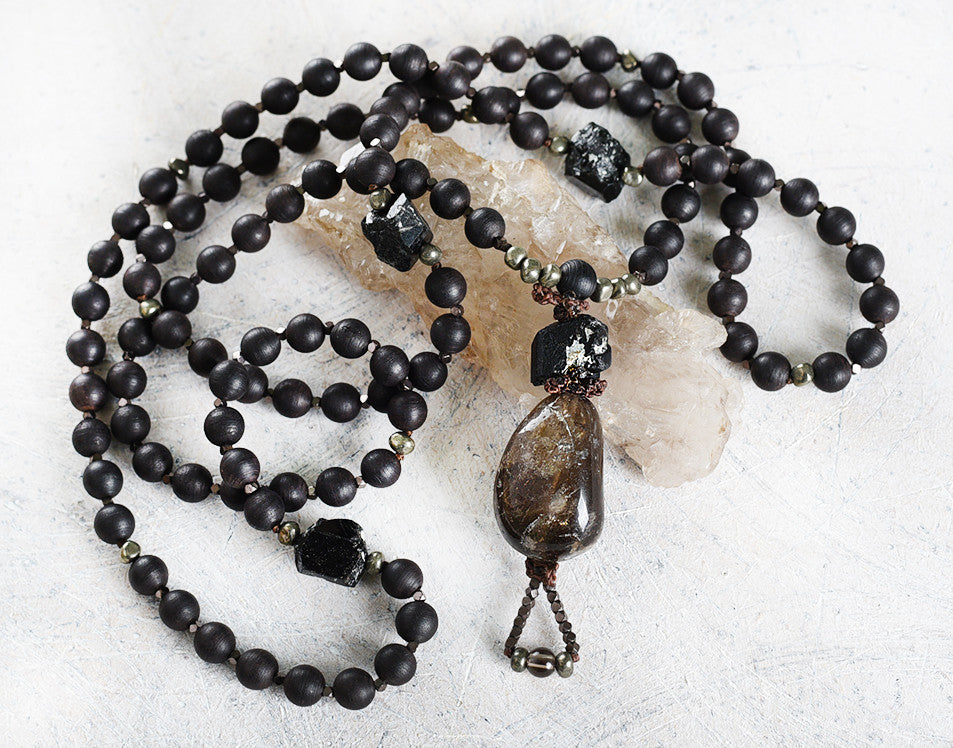 Black agarwood mala with Black Tourmaline, Smokey Quartz, Pyrite & Hematite
DESCRIPTION
One of a kind, contemporary 108 bead meditation mala with black agarwood counter beads. The three dividers are a combination of Black Tourmaline and Pyrite. The guru bead consists of Black Tourmaline, Pyrite, Hematite and Smokey Quartz.
Agarwood is traditionally regarded as a valuable aid on one's spiritual journey, bringing enlightenment and clarity as well as a sense of deep inner peace. Experienced practitioners recommend agarwood for providing motivation and devotion for meditation.
The wooden counter beads are spaced with rhodium-plated Hematite beads, and knotted with dark brown micro-macrame cord at every nine bead interval around a small Pyrite bead. This mala has a stylish, 'flowing' feel, with the wooden beads softly following the contours of your hand when handled.
All around length of mala: 119 cm (47")
Counter bead diameter: 0.8 cm (0.3")
The size of the divider combination: approx. 2 cm (0.8") 
Length of guru bead crystal combination: 7 cm (2.75")
This mala comes in one of my handmade soft leather pouches for safe-keeping. If you would rather have a fabric pouch, please let me know at the time of purchase. 
You'll receive this mala gift-wrapped at no extra charge.
~~~~~~~~
I draw artistic inspiration for these contemporary yoga meditation beads from the ancient decorative Buddhist malas from Tibet that were often given as gifts to Chinese courts and called "Chinese court necklaces". I match the stones and crystals carefully to create an energetic combination in the mala that will benefit the keeper in an individual way. All of my malas are one-of-a-kind.

Whilst this mala is made with Tibetan Buddhist bead count (108 beads), all Spirit Carrier malas are dedicated to the Highest Good of All – its future keeper may bless the mala for their own purpose and use it for their own personal way of meditation.
Read more about Spirit Carrier mala beads
CRYSTAL PROPERTIES
BLACK TOURMALINE
One of the most well-known protective stones, shielding its user from negativity. A shamanic stone used for grounding during vision quests. Empowering for those who work in challenging environments. Purifies and transforms denser energies into lighter vibrations and is also detoxifying for the body. If you're sensitive to electromagnetic smog, you may get relief by wearing black Tourmaline.
SMOKEY QUARTZ
A grounding and calming stone that elevates moods and dissipates negative emotions. "A Stone of Serenity", it is comforting and protective for one's aura. Smokey Quartz is thought to assist in creative endeavours and also in setting personal boundaries. Offers protection against electromagnetic rays. A good healing stone for improving general feeling of well-being. Relieves anxiety and worry, wards off confusion. Shielding crystal to create a calm, safe environment.
PYRITE
Taps into your innate abilities, bringing confidence and perseverance to aim for your goals. A shielding stone that helps you see the truth in the motives of others. Increases vitality and enhances your assertive qualities. Helpful in turning melancholy into feeling empowered and more light-hearted. Helps in letting go thoughts of misfortune and worry, thus making it an excellent stone for manifesting abundance. Symbolises the warmth and presence of sun, attracting also abundance of love, friendship and success.
HEMATITE
Creates a strong sense of self and enhances the creative flow. Relieves stress. Revitalises, enhancing personal magnetism and optimism. Helps in releasing self-imposed limitations to find your own unique gifts. A stone of balance and equilibrium. Grounds when feeling scattered, increases alertness and vigilance.
Recently Viewed