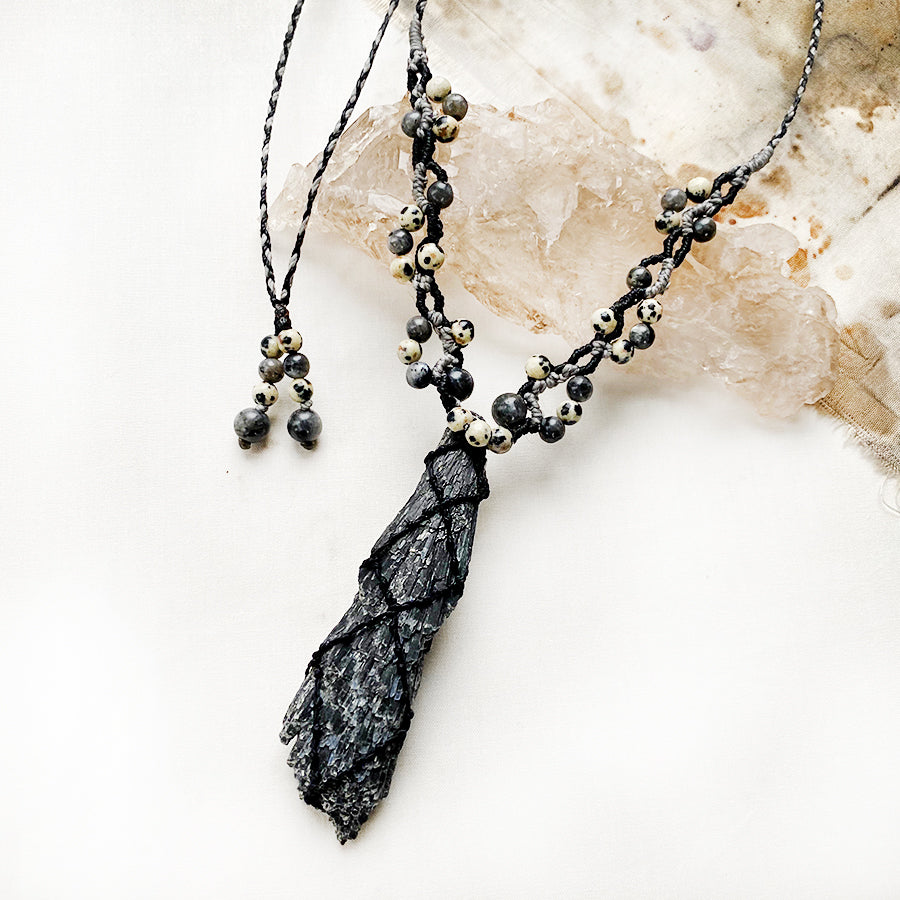 Black Kyanite crystal healing amulet
DESCRIPTION
Crystal healing necklace with a slender blade of Black Kyanite, showing the characteristic 'wing' / 'fan' shape of this stone. The necklace is intricately knotted with a combination of black and grey micro-macrame cords, highlighted with Norwegian Moonstone and Dalmatian Jasper.
The length of the necklace is adjustable from very short down to solar plexus level. The Black Kyanite is 7 cm (2.8") tall and 1.5 cm (0.6") wide in the middle. 
There are no metals in this necklace so would be particularly suitable for those with metal sensitivities, energy workers and those who simply prefer not to wear metal.
You'll receive this crystal healing necklace in one of my fabric draw-string pouches, great for the safe-keeping of the necklace. Gift-wrapped at no extra charge.
Please note: whilst this particular piece of black Kyanite is unusually sturdy and therefore suitable as a pendant, by its natural structure black Kyanite is not as hard as many other stones. Therefore this necklace would be best worn at shorter length, i.e. closer to your neckline rather than dangling lower on your body. (However, Kyanite's energy is not affected if a chip was to come off from the main body of the crystal.)

Read here how to take care of your crystal jewellery.
CRYSTAL PROPERTIES
BLACK KYANITE
Cleanses one's energy field, aligning subtle bodies into harmony. High vibrational grounding crystal, with strong protective qualities. Good for shielding one's personal energetic space. Repairs the aura by healing holes and tears. Removes attachments from the auric field. Stimulates intuition, insights and inner visions. Excellent tool for energy workers.
DALMATIAN JASPER
Helps in removing barriers that prevent you from moving forward in life, and to discover your true purpose of being in the world. Brings joy and playfulness into one's life. The black spots in this stone are Black Tourmaline, which adds to this stone's protective qualities.
NORWEGIAN MOONSTONE (aka Black Labradorite, Larvikite)
Repels negative energy and can make you more adaptable to life's situations. It also stimulates inner visions so it's very suited to meditation. Black Labradorite is also said to connect with nature spirits. On physical level, it is said to be good for renewing and maintaining vitality and youthfulness.
Recently Viewed