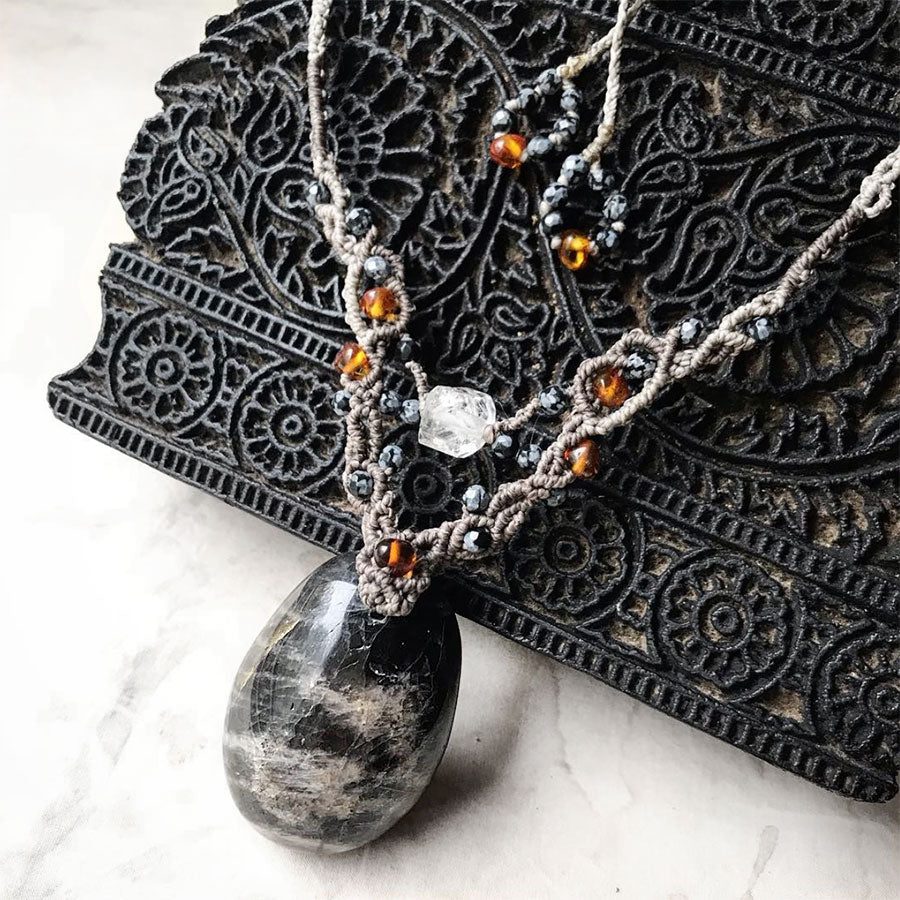 Black Moonstone crystal healing amulet
DESCRIPTION
Crystal healing amulet combining the energies of a beautiful polished oval-shaped black Moonstone with clear Topaz, Amber and Snowflake Obsidian. The Moonstone shows veins in beige tones. The lace-like knotting is done in grey micro-macrame cord, strong and durable yet comfortable to wear. This crystal healing necklace has quite a mysterious, luxurious feel to it. 
The length of the necklace is adjustable from very short down to solar plexus level. The blackMoonstone is just over 4.5 cm (1.8") tall, just over 3 cm (1.2") at its widest and 2.5 cm (1") thick.
There are no metals in this necklace so would be particularly suitable for those with metal sensitivities / metal allergy, energy workers and those who simply prefer not to wear metal.
You'll receive this crystal healing necklace in one of my fabric draw-string pouches, great for the safe-keeping of the necklace. Gift-wrapped at no extra charge.

Read here how to take care of your crystal jewellery.
CRYSTAL PROPERTIES
BLACK MOONSTONE
Connecting to primal feminine energy, this moon goddess stone eases life changes and transitions, keeping one centred and in balance. Full of divine feminine mystique, this is a power stone for visions, intuition, dreams and fertility. Helps you to begin anew, give birth to creative ideas or new life phases. A stone with a special 'heart beat' to accompany and support the divine feminine in you whenever needed.
TOPAZ
Stone of success and good fortune. Aligns and recharges body's meridians.  Clear Topaz aids in spiritual development and in clarifying one's life purpose. With the strong magnification energy of Topaz, you may reach your heart's goals and desired manifestations faster. Increases energy and vitality. Increases cosmic awareness by activating the crown and the soul star chakras. In ancient legends, Topaz was said to make its wearer invisible if needed at times of emergency.
AMBER
Amber is like sunshine solidified, offering a wonderful sense of health and wellbeing. Transmutes negative energies into positive, excellent for psychic protection. Cheers you up and helps you take action to make your ideas reality - ideal manifestation aid. Cleansing effect on the body, mind and spirit, promoting self-confidence and creative self-expression. Encourages spontaneity, patience and inner wisdom.
SNOWFLAKE OBSIDIAN
Promotes a sense of calm and inner equilibrium, bringing balance to body, mind and spirit. A grounding, protective stone. Eases worries and when carried/worn helps one to stay balanced and centred throughout the day. Native American shamans often carried Snowflake Obsidian as a powerful talisman to avert evil and bring good fortune, also considering it to be the guardian of the Great Spirit.
Recently Viewed