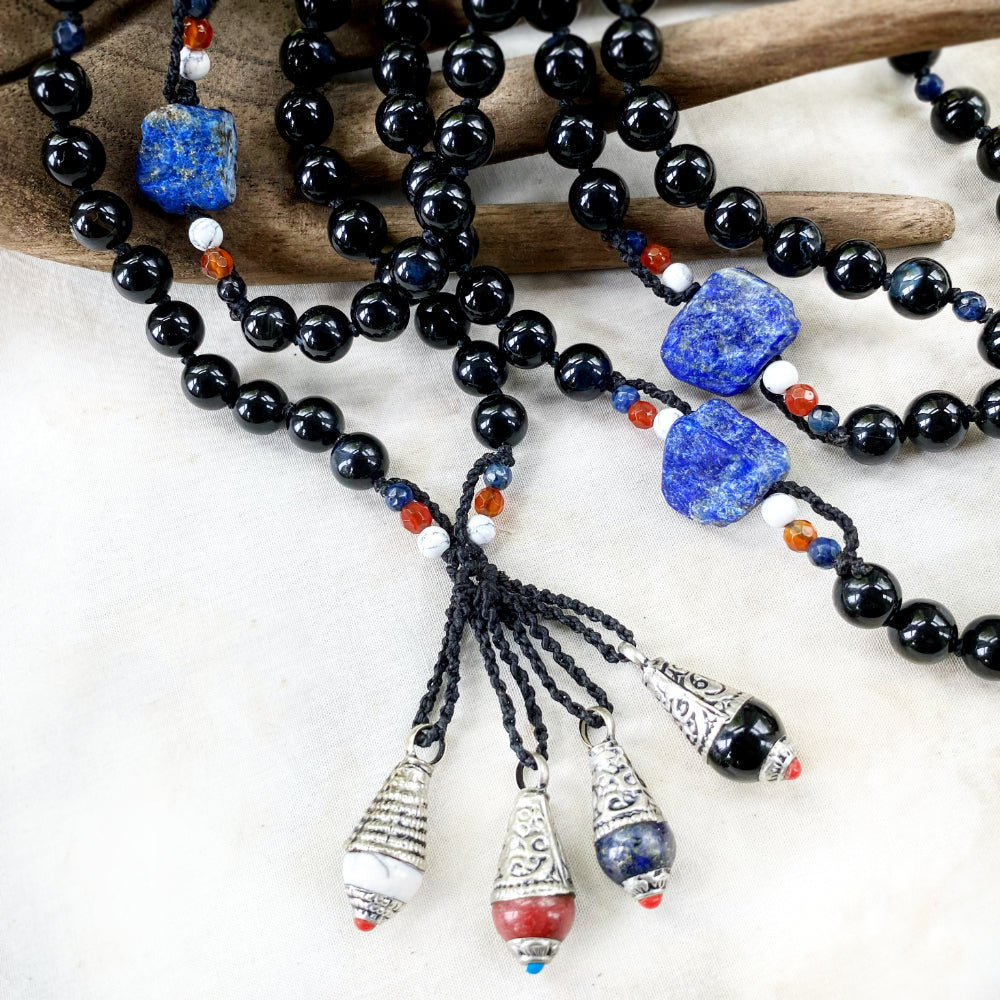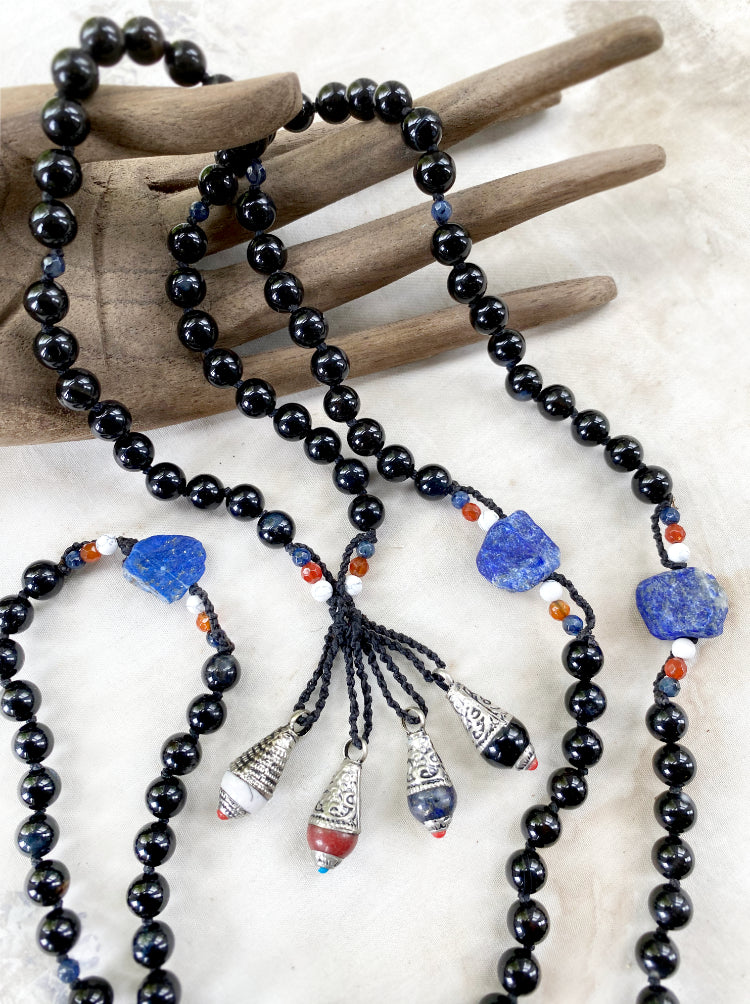 Full 108-bead Tibetan style meditation mala with black Onyx counter beads
DESCRIPTION
One of a kind, contemporary 108-bead meditation mala with black Onyx counter beads. Tibetan style colours throughout, and pleasant to handle in meditation. The three dividers are a combination of Lapis Lazuli with Carnelian and Howlite accents. The guru bead consists of a 'tassel' of four knotted strands in black micro-macrame cord, ending in four drop-shaped charm beads of Sodalite, Carnelian, Howlite and Obsidian, each capped with embossed Tibetan silver.
The Onyx counter beads are knotted individually for strength with black micro-macrame cord. Each 27-bead counter bead section also includes a small Sodalite spacer knotted at every nine bead interval.
All around length of mala: 115 cm (45")
Counter bead diameter: 0.8 cm (0.3")
The width of the divider combination: approx. 4 cm (0.6")
Length of guru tassel: 5 cm (2")
Please note that Spirit Carrier malas come usually in three sizes, determined by the diameter of the main counter beads - either 8 mm, 10 mm or 12 mm. This mala is the smallest size with 8 mm counter bead diameter, and as it's not too heavy, is nicely suited for wearing.
This mala comes in one of Spirit Carrier's handmade soft cork pouches for safe-keeping.

Read more about Spirit Carrier mala beads
CRYSTAL PROPERTIES
BLACK ONYX
Symbolises mastery over illusions and thus your own future. Aligns its wearer with the Highest Good of all, helping to realise goals with the aid of intuitive decision-making. Highly protective, blocking influences from adversaries. Promotes inner strength and emotional balance. Elevates over fears and worries, and fosters inner strength and confidence.
LAPIS LAZULI
Creativity super charger stone. Ignites new ideas and encourages different creative ways of thinking. Stone of truthfulness, openness, inner power, intuition and manifestation. Thought to increase self-confidence as well as to promote spiritual healing, mental calmness and strength of will. Powerful tool for dream work. Historically a stone of royalty.
HOWLITE
Belongs to the "attunement" stones, linking its keeper to higher spiritual consciousness. Enhances self-awareness by providing insight into one's own actions and behaviour. Boosts creativity. Encourages you to look inside yourself for answers. Calming and balancing stone. Helps in eliminating rage, anger and frustration, to assist with emotional expression. Opens the Third Eye to connect to wider awareness and spiritual insights.
CARNELIAN
Known as a stone of motivation and courage. Stimulates creativity and increases one's sense of self-worth. Balancing for body's energy levels, restoring vitality and motivation. Said to attract prosperity, new resources and good luck. A success stone that helps you follow through with plans. Stone of action that aids in overcoming procrastination. Helps in gaining more understanding of one's inner self. Encourages one to enjoy life, feel its joys and pleasures, be flexible and 'go with the flow'.
SODALITE
Aids the development of psychic abilities and intuition, accelerating the process. Stimulates latent creative abilities. Supportive for public speaking. May open up insights relating to communication and one's inner truths, as well as assisting in living up to one's ideals. Supports building self-esteem. Thought to help as a shield against EMF.
OBSIDIAN
Quick-acting grounding stone. Cleanses and removes unwanted energies from the environment. Assists in releasing negative emotions, bringing them to the surface to be dealt with. When meditated with, can help discovering the roots of certain life situations. Releases disharmony. Strong shield against negative/chaotic energies.
Recently Viewed