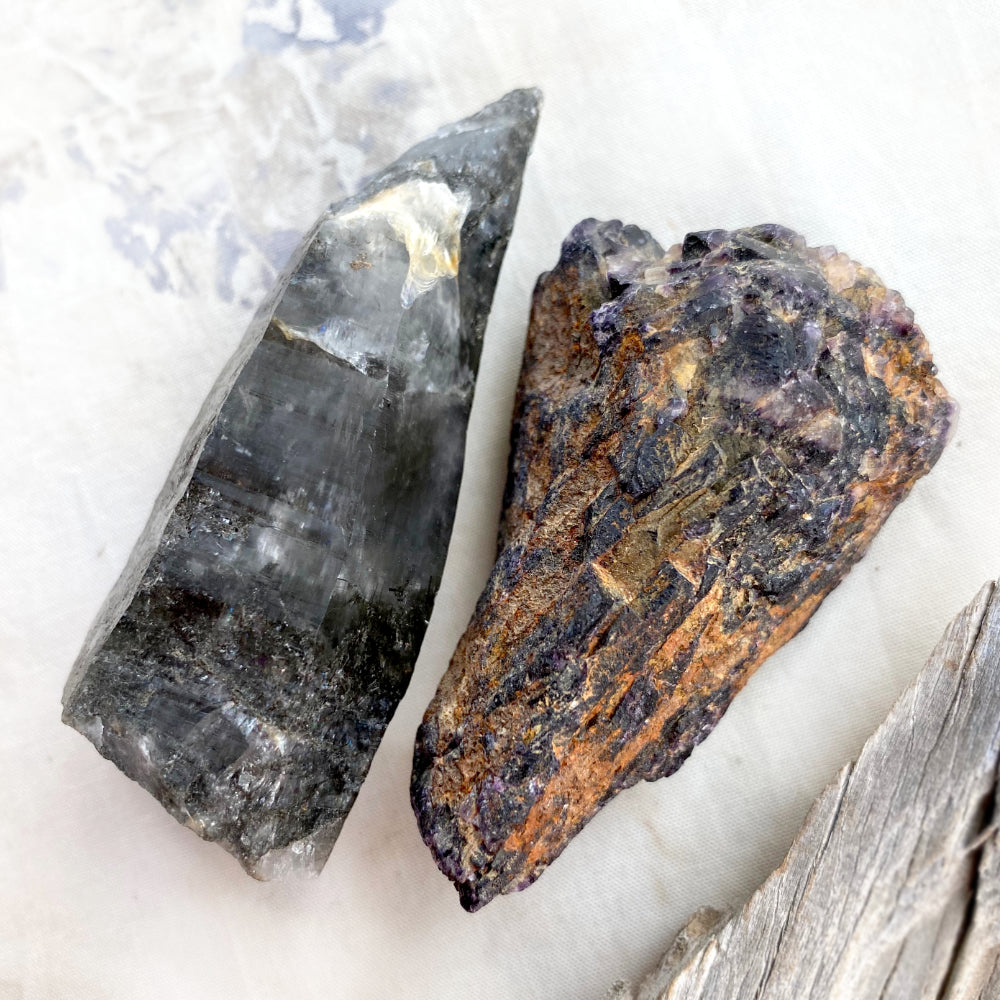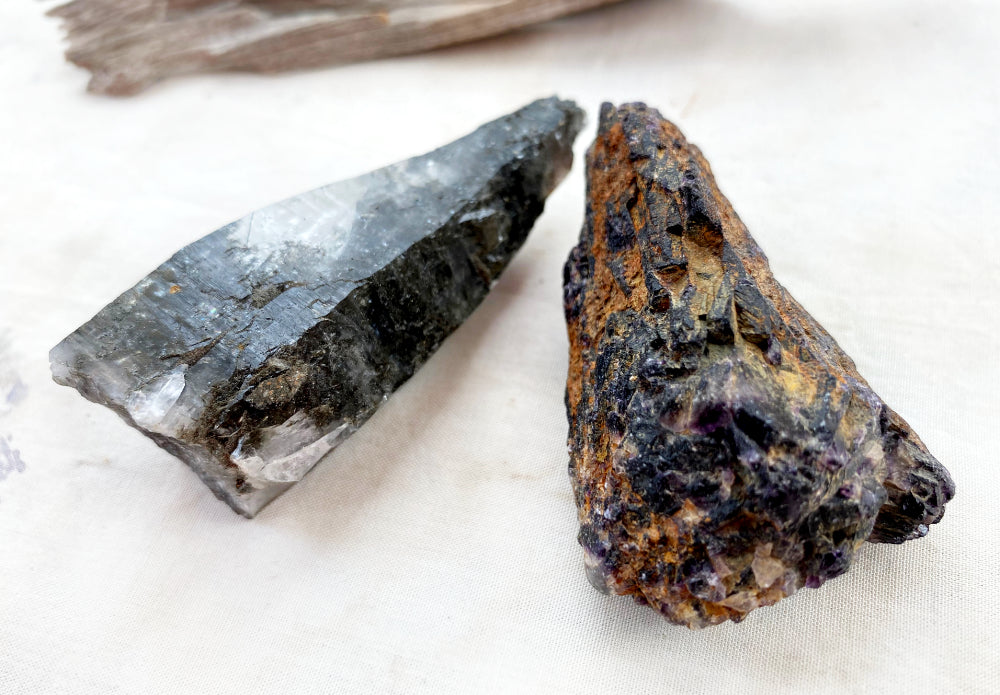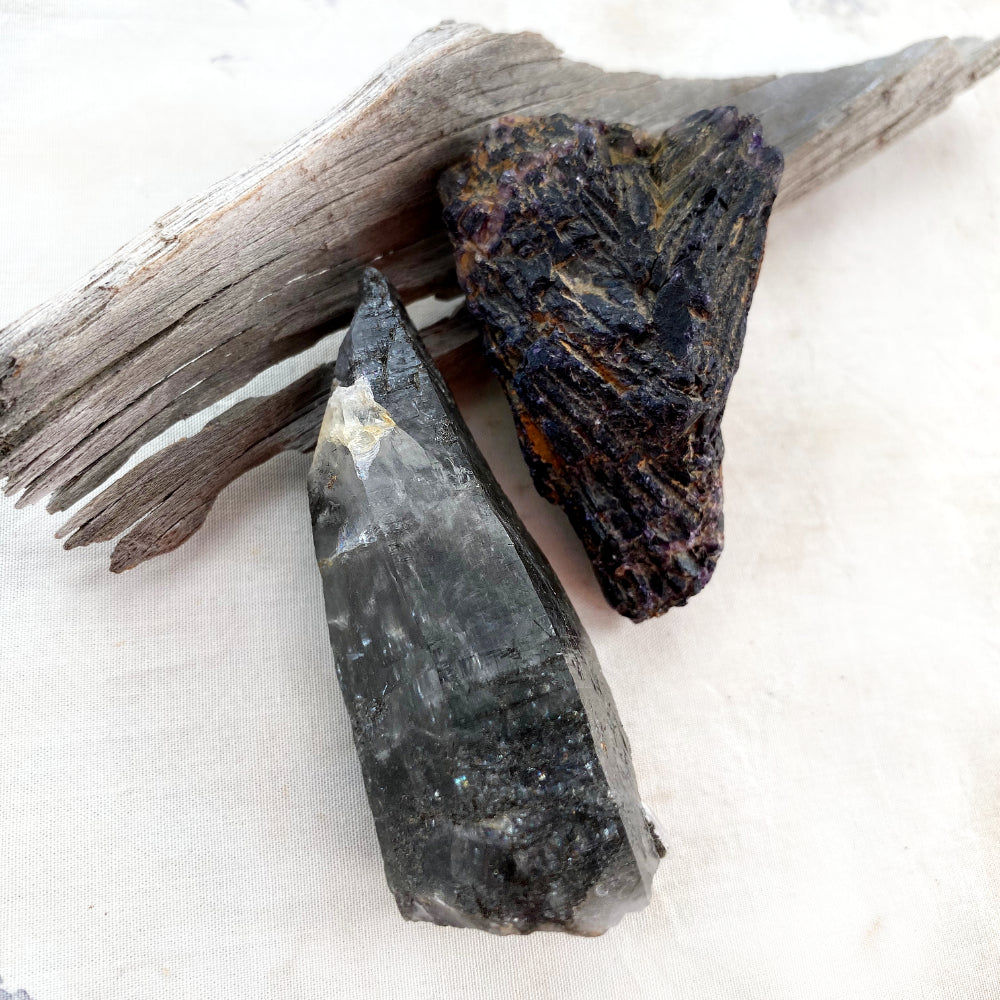 'Companion Crystals' ~ Rutile Quartz & Blue John
DESCRIPTION
An unusual pair that gravitated together in Spirit Carrier studio. Blue John is a rare type of Fluorite, only mined in one area of the world: Derbyshire in England. This enigmatic stone must have chosen the companionship of the Rutile Quartz point for a specific reason - if the dynamics of this duo calls for you, ponder how this crystal energy support may relate to your path ahead at this time, as it is coming to you for a purpose. 

You can use these to handle and play with while travelling, meditate with them either together or with each in turn, include in crystal grids or add more crystals from your own collection to make larger grids. Keep in your handbag and perhaps enjoy once in a while swapping your cell phone to handling crystals instead...
Dimensions:
Blue John - just under 6 cm (2.4")
Rutile Quartz - just over 6.5 cm (2.6")
You'll receive this stone pair in a linen drawstring pouch and gift-wrapped at no extra charge.
~

BLUE JOHN
Called the 'Enigma Stone', a never ending source and keeper of wisdom, knowledge and solutions. Brings a deep sense of peace and clarity of mind. Useful for those seeking to balance the dualities of the dimension we live in. Encourages its keeper to be their own most trusted teacher. A great aid for sensitives who tend to take in or react to surrounding energies too much. Stone of renewal and vitality. Connects the crown, the third eye and the solar plexus chakras in a balanced way, thus aligning your highest destiny and intuition with your ability to manifest the best possible outcomes.
RUTILE QUARTZ
Considered the 'crystal of truth'. Lessens fears. Assists with decision-making processes. Said to protect its keeper from lies and deceptions. Increases understanding of difficult situations. Brings personal strength and releases self-directed anger. Amplifies creativity and shows new directions in life.
Recently Viewed