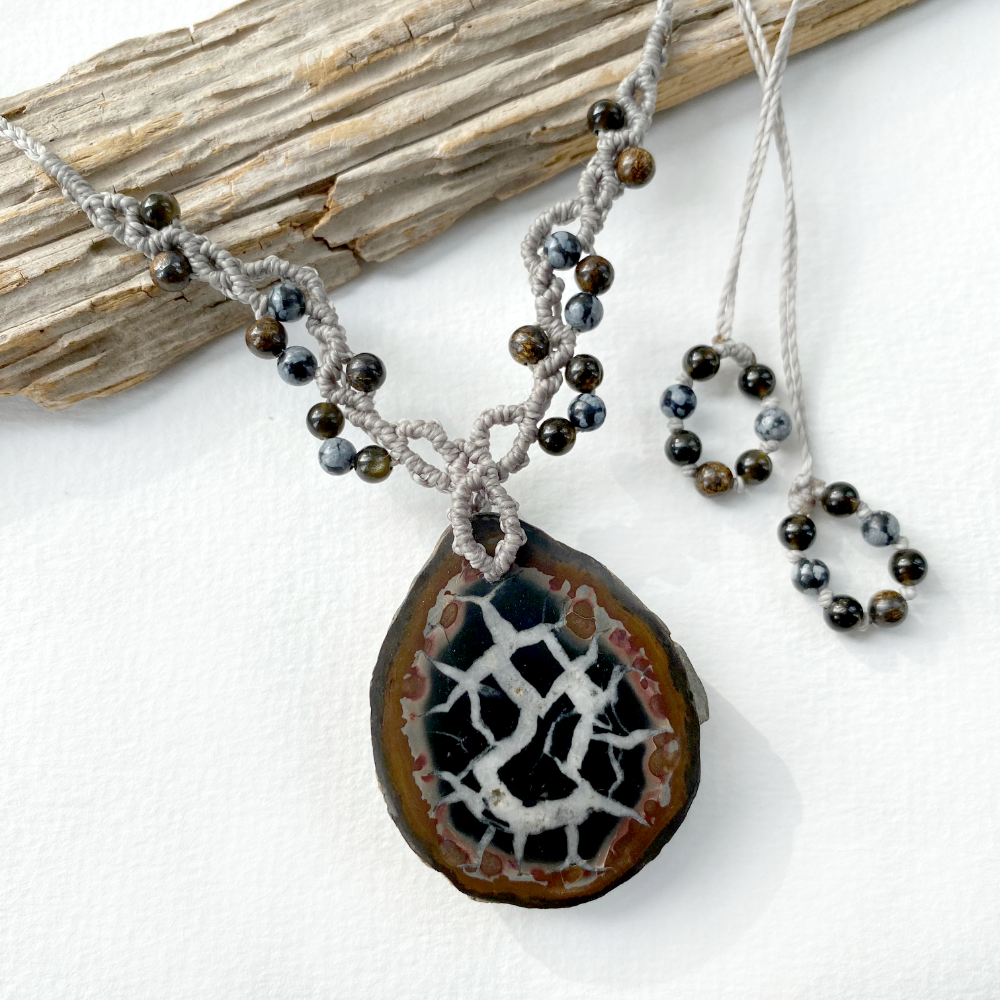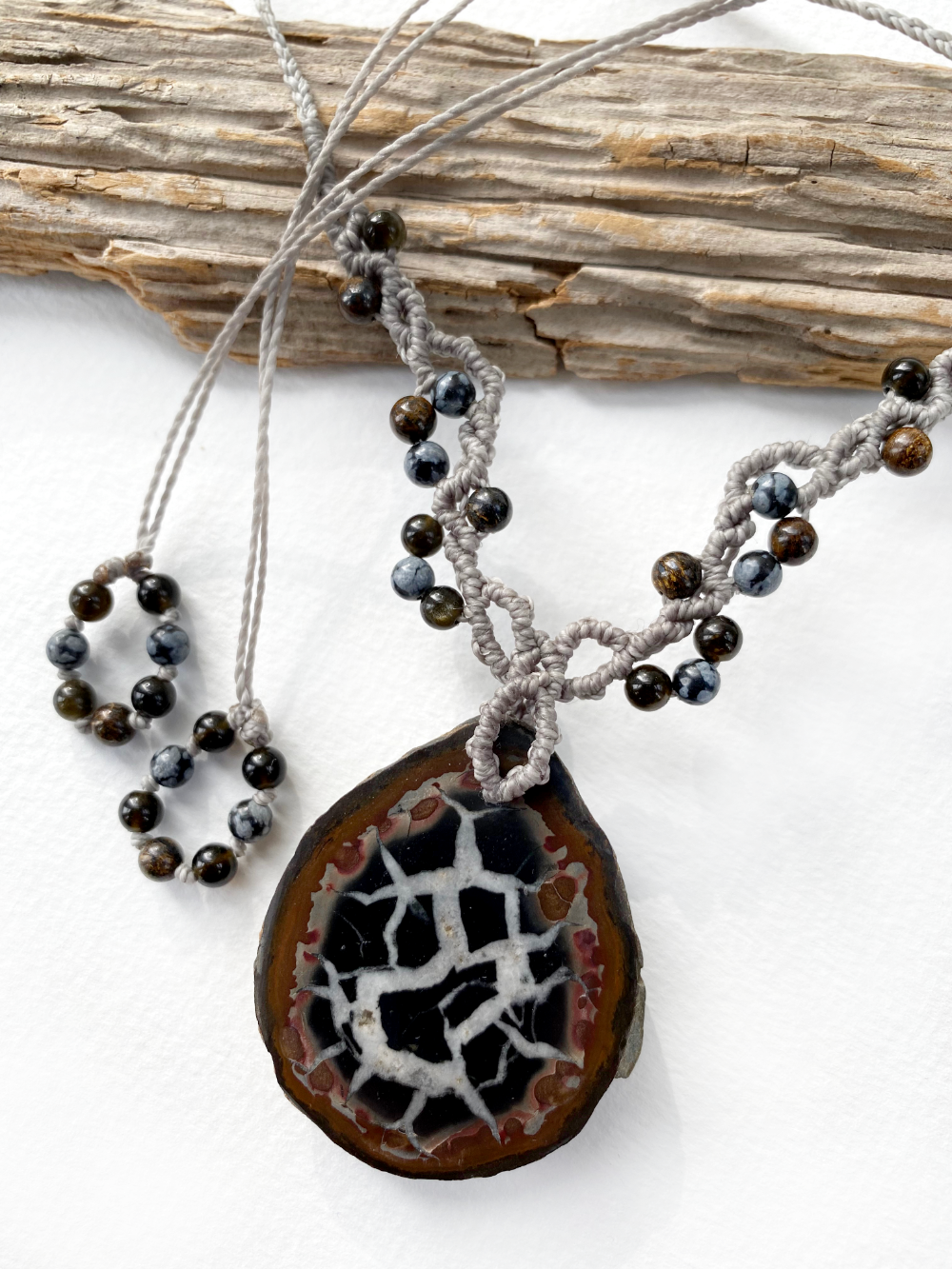 Black Septarian nodule crystal healing amulet
DESCRIPTION
Crystal healing amulet with partly polished, drop-shaped Septarian nodule. The underside of this stone is left natural and rough. The polished surface shows characteristic patterning, like a map of various routes - choice points on life's journey that end up taking us to a certain direction or destination. The necklace is knotted with grey micro-macrame cord, strong and durable yet soft and comfortable to wear. The knotwork is highlighted with Snowflake Obsidian, Golden Sheen Obsidian and Bronzite crystals. 
The length of the necklace is adjustable from very short down to heart level. The Septarian is just over 4 cm (1.6") tall and approx. 3.5 cm (1.5") wide at its middle.

There are no metals in this necklace so would be particularly suitable for those with metal sensitivities / metal allergy, energy workers and those who simply prefer not to wear metal jewellery.

You'll receive this crystal healing necklace in one of Spirit Carrier's fabric draw-string pouches, great for the safe-keeping of the necklace. Gift-wrapped at no extra charge.

Read here how to take care of your crystal jewellery.
CRYSTAL PROPERTIES
SEPTARIAN
Assists in releasing anything that holds you back in life. Guardian of privacy, keeping you from over-sharing. Harmoniser of emotions. Relieves anxiety and helps put you on ease and focus on self-nurturing. Confidence stone for those who speak or perform in front of an audience. Fosters cooperation and supports problem-solving.
SNOWFLAKE OBSIDIAN
Promotes a sense of calm and inner equilibrium, bringing balance to body, mind and spirit. A grounding, protective stone. Eases worries and when carried/worn helps one to stay balanced and centred throughout the day. Native American shamans often carried Snowflake Obsidian as a powerful talisman to avert evil and bring good fortune, also considering it to be the guardian of the Great Spirit.
GOLDEN SHEEN OBSIDIAN
Protective stone that helps one achieve harmony and solve problems relating to past, present and future. Helps in settling inner emotional conflicts and keeps one from entering into outer conflicts so one is free to follow one's spiritual path. Shielding stone that encourages one to stay positive. Transmuting stone to keep negativity at bay. Said to open a window to one's soul and brings out any hidden talents one may have.
BRONZITE
Encourages loving, non-judgemental mindset. Helps in gaining certainty about one's decisions and the right course of action. Bronzite is said to bring harmony into discordant situations, protective when the wearer might feel a lack of control. Instils a feeling of calmness when having "many irons in the fire". A stone of focused action. Grounds you into the knowing that "All Is Well".
Recently Viewed