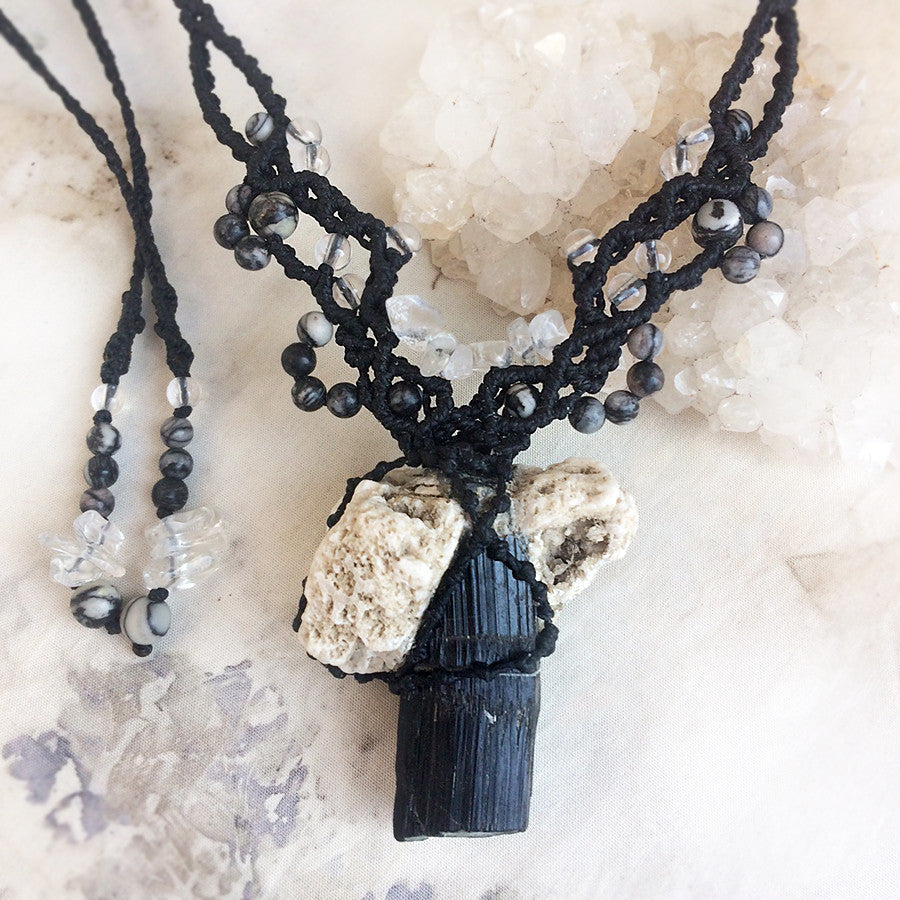 Black Tourmaline crystal healing amulet
DESCRIPTION
Crystal healing amulet with raw, un-drilled Black Tourmaline (also called Schorl), one of the most well-known protective stones. This one, as I was informed by a geologist, is actually two separate Black Tourmalines that have grown together from opposite directions and fused together and joined to become one - I like the symbolism of this. This 'twin' stone is also naturally growing on a cluster of Microcline (the whitish stone near the top). The necklace is intricately knotted in black micro-macrame cord in a lace-like pattern, highlighted with Black Line Jasper and clear Quartz crystals.
The length of the necklace is adjustable from very short down to solar plexus level. The Black Tourmaline is approx. 4 cm (1.6") tall and 1.5 cm (0.6") wide. The width of the Microcline cluster at the top is approx. 4 cm (1.6").
There are no metals in this necklace so would be particularly suitable for those with metal allergy or sensitivity, for energy workers and those who simply prefer not to wear metal.
You'll receive this crystal healing necklace in one of my fabric draw-string pouches, great for the safe-keeping of the necklace. Gift-wrapped at no extra charge.

Read here how to take care of your crystal jewellery.
CRYSTAL PROPERTIES
BLACK TOURMALINE
One of the most well-known protective stones, shielding its user from negativity. A shamanic stone used for grounding during vision quests. Empowering for those who work in challenging environments. Purifies and transforms denser energies into lighter vibrations and is also detoxifying for the body. If you're sensitive to electromagnetic smog, you may get relief by wearing black Tourmaline.
MICROCLINE
Promotes clarity of thought. Supports self-expression and creative pursuits. Increases self-respect and self-assuredness, encouraging you to embrace your unique path in life. Reduces self-damaging behaviours and helps in dispersing negative energy in the surrounding space. Also represents prosperity and assists in bringing in new business.
BLACK LINE JASPER
Protective stone that's said to balance one's yin and yang energies. Grounding for one's kundalini channel. Instils a sense of wellness. Offers insight into one's life path and its purpose.
CLEAR QUARTZ
The universal master crystal that has a harmonising effect on all levels of being. Programmable by intention, so can be used for versatile purposes. Quartz can clear, enhance, amplify, transmute, balance, focus and transmit energy. Raises one's energetic vibration. Brings clarity and filters out distractions. A deep soul cleanser, attuning its keeper to their higher self. Each Quartz crystal is unique with its own character and teachings it offers, all are known as "Stones of Power" and "Master Healers".
Recently Viewed