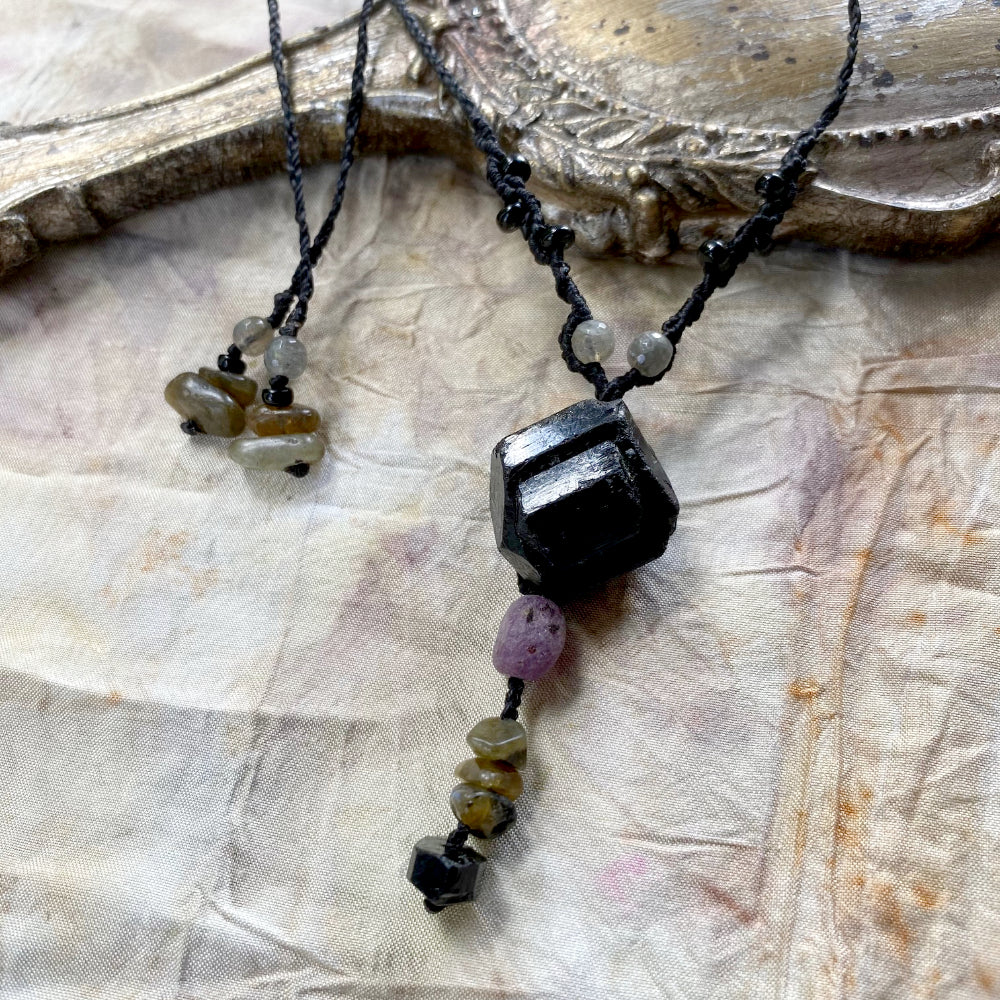 Black Tourmaline crystal healing amulet
DESCRIPTION
Crystal healing amulet with Black Tourmaline, highlighted with Ruby and Labradorite. The raw focal stone attaches to the black, minimally braided necklace with a strand of small crystals dangling down from it. The ends of the intricately thin necklace braid are adorned with Black Tourmaline and Labradorite crystals. This stylish crystal energy necklace would match many outfits, from casual to formal.
The length of the necklace is fully adjustable from as short as you wish down to solar plexus level. The Black Tourmaline is approx. 2 cm (0.8") wide and 2 cm (0.8") tall. The drop length from the top of the Black Tourmaline down to the base of the hanging crystal strand is approx. 5.5 cm (2.2").
There are no metals in this necklace so would be particularly suitable for those with metal sensitivities, energy workers and those who simply prefer not to wear metal.
You'll receive this crystal healing necklace in one of Spirit Carrier's fabric drawstring pouches, great for the safe-keeping of the necklace. Gift-wrapped at no extra charge.

Read here how to take care of your crystal jewellery.
CRYSTAL PROPERTIES
BLACK TOURMALINE
One of the most well-known protective stones, shielding its user from negativity. A shamanic stone used for grounding during vision quests. Empowering for those who work in challenging environments. Purifies and transforms denser energies into lighter vibrations and is also detoxifying for the body. If you're sensitive to electromagnetic smog, you may get relief by wearing black Tourmaline.
RUBY
Increases vitality and one's life-force energy, Very energising, excellent for women. Promotes clear mind, motivation and concentration. Associated with love, passionate commitment and heart-based closeness, offering help in shedding past hurts. Encourages you to 'follow your bliss' and have courageous attitude. Supports closeness and commitment. Shielding crystal to keep your energy field in your own command. 
LABRADORITE
One of the most powerful, versatile crystal tools for healing. Creates an auric shield and strengthens your innate energy and life force, preventing energy leakages. Enhances intuitive abilities and assists in spiritual transformation. Helps the wearer align with their highest destiny and discover their inner worth. Strengthens willpower and brings in new ideas. Often referred to as the 'Stone of Destiny', believed to help you to find your true path in life, and as 'Temple of the Stars', anchoring higher dimensional light into your being.
Recently Viewed