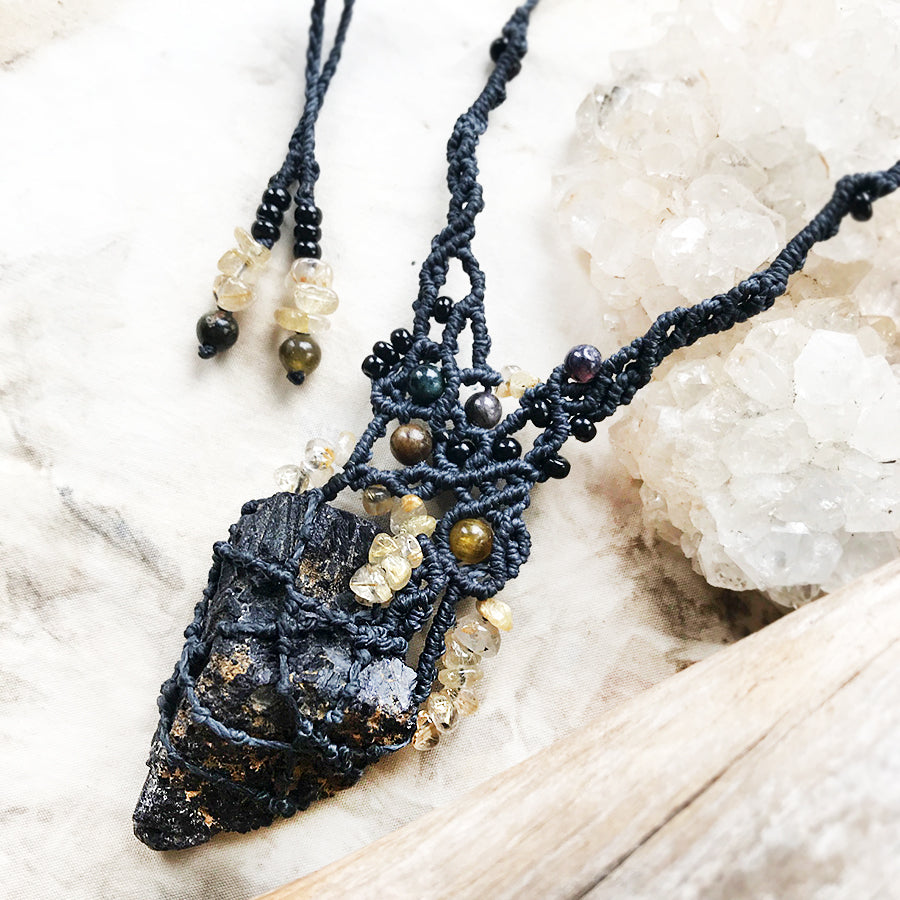 Blue John Fluorite crystal healing amulet
DESCRIPTION
Crystal energy talisman with raw, un-drilled Blue John, combined with highlighting crystals of Gold Rutile Quartz and Tourmaline. Blue John is a rare type of Fluorite, only mined in one area of the world - Derbyshire in England. The necklace is knotted with dark petrol blue micro-macrame cord. The ends of the adjustable necklace braids are decorated with matching crystals.
The length of the necklace is adjustable from very short down to solar plexus level. The Blue John is approx. 5 cm (2") tall and approx. 3 cm (1.2") wide and thick in the middle. Blue John in general is quite a heavy stone so there's a good feeling of weight to this necklace -not too heavy but rather quite reassuring- and it's also lovely to occasionally cradle the stone in the palm of your hand to feel the connection. A great talisman to wear while meditating too.
There are no metals in this necklace so would be particularly suitable for those with metal sensitivities, energy workers and those who simply prefer not to wear metal.
You'll receive this one-of-a-kind crystal healing necklace in one of my fabric draw-string pouches, great for the safe-keeping of the necklace. Gift-wrapped at no extra charge.

Read here how to take care of your crystal jewellery.
CRYSTAL PROPERTIES
BLUE JOHN
Called the 'Enigma Stone', a never ending source and keeper of wisdom, knowledge and solutions. Brings a deep sense of peace and clarity of mind. Useful for those seeking to balance the dualities of the dimension we live in. Encourages its keeper to be their own most trusted teacher. A great aid for sensitives who tend to take in or react to surrounding energies too much. Stone of renewal and vitality. Connects the crown, the third eye and the solar plexus chakras in a balanced way, thus aligning your highest destiny and intuition with your ability to manifest the best possible outcomes.
GOLD RUTILE QUARTZ
A master assistant in self-discovery, a companion in finding one's inner truth, purpose and destiny. Joyful and energising. Thought to offer protection against psychic attacks and helps in opening up to one's Divine strength. Assists in activating one's creativity and manifesting dreams into reality.
TOURMALINE
Stone of abundance, protection and healing. Aids understanding oneself and others. Soothing and supportive. Reduces fears and promotes self-confidence. Removes energetic blockages, balancing the male/female energy within the body. 
BLACK TOURMALINE
One of the most well-known protective stones, shielding its user from negativity. A shamanic stone used for grounding during vision quests. Empowering for those who work in challenging environments. Purifies and transforms denser energies into lighter vibrations and is also detoxifying for the body. If you're sensitive to electromagnetic smog, you may get relief by wearing black Tourmaline.
Recently Viewed