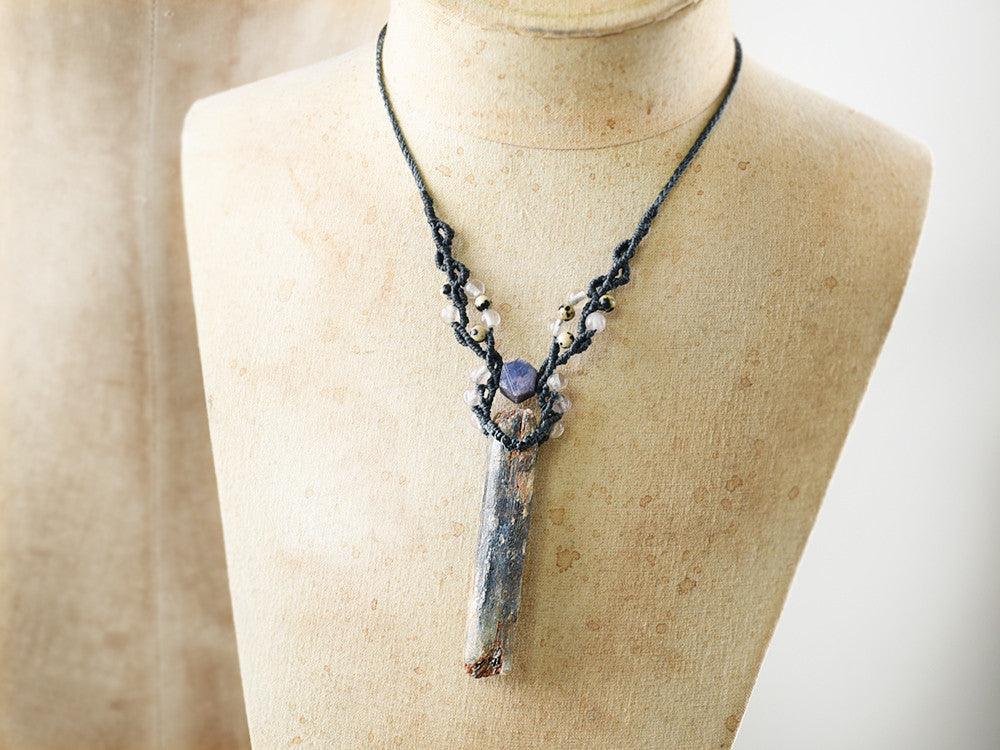 Blue Kyanite crystal energy amulet, with record-keeper Sapphire
DESCRIPTION
Crystal healing necklace with a rough, slender piece of blue Kyanite, combined with a raw blue Sapphire (record-keeper formation) and highlighted with Quartz and Dalmatian Jasper crystals. The necklace is minimally knotted with muted petrol blue micro-macrame cord. The ends of the adjustable necklace cords are decorated with Quartz and Dalmatian Jasper as well.
The length of the necklace is adjustable from very short down to solar plexus level. The tall blue Kyanite is just under 7 cm (2.75") tall and just under 1.5 cm (0.6") wide.
There are no metals in this necklace so would be particularly suitable for those with metal sensitivities, energy workers and those who simply prefer not to wear metal.
You'll receive this crystal healing necklace in one of my fabric draw-string pouches, great for the safe-keeping of the necklace. Gift-wrapped at no extra charge.
Read here about how to take care of your natural crystal jewellery.
CRYSTAL PROPERTIES
BLUE KYANITE
'Stone of connection' that opens up energetic pathways where none existed. Enhances telepathic and psychic abilities, aligning chakras and subtle bodies. Calming and soothing, aids meditative work. Beneficial in negotiations, creating harmony between people through enhanced communication. Empowers you to stay true to your path. Helps in hearing one's intuitive guidance.
SAPPHIRE
A stone of psychic activation, enhances insight and focus. Helps the throat and third eye chakras to work in unison to strengthen and express one's inner vision. Grounds higher knowledge and helps one to stay centred. Evokes the wisdom needed to see past any situation into the underlying truth. Helpful in channeling healing energy from the highest source, allowing access to deeper levels of consciousness. (Sapphire is one of the four 'precious' gemstones, the other three being Ruby, Emerald & Diamond. Other gemstones are considered 'semi-precious'.)

RECORD-KEEPER CRYSTALS: Characterised by the appearance of raised or sunken "record-keeper" triangles on the faces of the crystal. Activate dormant intuitive abilities and enhance one's psychic skills. Can be used to access the knowledge and wisdom of ancient civilizations from Akashic Records.
DALMATIAN JASPER
Helps in removing barriers that prevent you from moving forward in life, and to discover your true purpose of being in the world. Brings joy and playfulness into one's life. The black spots in this stone are Black Tourmaline, which adds to this stone's protective qualities.
QUARTZ
The universal master crystal that has a harmonising effect on all levels of being. Programmable by intention, so can be used for versatile purposes. Quartz can clear, enhance, amplify, transmute, balance, focus and transmit energy. Raises one's energetic vibration. Brings clarity and filters out distractions. A deep soul cleanser, attuning its keeper to their higher self. Each Quartz crystal is unique with its own character and teachings it offers, all are known as "Stones of Power" and "Master Healers".
Recently Viewed