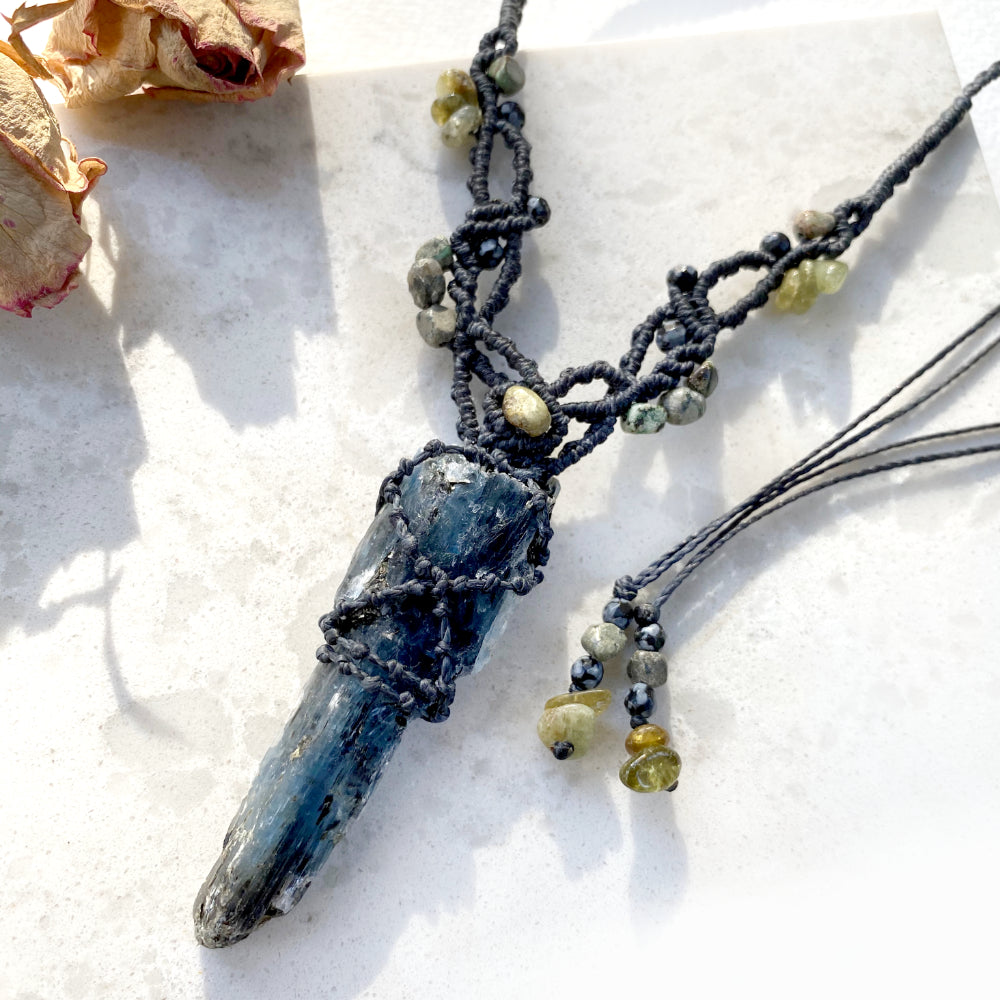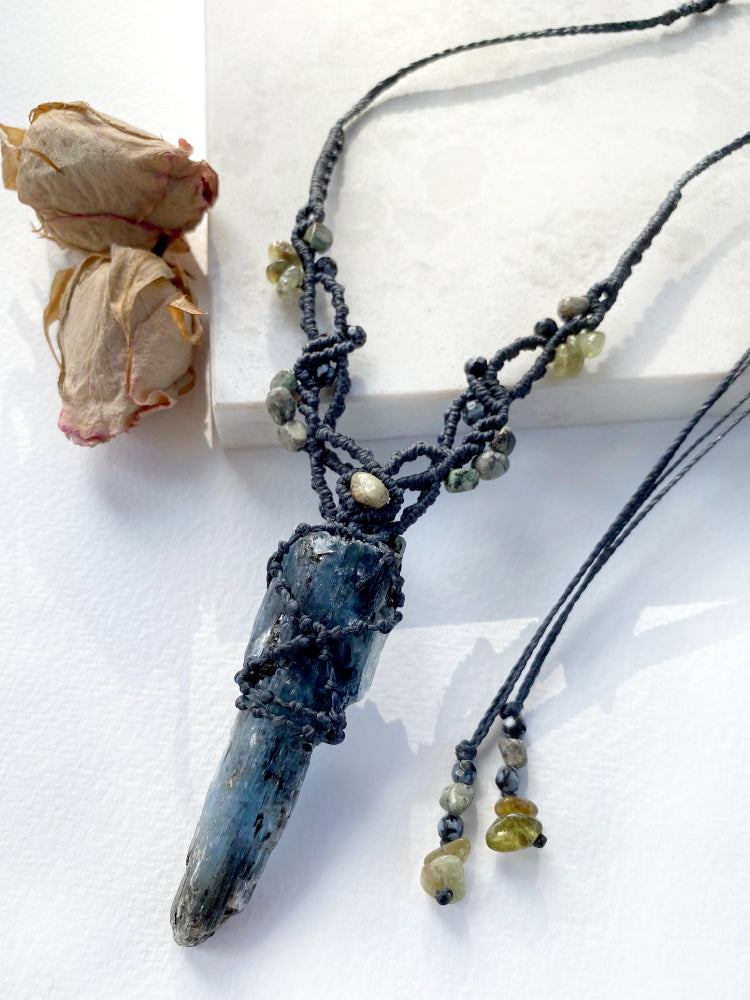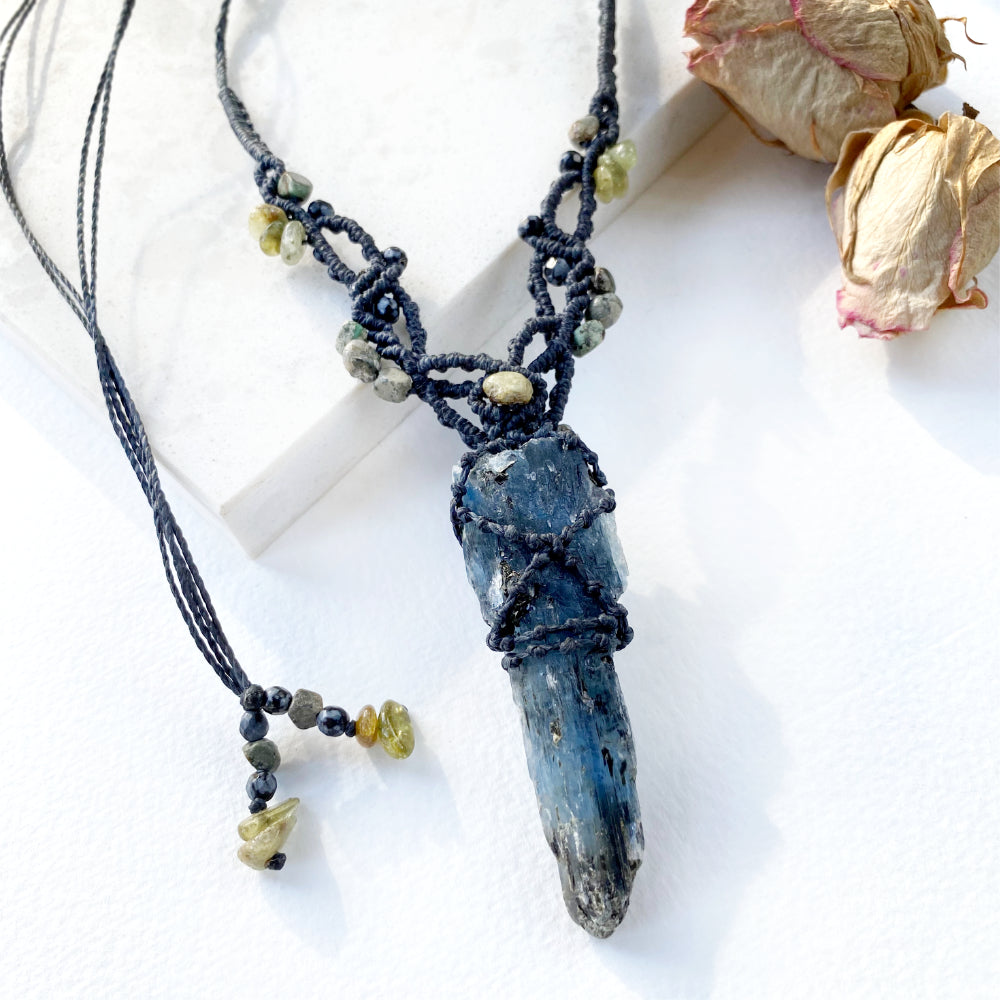 Blue Kyanite crystal energy amulet
DESCRIPTION
Crystal healing necklace with a rough, slender piece of blue Kyanite, combined highlighted with Verdelite, African Turquoise Jasper and Snowflake Obsidian crystals. The necklace is intricately knotted in lace-like pattern with muted petrol blue micro-macrame cord. The ends of the adjustable necklace cords are decorated with matching crystals.
The length of the necklace is adjustable from very short down to solar plexus level. The tall blue Kyanite is just over 6 cm (2.4") tall and approx. 2 cm (0.8") at its widest.
There are no metals in this necklace so would be particularly suitable for those with metal sensitivities, energy workers and those who simply prefer not to wear metal.
You'll receive this crystal healing necklace in one of Spirit Carrier's fabric draw-string pouches, great for the safe-keeping of the necklace. Gift-wrapped at no extra charge.
Read here about how to take care of your natural crystal jewellery.
CRYSTAL PROPERTIES
BLUE KYANITE
'Stone of connection' that opens up energetic pathways where none existed. Enhances telepathic and psychic abilities, aligning chakras and subtle bodies. Calming and soothing, aids meditative work. Beneficial in negotiations, creating harmony between people through enhanced communication. Empowers you to stay true to your path. Helps in hearing one's intuitive guidance.
VERDELITE (aka Green Tourmaline)
Connects to the energy of compassion, opening up pathways to self-healing and letting go of old heart wounds. Helpful in implementing new projects with the aim of bringing your true desires to fruition. Balancing and rejuvenating, attracting luck and prosperity.
SNOWFLAKE OBSIDIAN
Promotes a sense of calm and inner equilibrium, bringing balance to body, mind and spirit. A grounding, protective stone. Eases worries and when carried/worn helps one to stay balanced and centred throughout the day. Native American shamans often carried Snowflake Obsidian as a powerful talisman to avert evil and bring good fortune, also considering it to be the guardian of the Great Spirit.
AFRICAN TURQUOISE JASPER
Calming and soothing stone that creates a feeling of tranquility and comfort. Encourages personal growth, opening the mind to new ideas and possibilities. Also known as an abundance stone.
Recently Viewed