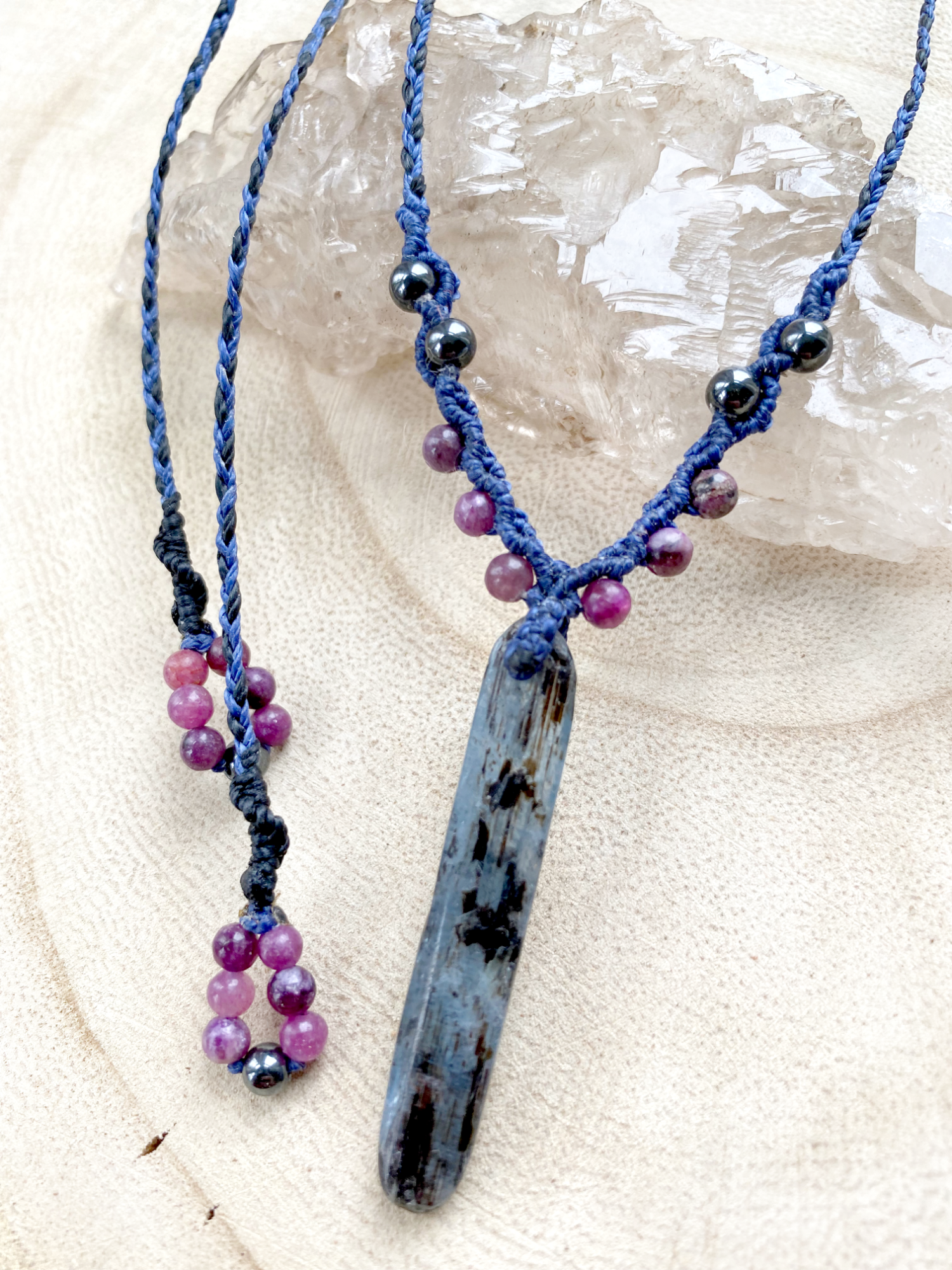 Blue Kyanite crystal healing amulet
DESCRIPTION
A dainty crystal healing necklace with a smooth, slender piece of blue Kyanite, slightly translucent and highlighted with small Lepidolite and Hematite crystals. The Kyanite is knotted with a combination of midnight blue and black micro-macrame cords. The ends of the adjustable necklace cords are decorated with matching crystals.
This is an easy to wear, light in weight necklace which would look best worn at short length, although the necklace is adjustable from very short down to heart level. The thin blue Kyanite is just over 4 cm (1.6") tall and only 0.7 cm (0.25") wide.

You'll receive this crystal healing necklace in one of Spirit Carrier's fabric draw-string pouches, great for the safe-keeping of the necklace. Gift-wrapped at no extra charge.

Read here how to take care of your crystal jewellery.
CRYSTAL PROPERTIES
BLUE KYANITE
'Stone of connection' that opens up energetic pathways where none existed. Enhances telepathic and psychic abilities, aligning chakras and subtle bodies. Calming and soothing, aids meditative work. Beneficial in negotiations, creating harmony between people through enhanced communication. Empowers you to stay true to your path. Helps in hearing one's intuitive guidance.
LEPIDOLITE
An open, inviting stone, offering its gentle love readily when you just hold it in your hand. Useful in reducing depression and stress, it can assist in moving calmly through life transitions. In crystal healing practice, Lepidolite has been used to ease emotional traumas, panic attacks and addictions. Lepidolite is said to help you to nurture yourself and be optimistic, and to clear out ties to the past, assisting you in moving freely forward in joy and happiness.
HEMATITE
Creates a strong sense of self and enhances the creative flow. Relieves stress. Revitalises, enhancing personal magnetism and optimism. Helps in releasing self-imposed limitations to find your own unique gifts. A stone of balance and equilibrium. Grounds when feeling scattered, allows one to maintain a natural alertness while remaining calm.
Recently Viewed