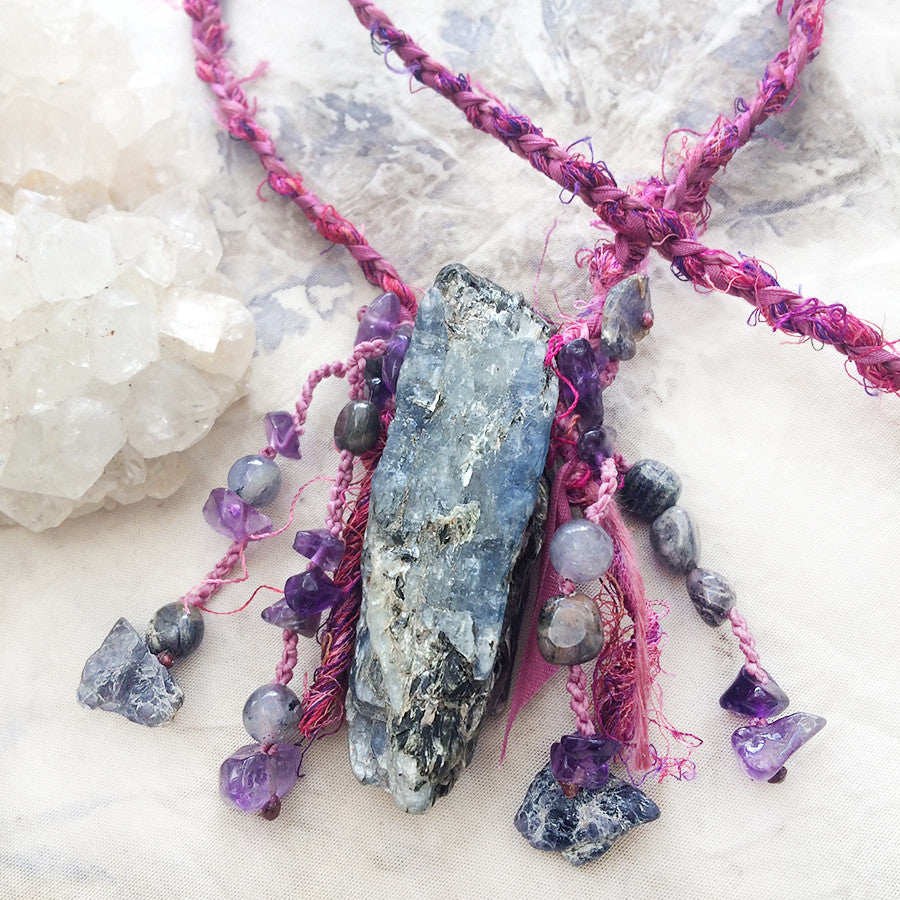 Blue Kyanite crystal healing talisman
DESCRIPTION
Stone talisman with raw Kyanite, combined with the energies of Iolite, Amethyst and SIlver Leaf Jasper. The blue of the Kyanite is contrasted with the soft silk braid's bright pink tones. The hand-spun silk also includes some hints of purple.
The necklace braid is set length, and slips over the head without the need for a clasp. It has an all around measurement of approx. 70 cm (27.5"). The Blue Kyanite is just over 5.5 cm (2.2") tall and just under 2 cm (0.8") wide. This necklace would also work well in "layering" together with other crystal amulets for an individual look.
There are no metals used in this necklace so would be particularly suitable for those with sensitivities to metals.
You'll receive this crystal healing necklace in one of my handmade fabric draw-string pouches - great for the safe-keeping of the necklace. Gift-wrapped at no extra charge.

Read here how to take care of your crystal jewellery.
CRYSTAL PROPERTIES
BLUE KYANITE
'Stone of connection' that opens up energetic pathways where none existed. Enhances telepathic and psychic abilities, aligning chakras and subtle bodies. Calming and soothing, aids meditative work. Beneficial in negotiations, creating harmony between people through enhanced communication. Empowers you to stay true to your path. Helps in hearing one's intuitive guidance.
IOLITE
Aids in making inner visions more vivid, dissolving fear of the unknown. Helps in blending everyday conscious thinking with intuitive inner knowing. Awakens psychic gifts, activating and clearing the third eye. Helps accessing communication from higher vibratory realms. Helps one to act and respond to situations from one's higher guidance.
AMETHYST
Instils inner peace, promotes self-discovery and aids in relaxation. Associated with the crown chakra, known as a "stone of balance" and positive transformation. Thought to increase spiritual awareness and psychic abilities, initiating higher knowing and greater understanding. Helps in assimilating new ideas and manifesting thoughts into action. Symbolises a connection to the Divine. A well-known support stone for those wanting to break old patterns to create a new, harmonious life.
SILVER LEAF JASPER
Harmonious, protective stone. Considered a good amulet for times of travel (whether physical or astral). Instils a feeling of wholeness and serenity, a sense that all is well. Great support for one's will power and personal courage. Healing effect on emotional tension. Has been called a "stone of natural wisdom", awakening one's sense of joy in life.
Recently Viewed