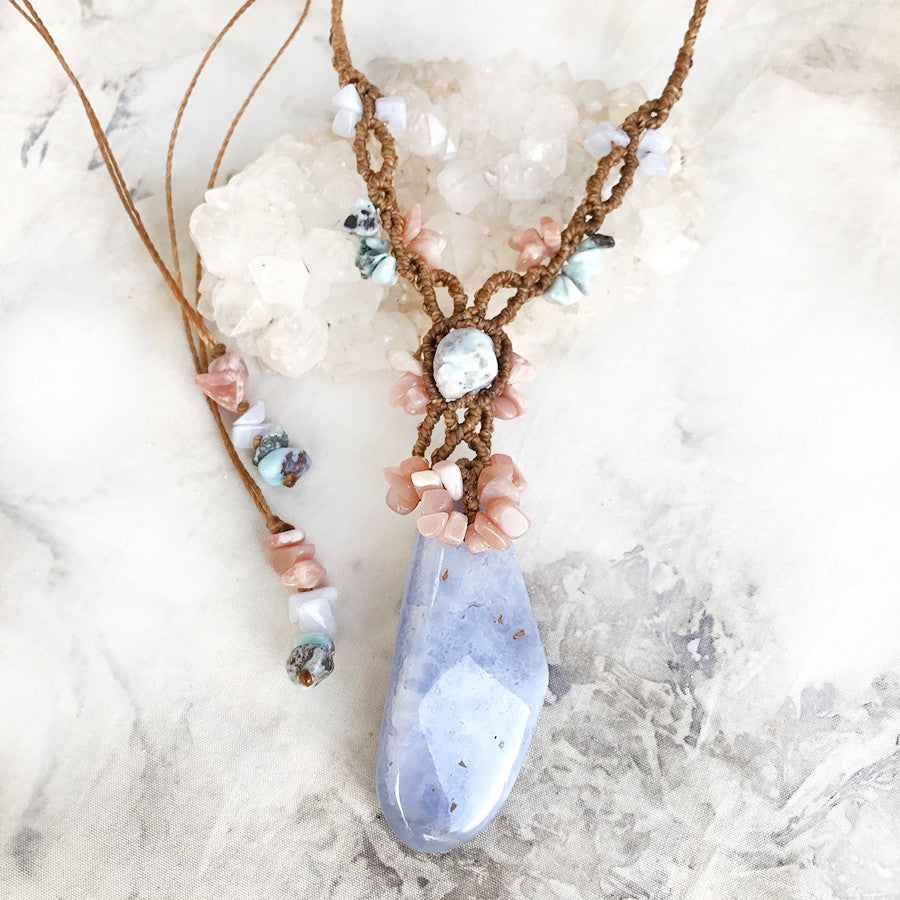 Blue Lace Agate crystal healing amulet
DESCRIPTION
Crystal healing amulet combining the energies of Blue Lace Agate with Larimar and Sunstone. The necklace is intricately knotted with golden brown micro-macrame cord - strong and durable yet comfortable to wear. This is a perfect daily crystal amulet, easy to just sling on and go, to carry these supportive vibes with you.
The length of the necklace is adjustable from very short down to solar plexus level. The Blue Lace agate is approx. 5 cm (2") tall and just over 2 cm (0.8") wide at the middle.
There are no metals in this necklace so would be particularly suitable for those with metal sensitivities, energy workers and those who simply prefer not to wear metal.
You'll receive this crystal healing necklace in one of my fabric draw-string pouches, great for the safe-keeping of the necklace. Gift-wrapped at no extra charge.

Read here how to take care of your crystal jewellery.
CRYSTAL PROPERTIES
BLUE LACE AGATE
A gentle, calming stone that's associated with the Throat Chakra, with speaking, communicating and discussions. Especially good for communicating the flow of wisdom you receive from your higher self. Also resonates with the Heart Chakra, assisting in "speaking from the heart". Helps in amplifying the energy of positive affirmations and is an aid for the healing of the inner child.
SUNSTONE
Joyful and nurturing, restores one's enjoyment of life, providing a sense of abundance. Encourages independence and originality. Makes you feel alive and enthusiastic. A good stone for workplace, bringing opportunities. Sunstone can be a source of strength after experiencing losses.
LARIMAR
A relatively rare stone, only found in the Dominican Republic. In crystal lore it is associated with the ancient civilization on Lemuria, and also sometimes called a "Dolphin Stone". Larimar is soothing and uplifting, bringing tranquility into heart and mind. It is said to support self-expression, creativity and patience.
Recently Viewed