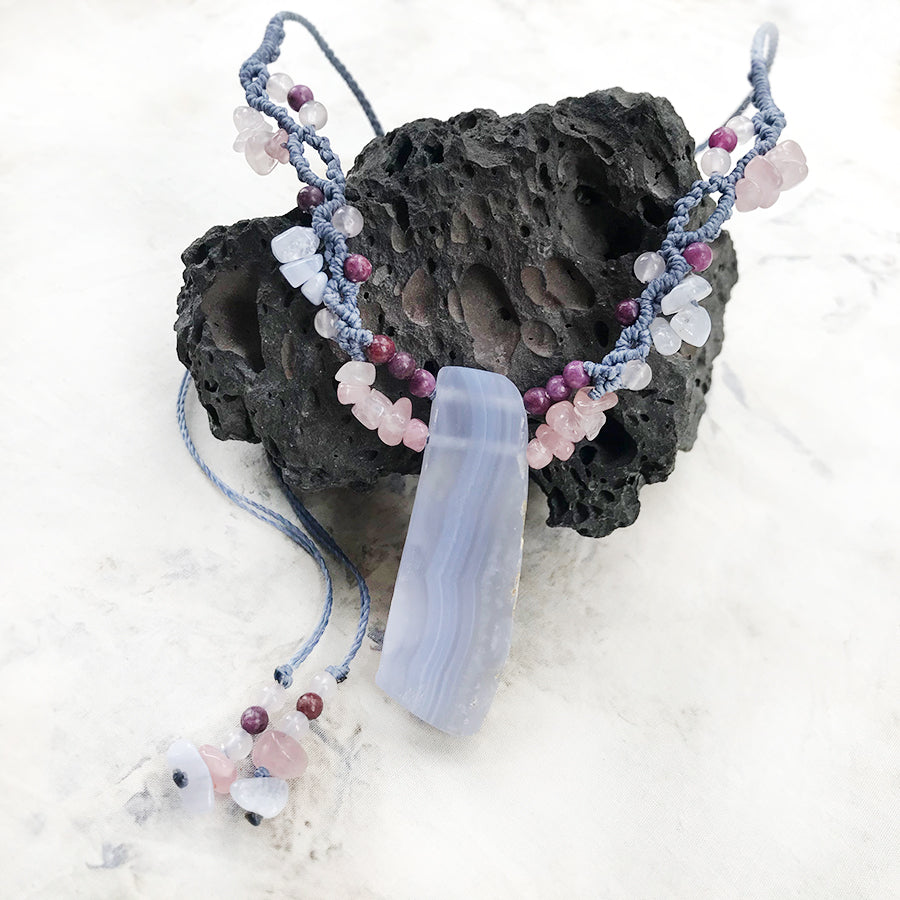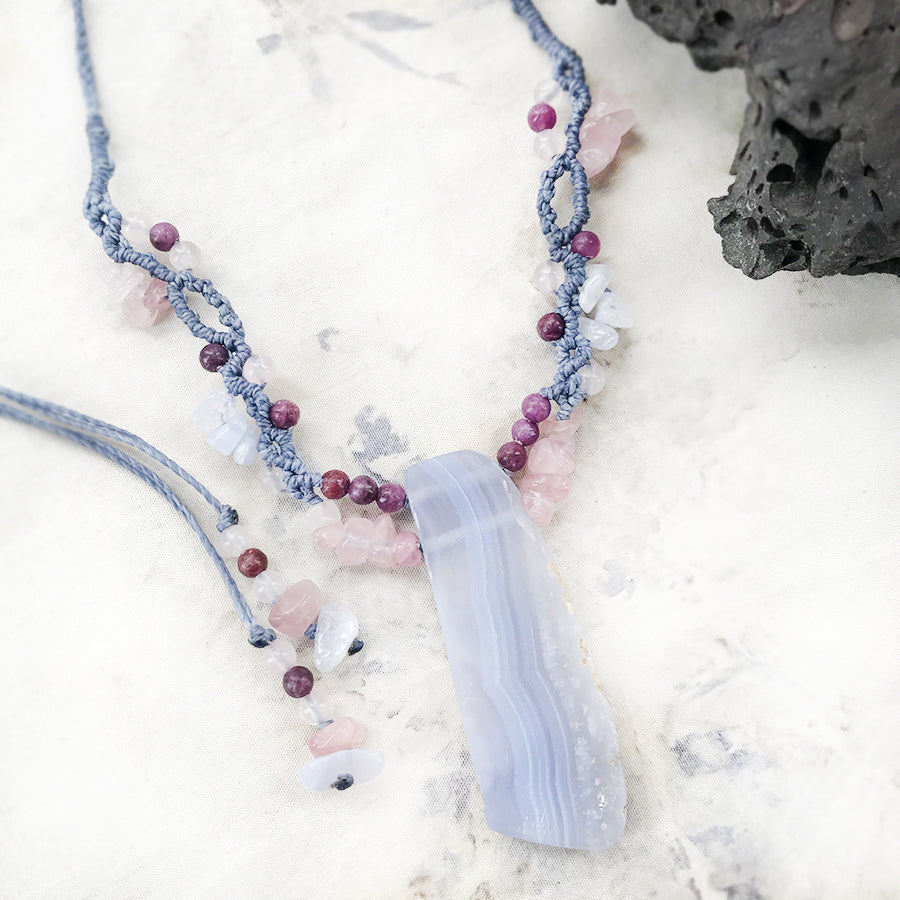 Blue Lace Agate crystal healing amulet
DESCRIPTION
Crystal amulet with Blue Lace Agate. The surface is smooth, and there's a natural variation of blue hued bands from light to dark on this stone. The necklace is knotted and braided with muted blue micro-macrame cord, highlighted with supportive crystals of Rose Quartz, Lepidolite and further small Blue Lace Agate crystals.
The length of the necklace is adjustable from very short down to just above solar plexus level. The Blue Lace Agate is approx. 5.5 cm (2.2") tall and 2 cm (0.8") at its widest. The ends of the adjustable necklace cords are decorated with matching crystals.
There are no metals in this necklace so would be particularly suitable for those with metal sensitivities, energy workers and those who simply prefer not to wear metal.
You'll receive this one-of-a-kind crystal healing necklace in one of Spirit Carrier's handmade draw-string pouches, great for the safe-keeping of the necklace. Gift-wrapped at no extra charge.

Prior to leaving Spirit Carrier studio, all crystals are energy cleansed, balanced and activated for the highest good of their new keeper. 

Read here how to take care of your crystal jewellery.
CRYSTAL PROPERTIES
BLUE LACE AGATE
A gentle, calming stone that's associated with the Throat Chakra, with speaking, communicating and discussions. Especially good for communicating the flow of wisdom you receive from your higher self. Also resonates with the Heart Chakra, assisting in "speaking from the heart". Helps in amplifying the energy of positive affirmations and is an aid for the healing of the inner child.
ROSE QUARTZ
Powerful love stone, love that is all-encompassing and unconditional. Awakens one's heart to its own innate love, compassion and acceptance. Vibrates its loving energy to all chakras, offering gentle healing. Soothing and calming. Dissolves anger and resentment. Good for raising one's self-esteem and feelings of self-worth. Balances emotions and is said to support all types of healing. Guides one's life path towards a sense of personal fulfilment and contentment.
LEPIDOLITE
An open, inviting stone, offering its gentle love readily when you just hold it in your hand. Useful in reducing depression and stress, it can assist in moving calmly through life transitions. In crystal healing practice, Lepidolite has been used to ease emotional traumas, panic attacks and addictions. Lepidolite is said to help you to nurture yourself and be optimistic, and to clear out ties to the past, assisting you in moving freely forward in joy and happiness.
Recently Viewed