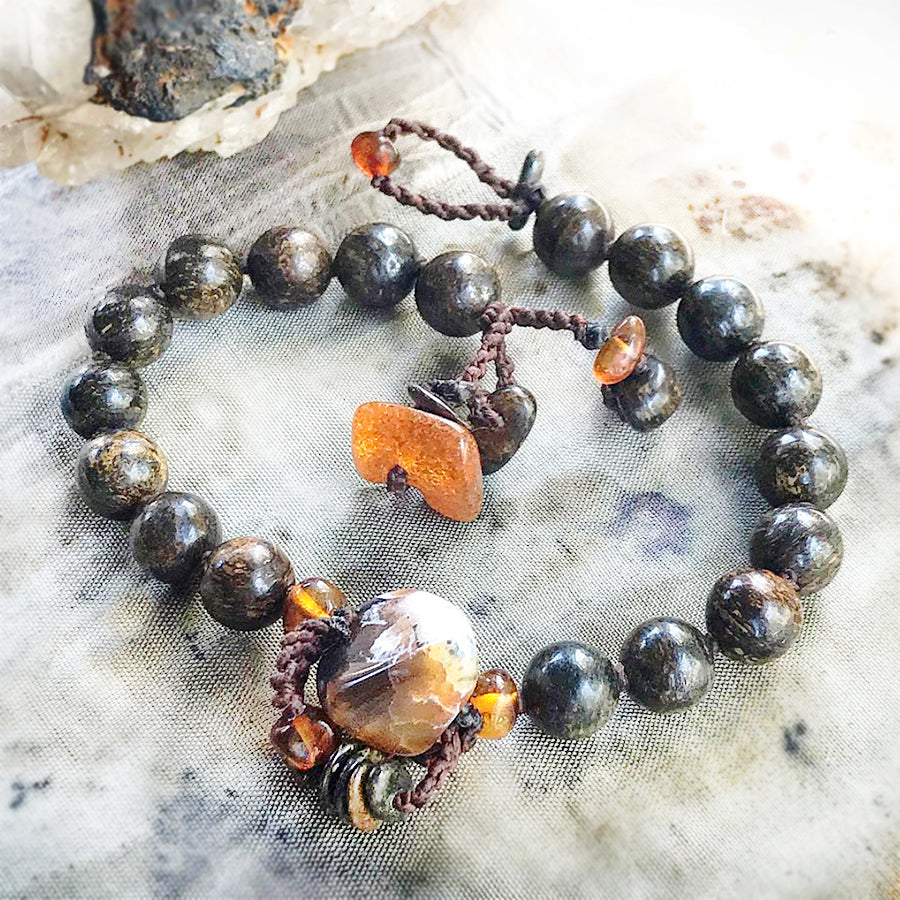 Bronzite mala bracelet ~ up to 7.25" wrist
DESCRIPTION
Mala bracelet with 18 Bronzite counter beads with a divider of Fire Agate, Amber & further smaller Bronzites. The main toggle stone is Amber with two secondary toggles of Bronzite and Amber (you can slip one or more through the knotted loop to fasten the bracelet).
This is a handy meditation / mantra aid for times when you'd like something smaller than a full mala. You can still count up to 108 with these bracelet beads - or in multiples of 27 if you prefer. Simply count back and forth over the divider as many rounds as needed. Use the toggle crystals as the guru bead.
Whilst the total length of this bracelet is 21 cm (8.3") it would make a good snug fit for up to 7"-7.25" wrist circumference, or if you prefer a more loose fit, this is fine for a smaller wrist too. The counter bead diameter is 0.8 cm (0.3").
This mala comes in one of my handmade soft brown leather pouches for safe-keeping. If you would rather have a fabric pouch, please let me know at the time of purchase.

Gift-wrapped at no extra charge.

Read more about Spirit Carrier mala beads
CRYSTAL PROPERTIES
BRONZITE
Encourages loving, non-judgemental mindset. Helps in gaining certainty about one's decisions and the right course of action. Bronzite is said to bring harmony into discordant situations, protective when the wearer might feel a lack of control. Instils a feeling of calmness when having "many irons in the fire". A stone of focused action. Grounds you into the knowing that "All Is Well".
AMBER
Amber is like sunshine solidified, offering a wonderful sense of health and wellbeing. Transmutes negative energies into positive, excellent for psychic protection. Cheers you up and helps you take action to make your ideas reality - ideal manifestation aid. Cleansing effect on the body, mind and spirit, promoting self-confidence and creative self-expression. Encourages spontaneity, patience and inner wisdom.
FIRE AGATE
Assists in taking decisive action in unclear situations. Connects with one's inner courage to go after one's goals. Helpful in overcoming creative blocks of any kinds. Promotes inner stability. Forms a protective auric shield. Grounding and revitalising.  It can alleviate the emotional charge in problems, and enhances all healing energies. Helps you to tap into your own perfection.
Recently Viewed