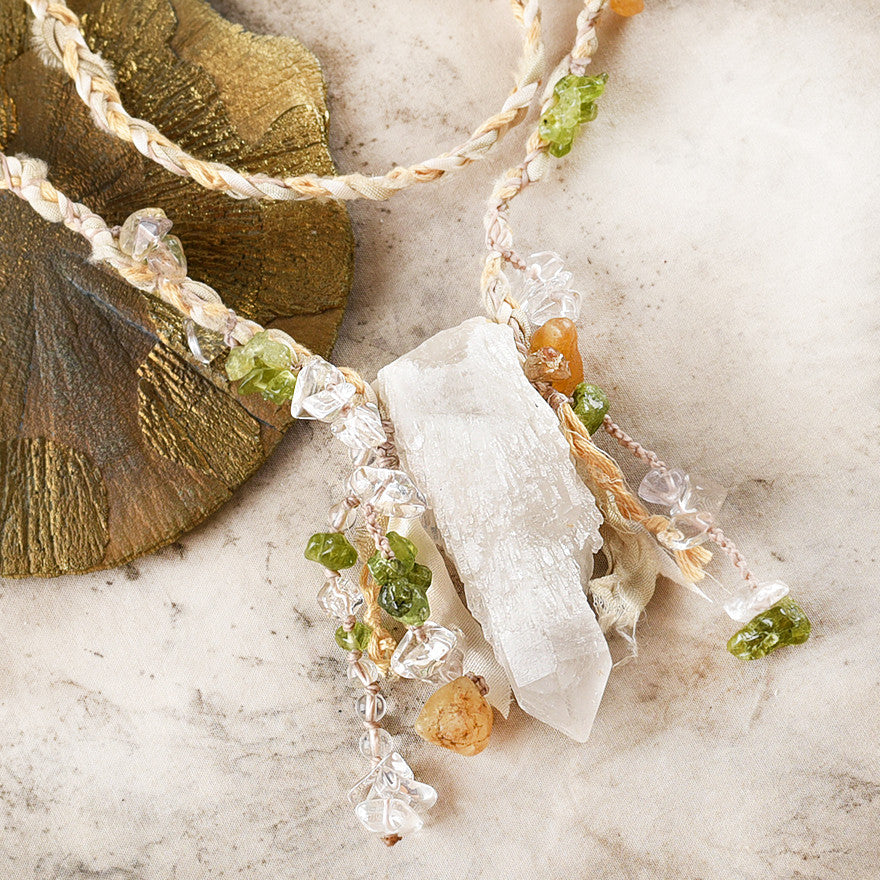 Candle Quartz crystal energy talisman in silk braid
DESCRIPTION
Natural, raw Candle Quartz, with transparent point and beautiful white 'candle wax' texture so characteristic to this crystal. The soft necklace cord is braided with a combination of white silk ribbon, recycled un-bleached sari silk, pale yellow embroidery cotton and light beige micro-macrame cord. The talisman is highlighted with Peridot, Ametrine, clear Quartz and Heliodor crystals adorning both sides of the Candle Quartz and meandering up the sides of the necklace braid also.
The necklace braid is set length, allowing the Candle Quartz point to hang down approx. 37 cm (14.5") measured from the back of the neck to the top edge of the Candle Quartz. The all-around length of the necklace braid is 74 cm (29").
The Candle Quartz point is approx. 6 cm (2.4") tall and 2 cm (0.8") at its widest.
There are no metals in this necklace so would be particularly suitable for those with metal sensitivities / metal allergy, energy workers and those who simply prefer not to wear metal.
You'll receive this crystal healing necklace in one of my handmade fabric draw-string pouches - great for the safe-keeping of the necklace. Gift-wrapped at no extra charge.
CRYSTAL PROPERTIES
CANDLE QUARTZ
Also known as 'Atlantean Lovestar', a great tool for seekers of truth to replace sorrow and depression with hope and comfort. Opens, balances and smooth the heart chakra. Offers access to ancient insights, and can bring a sense of abundance in one's daily life.
PERIDOT
Upbeat and comforting, Peridot reduces stress and amplifies intuitive awareness. Soothes hurt feelings, supporting renewal and personal growth. Brings in-depth heart based awareness, extending from healing to understanding and offering protection against negative emotions. Known also as the stone of prosperity and happiness.
AMETRINE
Infusion of the healing properties of both Amethyst and Citrine, but also emanates its own unique energy. Connects your third chakra and your seventh chakra beautifully, to align your will power with your soul's purpose. Helpful for procrastination sufferers, giving you a boost to joyfully complete your tasks, to be inspired and stay focused. Connects you with the divinity of all. Also said to be an aid in weight loss and in releasing addictions.
CLEAR QUARTZ
The universal master crystal that has a harmonising effect on all levels of being. Programmable by intention, so can be used for versatile purposes. Quartz can clear, enhance, amplify, transmute, balance, focus and transmit energy. Raises one's energetic vibration. Brings clarity and filters out distractions. A deep soul cleanser, attuning its keeper to their higher self. Each Quartz crystal is unique with its own character and teachings it offers, all are known as "Stones of Power" and "Master Healers".
HELIODOR
Crystal of golden light and a 'Stone of Hope', providing relief from emotional burdens. Good for developing self-confidence and assertiveness, boosting drive and determination. Said to bring out honesty in others, as well as helping to regain something that has been lost, especially in regards to prosperity. Also considered to increase one's physical vitality, strength and energy.
Recently Viewed