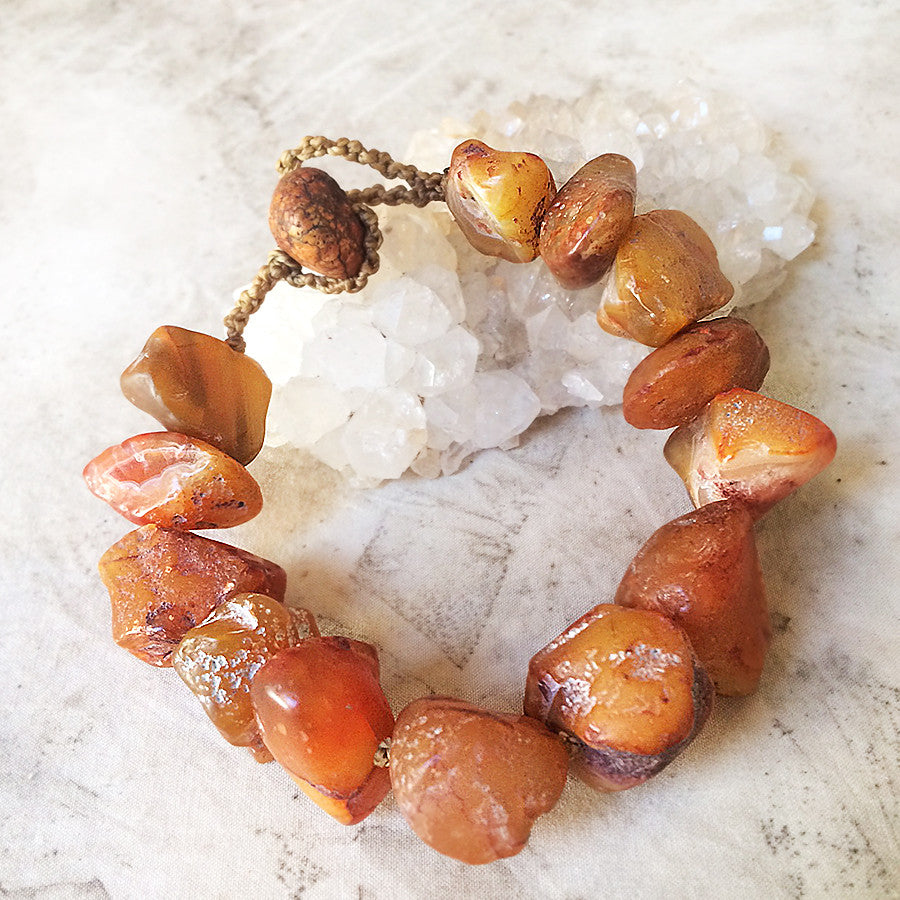 Carnelian crystal healing bracelet ~ for up to 7" wrist
DESCRIPTION
Eye-catching, chunky bracelet, with rugged Carnelian gemstones. This group of Carnelians have a slightly lighter orange tone, in parts leaning towards yellow, compared to the more often seen, darker orange Carnelian. Knotted with a double thickness of golden brown micro-macrame cord with the toggle clasp also being Carnelian. An eye-catching talisman accessory for an individual look.
Although the measured length of the bracelet is 8.7" (22 cm) including the toggle loop, the chunky stones make this a good snug fit for a 7" wrist, but if you have a narrower wrist circumference and prefer a looser bracelet fit, this one won't fall off from a 6" wrist.
The size of the Carnelians varies slightly as each stone is an individually different, but on average they make for a bracelet width of just over 0.8" (2 cm).
There are no metals used in this bracelet, so it would be suitable for those with sensitivities to metals.
You'll receive this crystal healing bracelet in one of my fabric draw-string pouches, great for the safe-keeping of the necklace.
Gift-wrapped at no extra charge.
CRYSTAL PROPERTIES
CARNELIAN
Known as a stone of motivation and courage. Stimulates creativity and increases one's sense of self-worth. Balancing for body's energy levels, restoring vitality and motivation. Said to attract prosperity, new resources and good luck. A success stone that helps you follow through with plans. Stone of action that aids in overcoming procrastination. Helps in gaining more understanding of one's inner self. Stimulating to the Sacral Chakra, which, when in balance, allows one to enjoy life, feel its joys and pleasures, be flexible and 'go with the flow'.
Recently Viewed