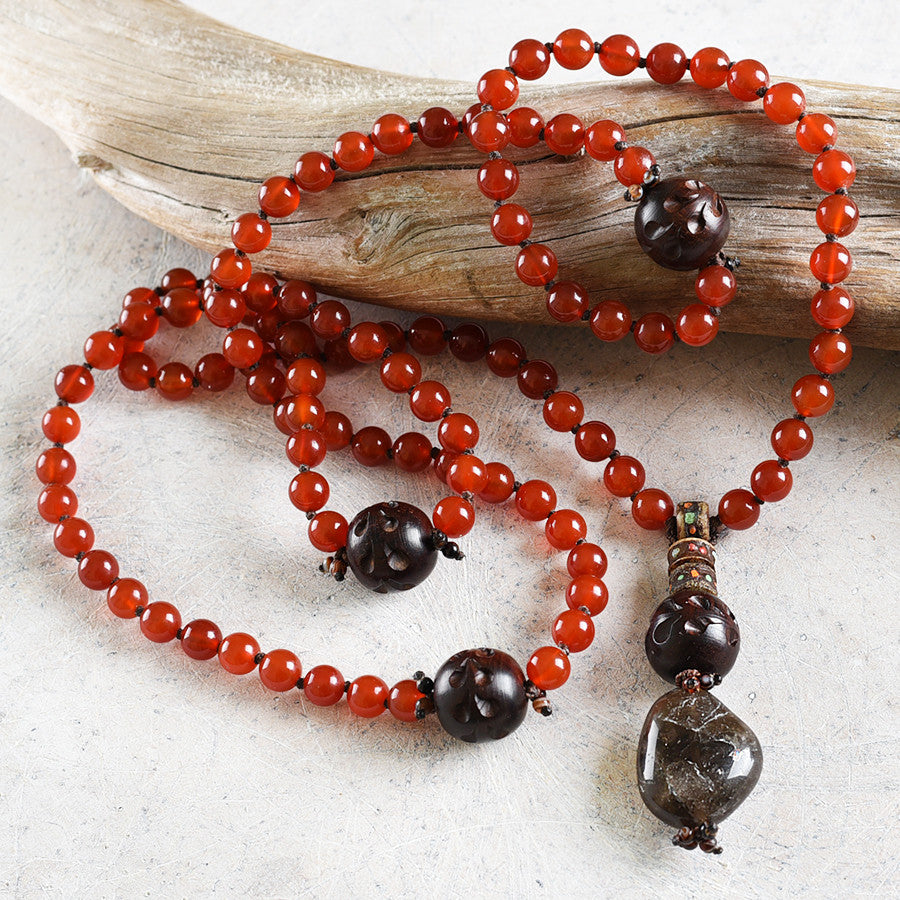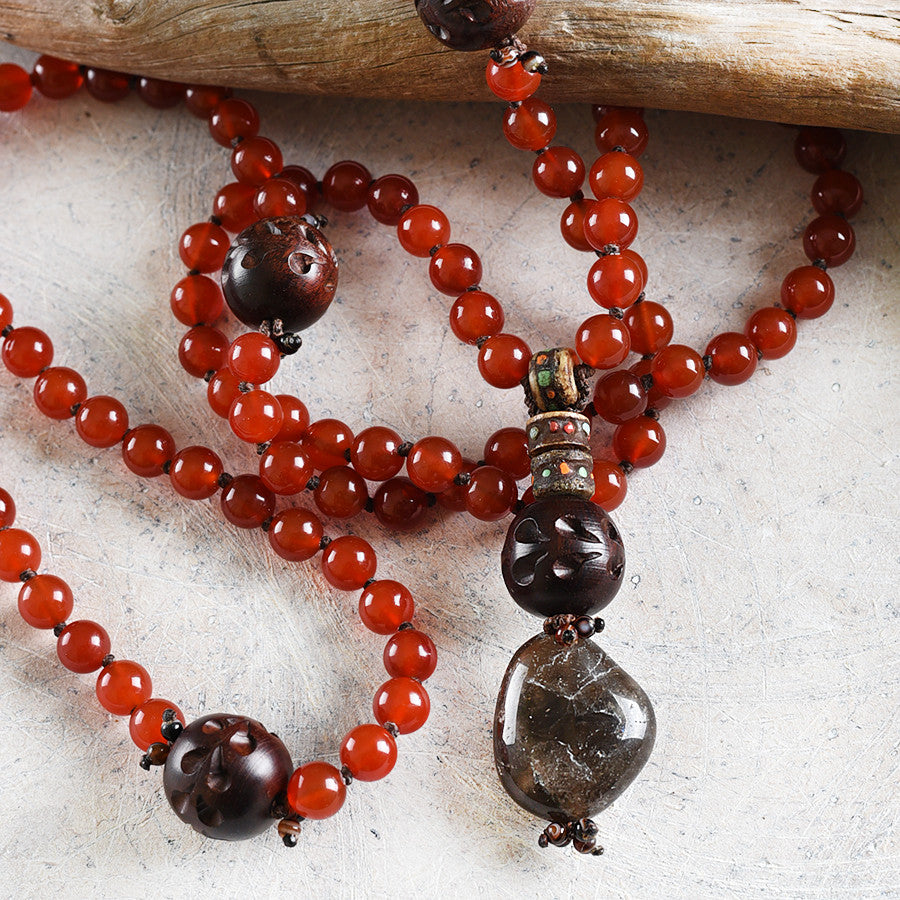 Carnelian gemstone mala with carved wood, Agate & Smokey Quartz
DESCRIPTION
This is a chunky and sturdy meditation mala with Carnelian counter beads (the traditiona amount of 108). The three dividers are large, carved rosewood, with two small Agate beads on each side. The guru bead includes another carved rosewood bead, Smokey Quartz and three antique mala beads from the Himalayas, traditionally carved out of yak bone and inlaid with small chips of Turquoise and Carnelian.
Each counter bead is meticulously knotted by hand - one by one, using dark brown
beeswaxed cord in double thickness for durability and strength. Please note, this mala will feel slightly stiff to handle in the beginning due to the beeswaxed double cord, but will become softer once handled regularly.
All around length of mala: 132 cm (52")
Counter bead diameter: 1 cm (0.4") 
Diameter of the divider rosewood bead: approx. 2 cm (0.8") 
Length of guru bead combination: 9 cm (3.5")
This mala comes in one of my handmade soft brown leather pouches for safe-keeping (and gift-wrapped for no extra charge). If you would rather have a fabric pouch, please let me know at the time of purchase.
Read more about Spirit Carrier mala beads
CRYSTAL PROPERTIES
CARNELIAN
Known as a stone of motivation and courage. Stimulates creativity and increases one's sense of self-worth. Balancing for body's energy levels, restoring vitality and motivation. Said to attract prosperity, new resources and good luck. A success stone that helps you follow through with plans. Stone of action that aids in overcoming procrastination. Helps in gaining more understanding of one's inner self. Stimulating to the Sacral Chakra, which, when in balance, allows one to enjoy life, feel its joys and pleasures, be flexible and 'go with the flow'.
SMOKEY QUARTZ
A grounding and calming stone that elevates moods and dissipates negative emotions. "A Stone of Serenity", it is comforting and protective for one's aura. Smokey Quartz is thought to assist in creative endeavours and also in setting personal boundaries. Offers protection against electromagnetic rays. A good healing stone for improving general feeling of well-being. Relieves anxiety and worry, wards off confusion. Shielding crystal to create a calm, safe environment.
AGATE
The oldest good luck amulet. In ancient times Persian magicians were, according to legend, diverting storms with the powers of Agate. Considered a protective stone (especially for travel), said to shield its keeper against dangers. Increases inner stability, enhances personal courage and fosters self-confidence. Grounding and soothing. Balancing stone for one's energy system to experience oneness instead of duality.
Recently Viewed