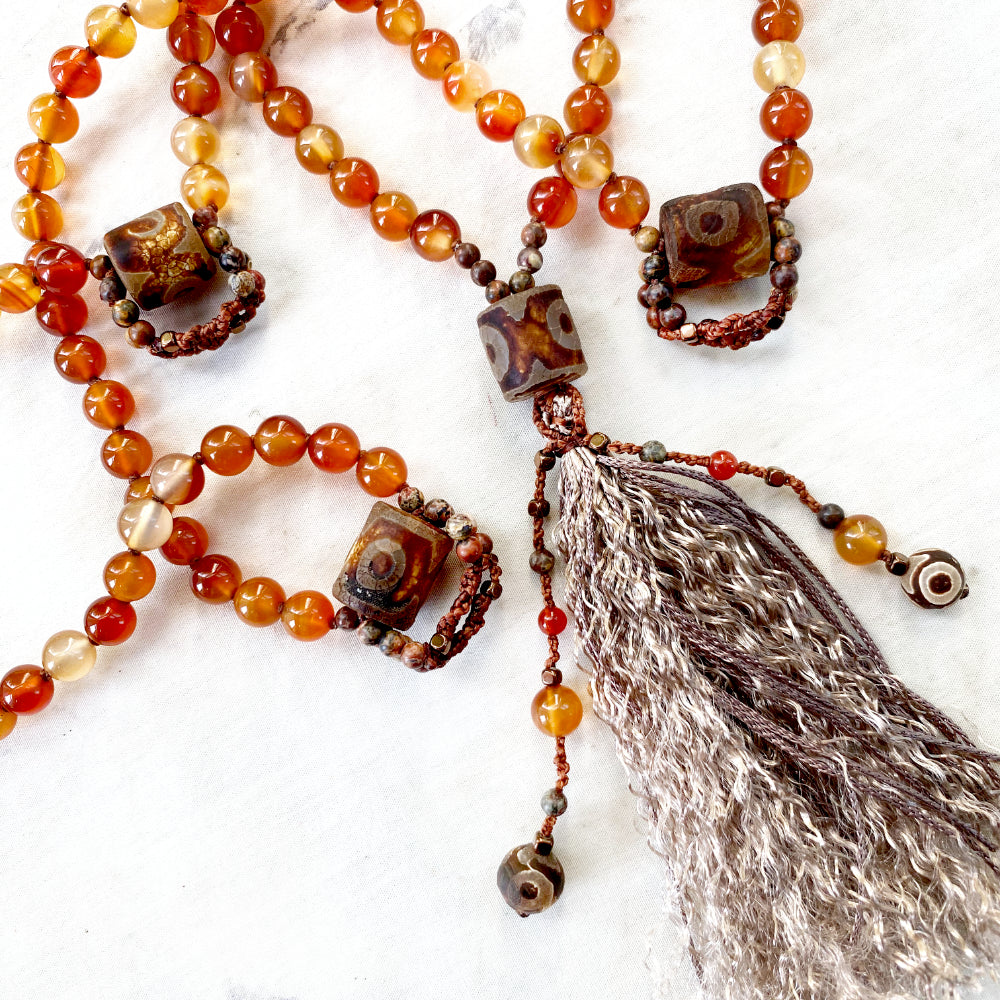 Carnelian gemstone mala with Dzi Agate, Leopardskin Jasper & Hematite
DESCRIPTION
This is a bright, vitalising meditation mala with Carnelian counter beads (the traditional amount of 108). The three dividers are Dzi Agate, accented with small Leopardskin Jasper and Hematite beads on each side. The guru bead includes another carved Dzi Agate bead and a soft satin tassel with two knotted crystal strands. Each counter bead is meticulously knotted by hand - one by one, using reddish brown micro-macrame cord for durability and strength. 
All around length of mala: 114 cm (45")
Counter bead diameter: 0.8 cm (0.3") 
Diameter of the divider combination: approx. 2.5 cm (1") 
Length of guru bead with tassel: 12 cm (4.7")
This mala comes in one of Spirit Carrier's handmade cork ('vegan leather') pouches for safe-keeping, and gift-wrapped for no extra charge.
Read more about Spirit Carrier mala beads
CRYSTAL PROPERTIES
CARNELIAN
Known as a stone of motivation and courage. Stimulates creativity and increases one's sense of self-worth. Balancing for body's energy levels, restoring vitality and motivation. Said to attract prosperity, new resources and good luck. A success stone that helps you follow through with plans. Stone of action that aids in overcoming procrastination. Helps in gaining more understanding of one's inner self. Stimulating to the Sacral Chakra, which, when in balance, allows one to enjoy life, feel its joys and pleasures, be flexible and 'go with the flow'.
AGATE
The oldest good luck amulet. In ancient times Persian magicians were, according to legend, diverting storms with the powers of Agate. Considered a protective stone (especially for travel), said to shield its keeper against dangers. Increases inner stability, enhances personal courage and fosters self-confidence. Grounding and soothing. Balancing stone for one's energy system to experience oneness instead of duality.
HEMATITE
Creates a strong sense of self and enhances the creative flow. Relieves stress. Revitalises, enhancing personal magnetism and optimism. Helps in releasing self-imposed limitations to find your own unique gifts. A stone of balance and equilibrium. Grounds when feeling scattered, increases alertness and vigilance.
LEOPARDSKIN JASPER
Powerful protection stone, associated with strength and vitality. Facilitates self-healing and is very supportive and nurturing. Attracts harmonious vibrations to one's life. Brings tranquility and a feeling of wholeness.
Recently Viewed