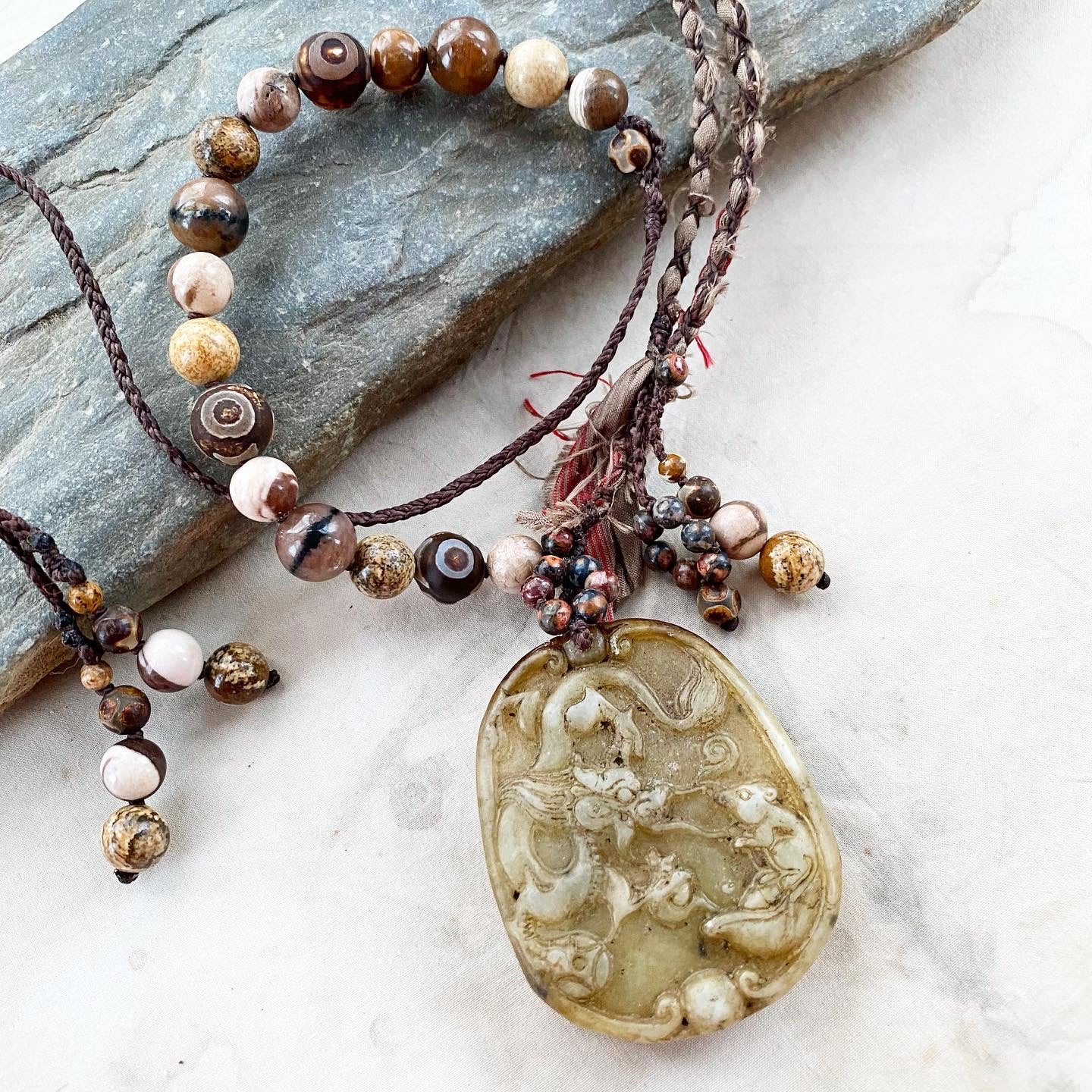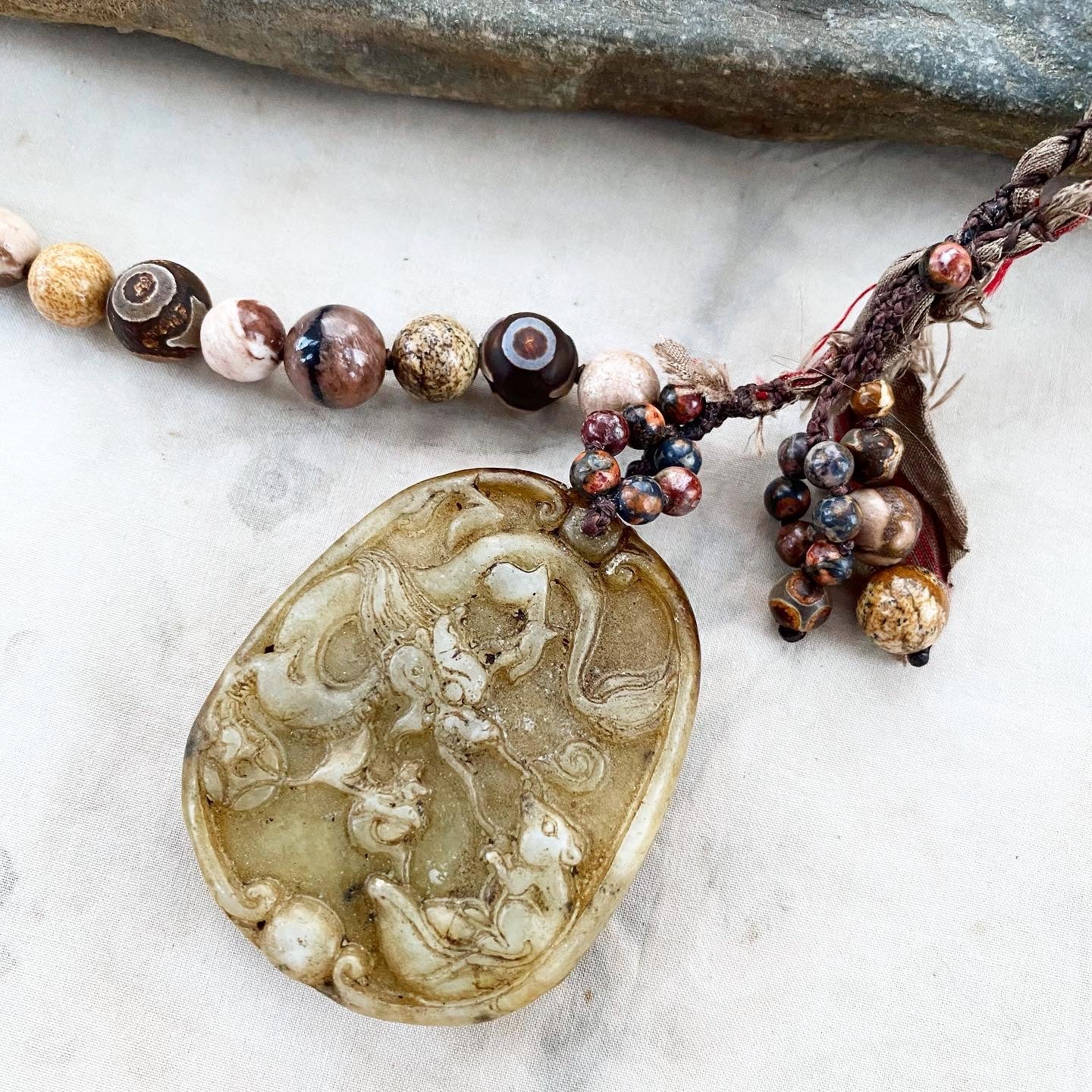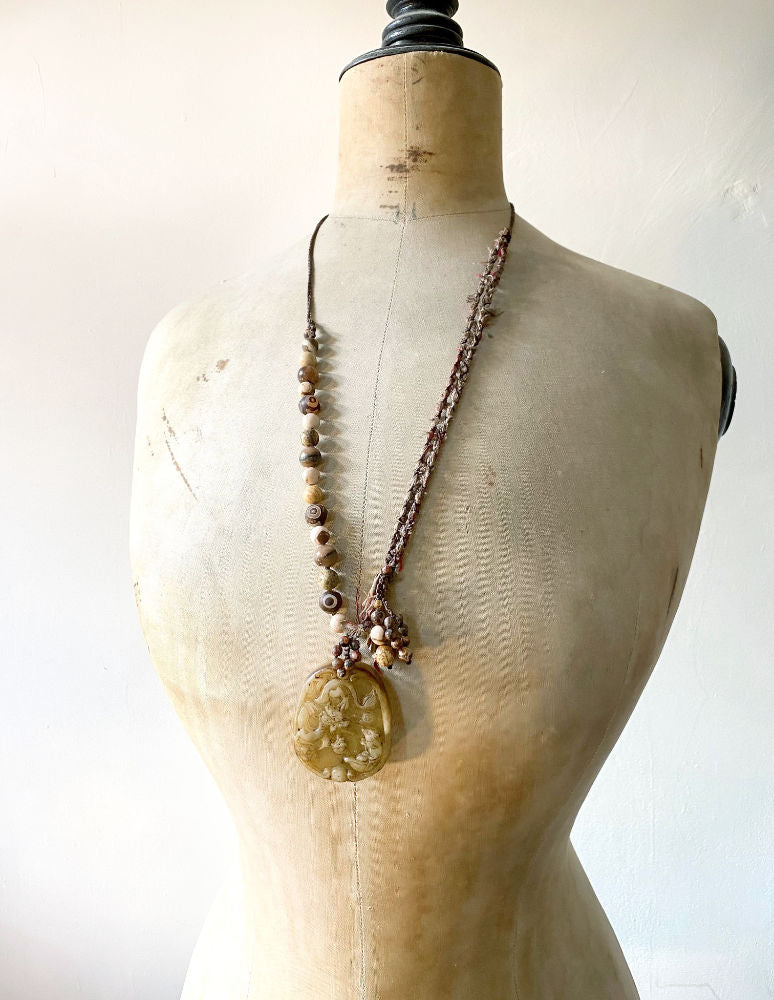 'Inner Mastery' ~ carved Jade crystal healing talisman
DESCRIPTION
Crystal healing talisman with a near-oval shaped slice of Jade in tones of light green and beige. The tactile surface shows a carved motif of a dragon -a symbol of supernatural power, wisdom, strength, and hidden knowledge- together with a rat -a symbol of wealth and prosperity.
One side of the necklace is braided with recycled sari silk combined with brown micro-macrame cord. The other side of the necklace is knotted with a row of crystals including Picture Jasper, Coffee Jasper Chiastolite and dzi Agate. There are also small decorative crystal strands dangling at the base of the braid where the carved Jade pendant attaches to the necklace braid with small Zebra Jasper crystals.
The necklace length is adjustable by pulling the necklace braids through a sliding knot. The Jade is approx. 5 cm (2") tall and 4 cm (1.6") at its widest.
You'll receive this crystal healing talisman in one of Spirit Carrier's handmade fabric draw-string pouches - great for the safe-keeping of the necklace. Gift-wrapped at no extra charge.

Read here how to take care of your crystal jewellery.
CRYSTAL PROPERTIES
JADE
Known throughout history as the stone of happiness, prosperity and good luck. Said to bless everything it touches. For the Chinese, Jade is a stone of "long life & peaceful passing". Helps in advancing the human consciousness to higher levels. Strongly protective stone, strengthening the auric field, fostering balance and peace.  Has a restorative energy, stimulates ideas and relinquishes self-imposed limitations. Promotes healthy self-confidence and strength of character.
ZEBRA JASPER
Also known as 'white tiger stone', encouraging you to enjoy the experiences life offers. Like all Jaspers, this too is soothing and balancing. Zebra Jasper lifts your mood and motivates you to take action, to overcome apathy. Helps you to see your true nature and find out what you truly desire.
COFFEE JASPER
Helps foster stability and balance. Aids in achieving a restful state and increase general sense of well-being. Said to be help in eliminating toxins from one's system, including possible negative thoughts in the way of a more cheerful outlook on life. Facilitates deep meditative states, and can help accessing past lives to release karmic issues. Shielding and protective, exudes a solid vibe contributing to vitality and overall health.

PICTURE JASPER
Nurturing, comforting stone, associated with expanded creativity, invention and initiative. Helps in grounding one's ideas into reality. Believed to contain hidden messages from the past, connecting and grounding into the earth energies. Harmonious stone offering psychic protection during shamanic journeying as well as activating the third eye chakra. Inspires creative visualisation and is excellent for overcoming any creative blocks and clear away past hurts. Good for confidence, particularly helpful in business pursuits. Revered in many native cultures as a sacred stone of courage and wisdom.
AGATE
The oldest good luck amulet. In ancient times Persian magicians were, according to legend, diverting storms with the powers of Agate. Considered a protective stone (especially for travel), said to shield its keeper against dangers. Increases inner stability, enhances personal courage and fosters self-confidence. Grounding and soothing. Balancing stone for one's energy system to experience oneness instead of duality.
CHIASTOLITE
Stone of balance and harmony. Its visible cross-pattern is thought to symbolise one's commitment to approach life with Awareness. Assists in adapting to change at transitional times. It is also thought to enhance practical creativity. Very protective, allows its wearer to hold their personal space more easily. For someone who has "many irons in the fire" all the time, this is a great crystal to have close for coping with it all!
Recently Viewed