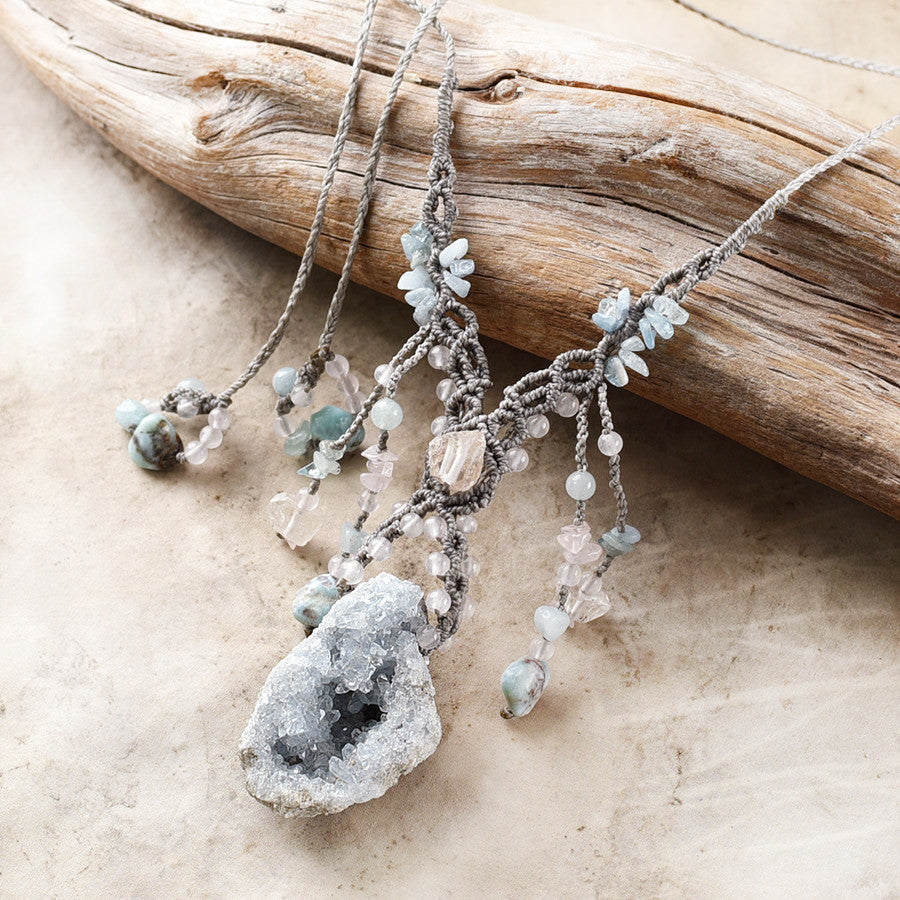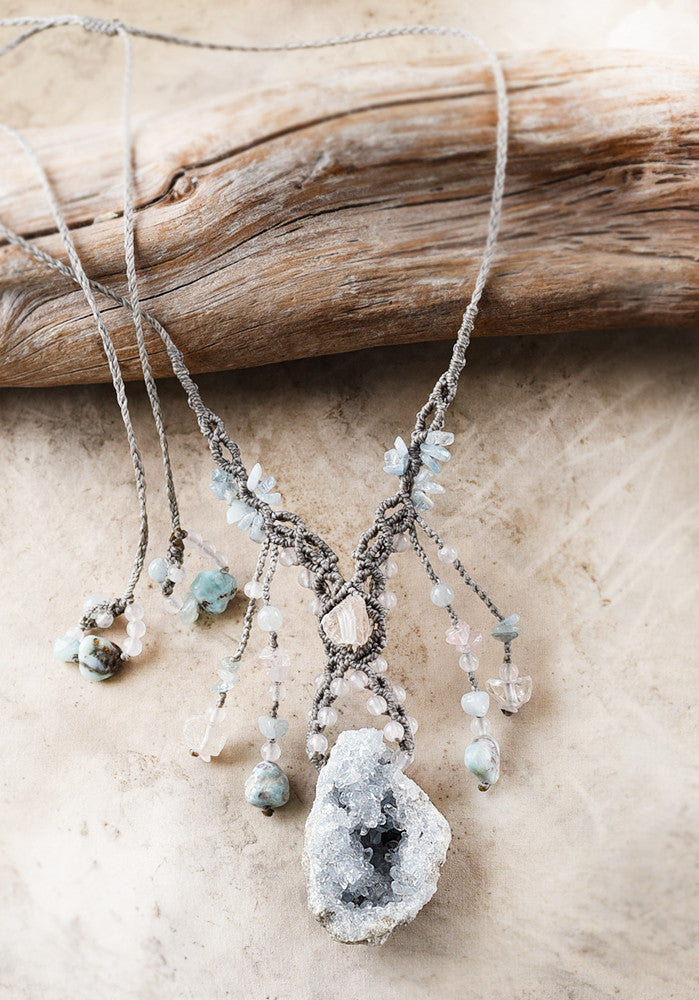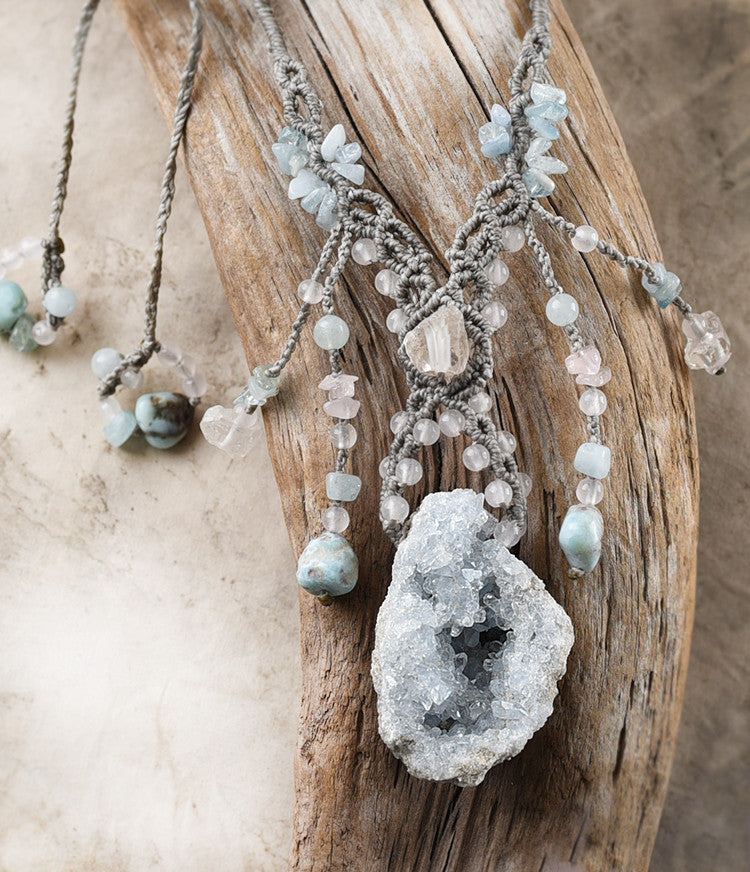 Celestite geode crystal healing amulet
DESCRIPTION
The Celestite geode in this crystal healing amulet commands a strong presence, there's a pure angelic vibe to this stone. It is energetically connected with the raw clear Topaz crystal above it. This geode also invited Larimar as its companion, and all the crystals seem to create an undetectable melody with their combined energies. The necklace is intricately knotted in lace-like pattern with light grey micro-macrame cord, accented with small Aquamarine and pale Rose Quartz crystals. Two knotted strands hang on both sides of the Celestite geode, ending in clear Topaz and Larimar crystals.
The length of the necklace is adjustable from very short down to just above solar plexus level. The Celestite geode is approx. 4.5 cm (1.8") tall, approx. 3 cm (1.2") at its widest and 2 cm (0.8") thick.
There are no metals in this necklace so would be particularly suitable for those with metal sensitivities / metal allergy, energy workers and those who simply prefer not to wear metal.
You'll receive this crystal healing necklace in one of my fabric draw-string pouches, great for the safe-keeping of the necklace. Gift-wrapped at no extra charge.

Read here how to take care of your crystal jewellery.
CRYSTAL PROPERTIES
CELESTITE
Stone of the angelic realm, opening up guidance and communication from the angels. Helps to clear out energetic 'noise' so you can focus on what is essential in furthering your soul's path. Purifying for the aura, beneficial for relationships, bringing balance into communication. Excellent stone for those to write or speak in public. Facilitates accessing the source of divine wisdom. Harmonious, yet strongly felt vibe.
Geodes represent the divine feminine aspect. Strengthening, purifying and protective for the aura. Helpful in endeavours that require creativity and imagination.
TOPAZ
Stone of success and good fortune. Aligns and recharges body's meridians. In ancient legends, Topaz was said to make its wearer invisible if needed at times of emergency. Clear Topaz aids in spiritual development and in clarifying one's life purpose. With the strong magnification energy of Topaz, you may reach your heart's goals and desired manifestations faster. Increases energy and vitality. Increases cosmic awareness by activating the crown and the soul star chakras.
LARIMAR
A relatively rare stone, only found in the Dominican Republic. In crystal lore it is associated with the ancient civilization on Lemuria, and also sometimes called a "Dolphin Stone". Larimar is soothing and uplifting, bringing tranquility into heart and mind. It is said to support self-expression, creativity and patience.
ROSE QUARTZ
Powerful love stone, love that is all-encompassing and unconditional. Awakens one's heart to its own innate love, compassion and acceptance. Vibrates its loving energy to all chakras, offering gentle healing. Soothing and calming. Dissolves anger and resentment. Good for raising one's self-esteem and feelings of self-worth. Balances emotions and is said to support all types of healing. Guide's one's life path towards a sense of personal fulfilment and contentment.
AQUAMARINE
Connected with the throat chakra, easing verbal self-expression. Helps you communicate your own truth and find your voice. Helps in looking at emotional situations from other perspectives, assists in opening up intuition and to calmly be in the flow of life. Aquamarine also aids in reaching deep meditative states. Resonates with the energy of the ocean. Stone of courage and protection.
Recently Viewed