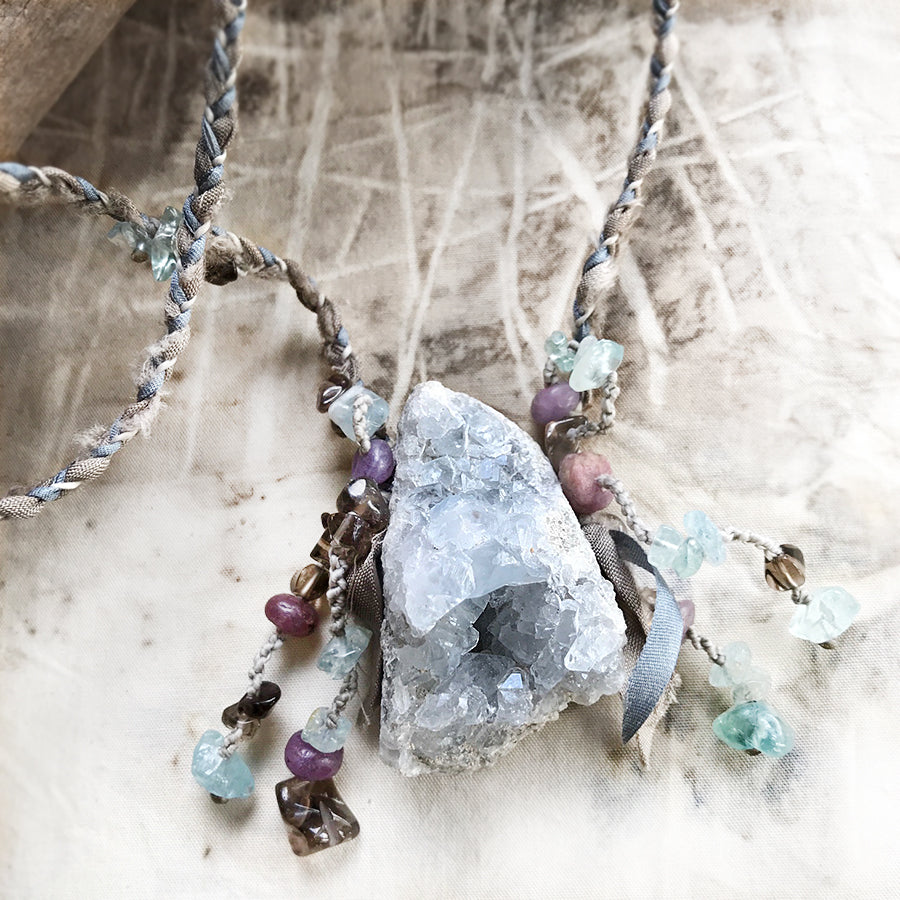 Celestite geode crystal healing talisman
DESCRIPTION
Natural, pale blue Celestite geode talisman, highlighted with Aquamarine, Ruby and Smokey Quartz. The Celestite attaches to a warm grey tone silk braid which I've botanically eco-dyed with local plants. Knotted light grey micro-macrame cord strands with the aforementioned highlighter crystals adorn the sides of the Celestite.
The necklace braid is set length, allowing the Celestite to hang down approx. 35 cm (13.5") measured from the back of the neck to the top edge of the Geode. The all-around length of the necklace braid is 70 cm (27.5"). The necklace will simply slip over your head so there is no need for any closing clasps.
The Celestite geode is approx. 4.5 cm (1.8") tall and 2.5 cm (1") at its widest. The geode has a thickness of 2-2.5 cm (0.8"-1") depending on point of measurement.
There are no metals in this necklace so would be particularly suitable for those with metal sensitivities / metal allergy, energy workers and those who simply prefer not to wear metal.
You'll receive this crystal healing necklace in one of my handmade fabric draw-string pouches - great for the safe-keeping of the necklace. Gift-wrapped at no extra charge.

Read here how to take care of your crystal jewellery.
CRYSTAL PROPERTIES
CELESTITE
Stone of the angelic realm, opening up guidance and communication from the angels. Helps to clear out energetic 'noise' so you can focus on what is essential in furthering your soul's path. Purifying for the aura, beneficial for relationships, bringing balance into communication. Excellent stone for those to write or speak in public. Facilitates accessing the source of divine wisdom. Harmonious, yet strongly felt vibe.
Geodes represent the divine feminine aspect. Strengthening, purifying and protective for the aura. Helpful in endeavours that require creativity and imagination.
AQUAMARINE
Connected with the throat chakra, easing verbal self-expression. Helps you communicate your own truth and find your voice. Helps in looking at emotional situations from other perspectives, assists in opening up intuition and to calmly be in the flow of life. Aquamarine also aids in reaching deep meditative states. Resonates with the energy of the ocean. Stone of courage and protection.
RUBY
Increases vitality and one's life-force energy, Very energising, excellent for women. Promotes clear mind, motivation and concentration. Associated with love, passionate commitment and heart-based closeness, offering help in shedding past hurts. Encourages you to 'follow your bliss' and have courageous attitude. Supports closeness and commitment. Shielding crystal to keep your energy field in your own command. (Ruby is one of the four 'precious' gemstones, the other three being Emerald, Sapphire & Diamond. Other gemstones are considered 'semi-precious'.)
SMOKEY QUARTZ
A grounding and calming stone that elevates moods and dissipates negative emotions. "A Stone of Serenity", it is comforting and protective for one's aura. Smokey Quartz is thought to assist in creative endeavours and also in setting personal boundaries. Offers protection against electromagnetic rays. A good healing stone for improving general feeling of well-being. Relieves anxiety and worry, wards off confusion. Shielding crystal to create a calm, safe environment.
Recently Viewed