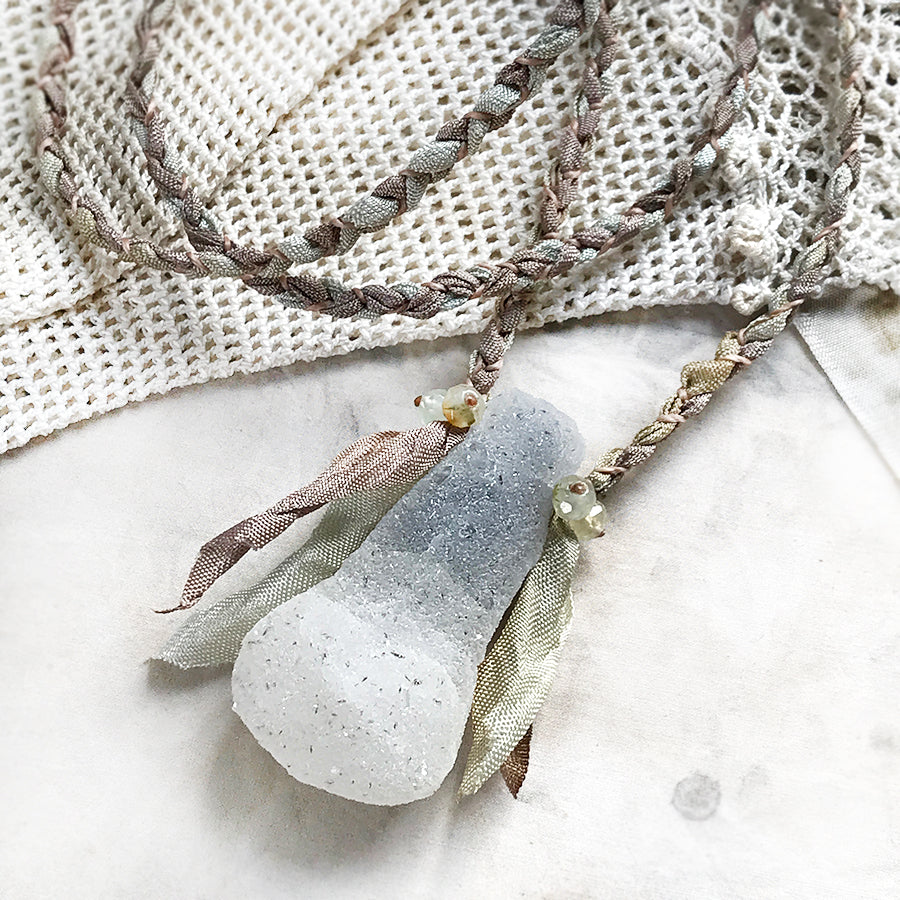 Chalcedony crystal healing necklace
DESCRIPTION
Unusual raw shape of Chalcedony in tones of white and subtle pale blue. The necklace braid is a combination of beige and pale blue viscose blend ribbon with light beige micro-macrame cord. The amulet is accented with faceted Prehnite crystals. The Chalcedony has a naturally rough surface texture which pairs beautifully with the silky sheen of the necklace braid.
The necklace braid is set length, allowing the Chalcedony to hang down 40 cm (15.7") measured from the back of the neck to the top edge of the Chalcedony - i.e. the all-around length of the necklace braid is 80 cm (31.5").
The Chalcedony is just over 5.5 cm (2.2") tall and approx. 3 cm (1.2") at its widest.
You'll receive this crystal healing necklace in one of my handmade fabric draw-string pouches - great for the safe-keeping of the necklace. Gift-wrapped at no extra charge.

Read here how to take care of your crystal jewellery.
CRYSTAL PROPERTIES
CHALCEDONY
White chalcedony is a nurturing stone, promoting benevolence and goodwill. Powerful cleanser flower vibrating energies, clearing self-doubt and sadness, brings balance and alignment to mind, body, emotions and spirit. Can be used for enhancing telepathy. Blue Chalcedony is associated with the Throat and the Third Eye chakras. Thought to be connected with the Angelic realm. Enhances creativity, opening the mind to new ideas. Promotes joyful mood, bringing a greater sense of happiness, balance and calm into one's life. "Speaker's Stone" that assist in finding the right words and to to hold words back when needed.
PREHNITE
Protective on all levels, strengthening one's life force. Fosters a sense of trust in the Universe and helps you protect your boundaries so it's easier to say "no" when needed. Stimulates inner knowing of oneself and guides in fulfilling one's potential. Helps to let go of unpleasant memories. Enhances spiritual "knowing". Revitalising and said to bring inner peace. Also said to be "a healer's healer".
Recently Viewed