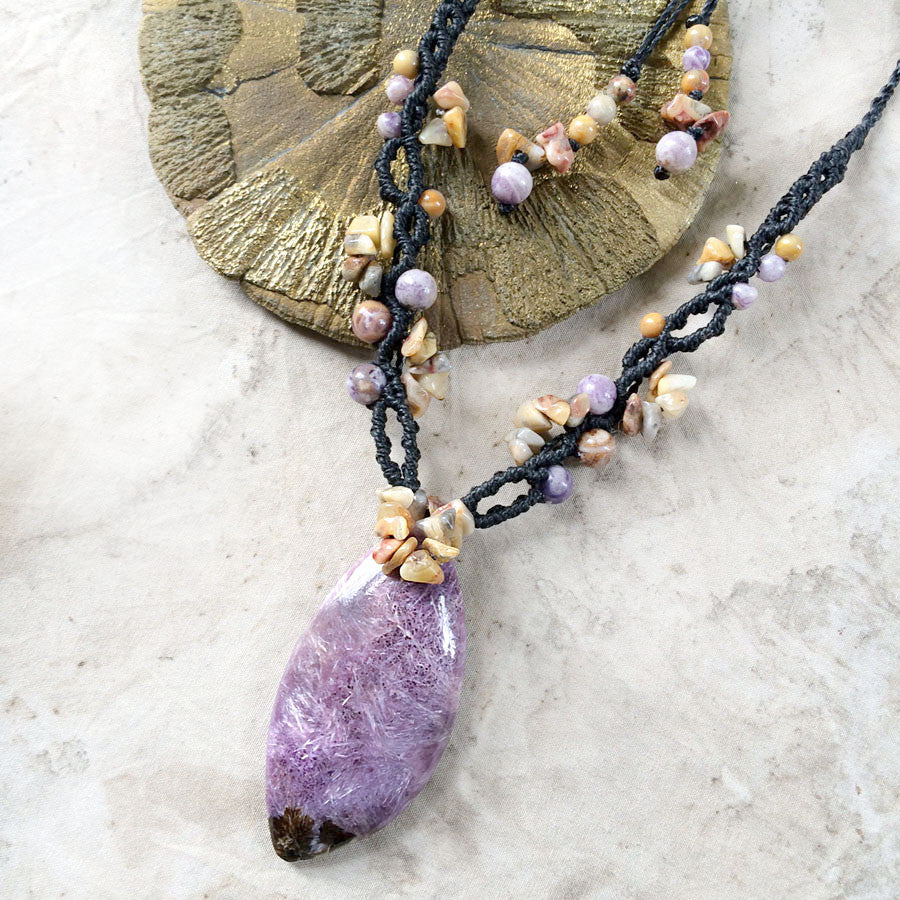 Charoite crystal amulet with Crazy Lace Agate & Lepidolite
DESCRIPTION
Crystal healing necklace with rare Charoite, highlighted with Crazy Lace Agate and Lepidolite. The necklace is braided with black micro-macrame cord, which is strong and durable, yet soft and comfortable to wear.
The length of the necklace is adjustable from very short down to solar plexus level. The Charoite is approx. 5 cm (2") tall and approx. 2.5 cm (1") wide at its middle.
There are no metals in this necklace so would be particularly suitable for those with metal sensitivities, energy workers and those who simply prefer not to wear metal.
You'll receive this crystal healing necklace in one of my fabric draw-string pouches, great for the safe-keeping of the necklace. Gift-wrapped at no extra charge.
CRYSTAL PROPERTIES
CHAROITE
Stone of insight and transformation. Teaches you to live in the moment, releasing fears. Symbol of endurance, giving courage to start over when needed. Aligns heart and intellect, eases worries and promotes a more relaxed attitude. Useful for alternative therapists: grounds high-frequency vibrations and assists in discerning energy patterns.
CRAZY LACE AGATE
A stone of laughter and happiness, offering support and encouragement, elevating one's mood and promoting optimism. Uplifting stone that alleviates emotional pain and promotes self-acceptance. Useful for overcoming any kind of trauma, encouraging one to start over. Promotes inner stability.
LEPIDOLITE
An open, inviting stone, offering its gentle love readily when you just hold it in your hand. Useful in reducing depression and stress, it can assist in moving calmly through life transitions. In crystal healing practice, Lepidolite has been used to ease emotional traumas, panic attacks and addictions. Lepidolite is said to help you to nurture yourself and be optimistic, and to clear out ties to the past, assisting you in moving freely forward in joy and happiness.
Recently Viewed