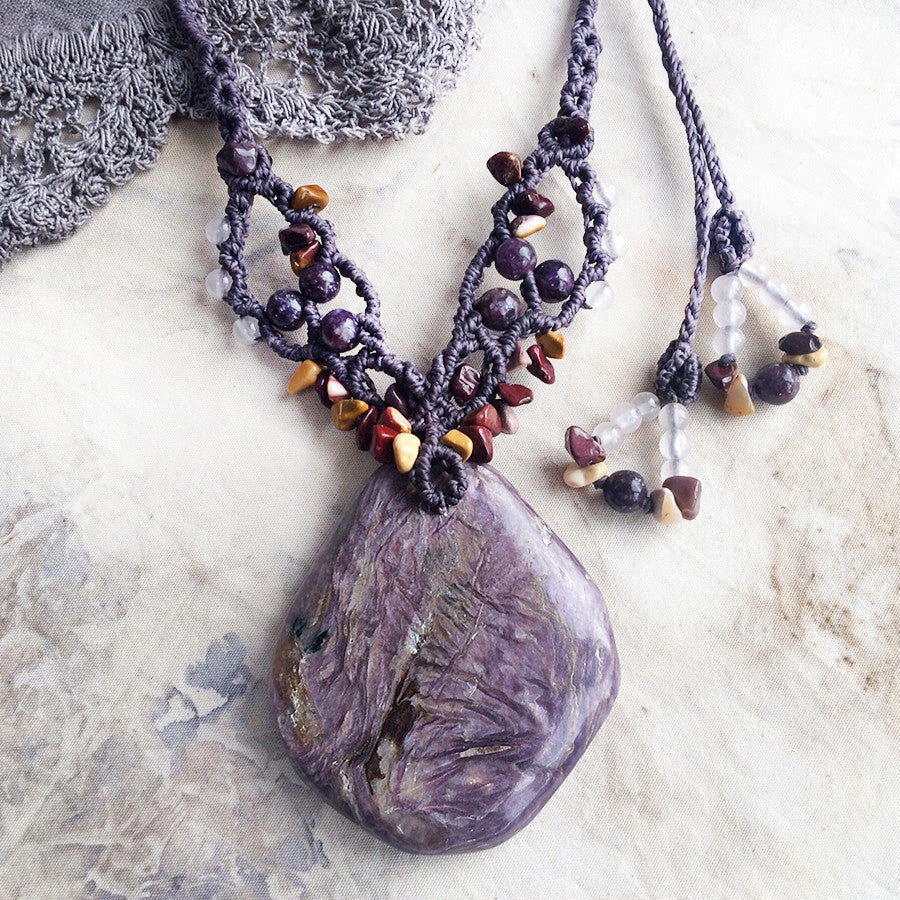 Charoite crystal healing amulet
DESCRIPTION
Crystal healing necklace with rare Charoite, highlighted with Mookaite, Rose Quartz and Lepidolite crystals. The necklace is intricately knotted and braided with muted purple micro-macrame cord, which is strong and durable, yet soft and comfortable to wear. The ends of the adjustable necklace cords are decorated with matching crystals.
The length of the necklace is adjustable from very short down to just above solar plexus level. The Charoite is approx. 5 cm (2") tall and approx. 4.5 cm (1.8") at its widest.
There are no metals in this necklace so would be particularly suitable for those with metal sensitivities, energy workers and those who simply prefer not to wear metal.
You'll receive this crystal healing necklace in one of my fabric draw-string pouches, great for the safe-keeping of the necklace. Gift-wrapped at no extra charge.

Read here how to take care of your crystal jewellery.
CRYSTAL PROPERTIES
CHAROITE
Stone of insight and transformation. Teaches you to live in the moment, releasing fears. Symbol of endurance, giving courage to start over when needed. Aligns heart and intellect, eases worries and promotes a more relaxed attitude. Useful for alternative therapists: grounds high-frequency vibrations and assists in discerning energy patterns.
MOOKAITE
Brings balance and clarity, flexibility and openness. It provides strength in negative situations and assists in being kind to self. Heightens one's intuition in order to know which direction to take in any given situation. Helps you to stay in the Now moment. Highly supportive for one's energy field, offering subtle yet constant harmony. Mookaite is said to slow the ageing process and to give relief in areas of geopathic stress. It's also a great manifestation crystal.
LEPIDOLITE
An open, inviting stone, offering its gentle love readily when you just hold it in your hand. Useful in reducing depression and stress, it can assist in moving calmly through life transitions. In crystal healing practice, Lepidolite has been used to ease emotional traumas, panic attacks and addictions. Lepidolite is said to help you to nurture yourself and be optimistic, and to clear out ties to the past, assisting you in moving freely forward in joy and happiness.
ROSE QUARTZ
Powerful love stone, love that is all-encompassing and unconditional. Awakens one's heart to its own innate love, compassion and acceptance. Vibrates its loving energy to all chakras, offering gentle healing. Soothing and calming. Dissolves anger and resentment. Good for raising one's self-esteem and feelings of self-worth. Balances emotions and is said to support all types of healing. Guide's one's life path towards a sense of personal fulfilment and contentment.
Recently Viewed