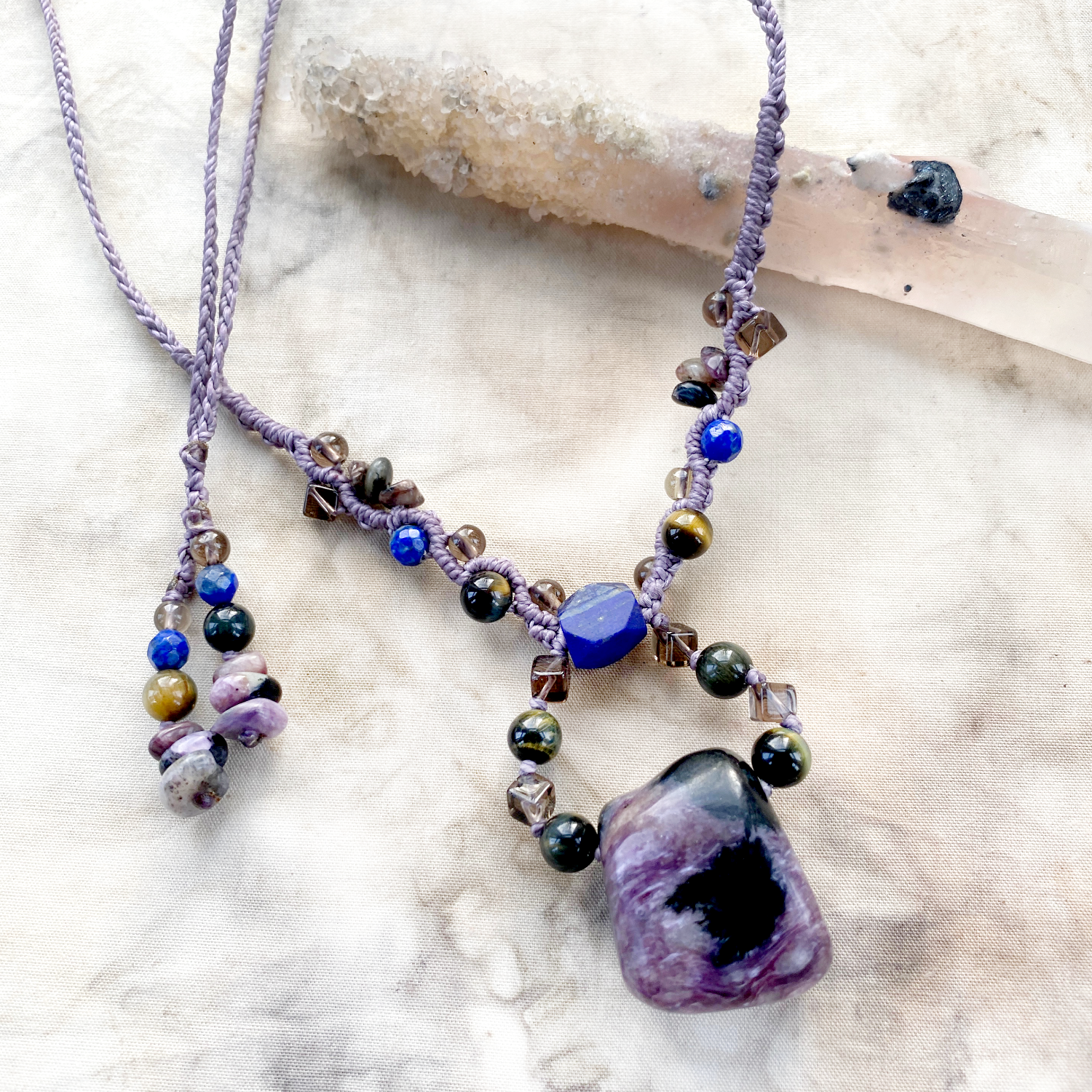 Charoite crystal healing amulet
DESCRIPTION
Crystal healing necklace with rare Charoite, highlighted with Lapis Lazuli, Hawk Eye and Smokey Quartz. The necklace is braided with muted purple micro-macrame cord, which is strong and durable, yet soft and comfortable to wear.
The length of the necklace is adjustable from very short down to solar plexus level. The Charoite is approx. 2 x 2 cm (0.8" x 0.8") in size and the total drop from the top edge of the central Lapis Lazuli to the base of the Charoite is 4.5 cm (1.8").
There are no metals in this necklace so would be particularly suitable for those with metal sensitivities, energy workers and those who simply prefer not to wear metal.
You'll receive this crystal healing necklace in one of Spirit Carrier's fabric draw-string pouches, great for the safe-keeping of the necklace. Gift-wrapped at no extra charge.

Read here how to take care of your crystal jewellery.

*Ships from England, UK*
CRYSTAL PROPERTIES
CHAROITE
Stone of insight and transformation. Teaches you to live in the moment, releasing fears. Symbol of endurance, giving courage to start over when needed. Aligns heart and intellect, eases worries and promotes a more relaxed attitude. Useful for alternative therapists: grounds high-frequency vibrations and assists in discerning energy patterns.
LAPIS LAZULI
Creativity super charger stone. Ignites new ideas and encourages different creative ways of thinking. Stone of truthfulness, openness, inner power, intuition and manifestation. Thought to increase self-confidence as well as to promote spiritual healing, mental calmness and strength of will. Powerful tool for dream work. Historically a stone of royalty.
HAWK EYE
Elevates one's perception to see things from a higher perspective, thus aiding in making skilled decisions. Brings clarity, opens up inner guidance and new possibilities. Helps in building courage to trust one's own inner wisdom and intuition. Assists in visualising goals, both spiritual and material and to follow through in bringing them into existence.
SMOKEY QUARTZ
A grounding and calming stone that elevates moods and dissipates negative emotions. "A Stone of Serenity", it is comforting and protective for one's aura. Smokey Quartz is thought to assist in creative endeavours and also in setting personal boundaries. Offers protection against electromagnetic rays. A good healing stone for improving general feeling of well-being. Relieves anxiety and worry, wards off confusion. Shielding crystal to create a calm, safe environment.
Recently Viewed