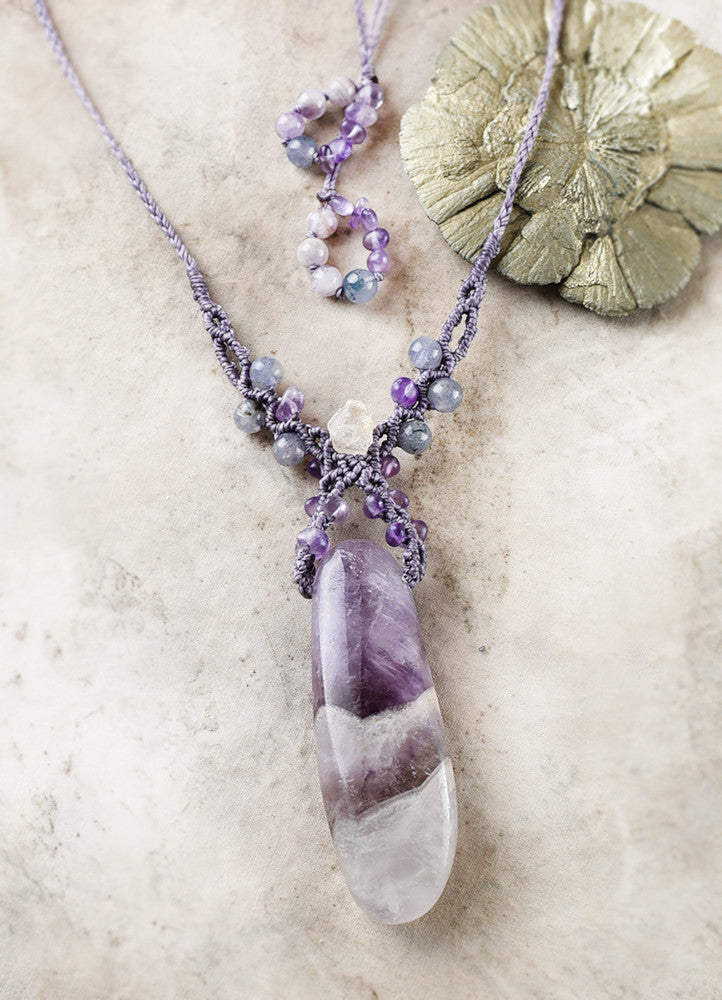 Chevron Amethyst crystal healing amulet
DESCRIPTION
Crystal healing amulet with smooth, oblong Chevron Amethyst. You can clearly see its characteristic white Quartz vein pattern through the purple Amethyst. The necklace is intricately knotted with light purple micro-macrame cord, strong and durable yet soft and comfortable to wear. The knotwork is highlighted with Topaz, Iolite and small Amethyst crystals. 
The length of the necklace is adjustable from very short down to solar plexus level. The Chevron Agate slice is approx. 7 cm (2.75") tall and approx. 2 cm (0.8") at its widest
There are no metals in this necklace so would be particularly suitable for those with metal sensitivities / metal allergy, energy workers and those who simply prefer not to wear metal jewellery.
You'll receive this crystal healing necklace in one of my fabric draw-string pouches, great for the safe-keeping of the necklace. Gift-wrapped at no extra charge.
Read here about how to take care of your natural crystal jewellery.
CRYSTAL PROPERTIES
CHEVRON AMETHYST
The veins of Quartz that run within the Amethyst in formation of a chevron amplify the energy of the Amethyst. Chevron Amethyst is said to enhance peace of mind, self-discovery as well as to promote relaxation. A stone of spiritual transformation. Help facilitate changes in one's life and supports one's inner strength.
TOPAZ
Stone of success and good fortune. Aligns and recharges body's meridians. In ancient legends, Topaz was said to make its wearer invisible if needed at times of emergency. Clear Topaz aids in spiritual development and in clarifying one's life purpose. With the strong magnification energy of Topaz, you may reach your heart's goals and desired manifestations faster. Increases energy and vitality. Increases cosmic awareness by activating the crown and the soul star chakras.
IOLITE
Aids in making inner visions more vivid, dissolving fear of the unknown. Helps in blending everyday conscious thinking with intuitive inner knowing. Awakens psychic gifts, activating and clearing the third eye. Helps accessing communication from higher vibratory realms. Helps one to act and respond to situations from one's higher guidance.
Recently Viewed