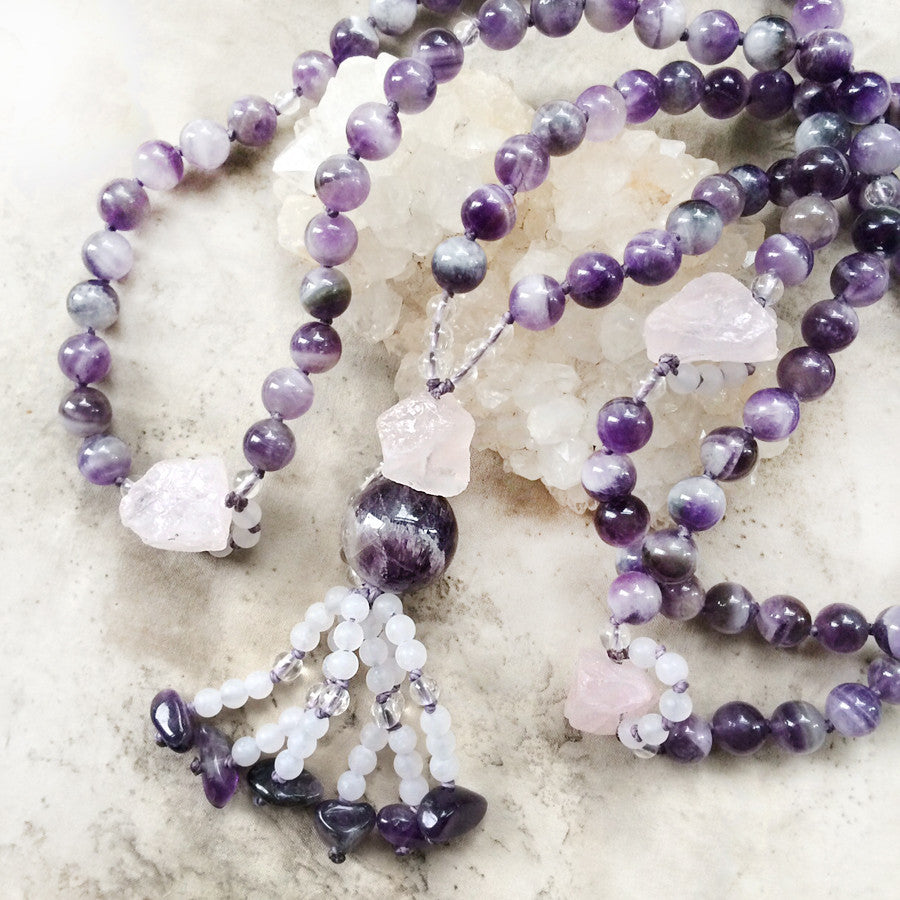 Chevron Amethyst mala with Rose Quartz & clear Quartz
DESCRIPTION
One of a kind, contemporary 108 bead meditation mala with Chevron Amethyst counter beads. The three dividers are a combination of pale Rose Quartz and clear Quartz. The guru bead consists of Rose Quartz, Amethyst and clear Quartz.
Each counter bead is knotted one by one for durability and ease of handling, using muted purple micro-macrame cord. 
All around length of mala: 111 cm (43.5")
Counter bead diameter: 0.8 cm (0.3")
The width of the divider combination: approx. 2 cm (0.8")
Length of guru bead crystal combination: 7 cm (2.75")
Please note that Spirit Carrier malas come usually in three sizes, determined by the diameter of the main counter beads - either 8 mm, 10 mm or 12 mm. This mala is the smallest size with 8 mm counter bead diameter and is probably more suited to be worn on you than the larger, heavier malas. The 8 mm size mala sometimes also includes a divider bead at intervals of every nine counter beads - in this one the small divider is clear Quartz.
This mala comes in one of my handmade soft brown leather pouches for safe-keeping. If you would rather have a fabric pouch, please let me know at the time of purchase. 
You'll receive this mala gift-wrapped at no extra charge.
Read more about Spirit Carrier mala beads
CRYSTAL PROPERTIES
CHEVRON AMETHYST
The veins of Quartz that run within the Amethyst in formation of a chevron amplify the energy of the Amethyst. Chevron Amethyst is said to enhance peace of mind, self-discovery as well as to promote relaxation. A stone of spiritual transformation. Help facilitate changes in one's life and supports one's inner strength.
ROSE QUARTZ
Powerful love stone, love that is all-encompassing and unconditional. Vibrates its loving energy to all chakras, offering gentle healing. Soothing and calming. Dissolves anger and resentment. Good for raising one's self-esteem and feelings of self-worth. Balances emotions and is said to support all types of healing.
CLEAR QUARTZ
The universal master crystal that has a harmonising effect on all levels of being. Programmable by intention, so can be used for versatile purposes. Quartz can clear, enhance, amplify, transmute, balance, focus and transmit energy. Raises one's energetic vibration. Attunes its keeper to their higher self. Known as the "Stone of Power" and "Master Healer".
Recently Viewed