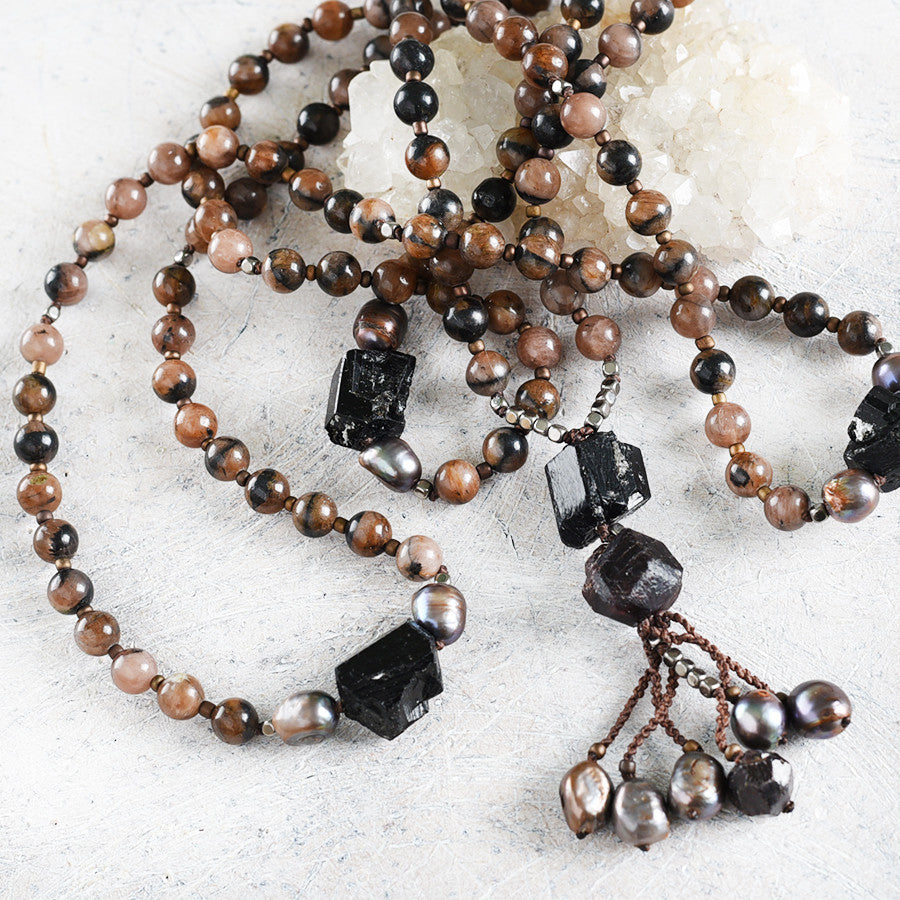 Chiastolite mala with Black Tourmaline, Almandine Garnet & Biwa Pearls
DESCRIPTION
One of a kind, contemporary 108 bead meditation mala with Chiastolite counter beads. The three dividers are a combination of Black Tourmaline and Biwa pearls. The guru bead consists of Black Tourmaline, Almandine Garnet, Biwa pearls and Hematite, forming a tassel of six knotted strands, five ending in Biwa pearl and one in a rough Almandine Garnet.
The Chiastolite counter beads are spaced with matt glass seed beads in undulating shape and varied brown tones. The mala is knotted with dark brown micro-macrame cord at every nine bead interval around a small silver-plated Hematite bead. 
All around length of mala: 131 cm (51.5")
Counter bead diameter: 0.8 cm (0.3")
The size of the divider combination: approx. 4 cm (1.6") 
Length of guru bead crystal combination: 8 cm (3")
This mala comes in one of my handmade, luxurious soft leather pouches for safe-keeping. If you would rather have a fabric pouch, please let me know at the time of purchase. 
You'll receive this mala gift-wrapped at no extra charge.
~~~~~~~~
I draw artistic inspiration for these contemporary yoga meditation beads from the ancient decorative Buddhist malas from Tibet that were often given as gifts to Chinese courts and called "Chinese court necklaces". I match the stones and crystals carefully to create an energetic combination in the mala that will benefit the keeper in an individual way. All of my malas are one-of-a-kind.

Whilst this mala is made with Tibetan Buddhist bead count (108 beads), all Spirit Carrier malas are dedicated to the Highest Good of All – its future keeper may bless the mala for their own purpose and use it for their own personal way of meditation.
Read more about Spirit Carrier mala beads
CRYSTAL PROPERTIES
CHIASTOLITE
Stone of balance and harmony. Its visible cross-pattern is thought to symbolise one's commitment to approach life with Awareness. Assists in adapting to change at transitional times. It is also thought to enhance practical creativity. Very protective, allows its wearer to hold their personal space more easily. For someone who has "many irons in the fire" all the time, this is a great crystal to have close for coping with it all!
BLACK TOURMALINE
One of the most well-known protective stones, shielding its user from negativity. A shamanic stone used for grounding during vision quests. Empowering for those who work in challenging environments. Purifies and transforms denser energies into lighter vibrations and is also detoxifying for the body. If you're sensitive to electromagnetic smog, you may get relief by wearing black Tourmaline.
ALMANDINE GARNET
Stimulates one's life force. Opens the root chakra while drawing earth energy into the body, helping you to feel secure and centred. Awakens the "inner fire" of creativity. Highly protective stone and a great companion to keep you energised. Excellent good fortune and 'success' stone in both social and career ventures, adding positive vibes both in your personal or business life. Stone of purification and cleansing. Symbolises passionate, devoted love.
HEMATITE
Creates a strong sense of self and enhances the creative flow. Relieves stress. Revitalises, enhancing personal magnetism and optimism. Helps in releasing self-imposed limitations to find your own unique gifts. A stone of balance and equilibrium. Grounds when feeling scattered, increases alertness and vigilance.
BIWA PEARL
Symbolises purity, clarity and spiritual transformation. Assists in discovering the wisdom and purpose in one's experiences.
Recently Viewed