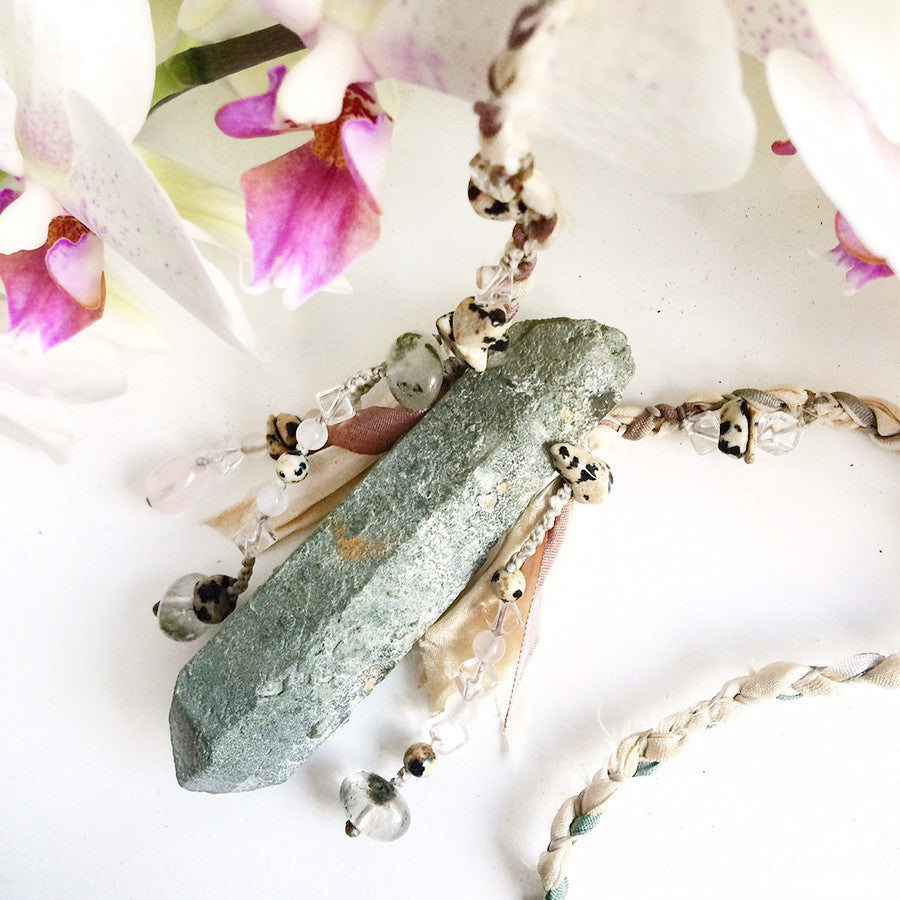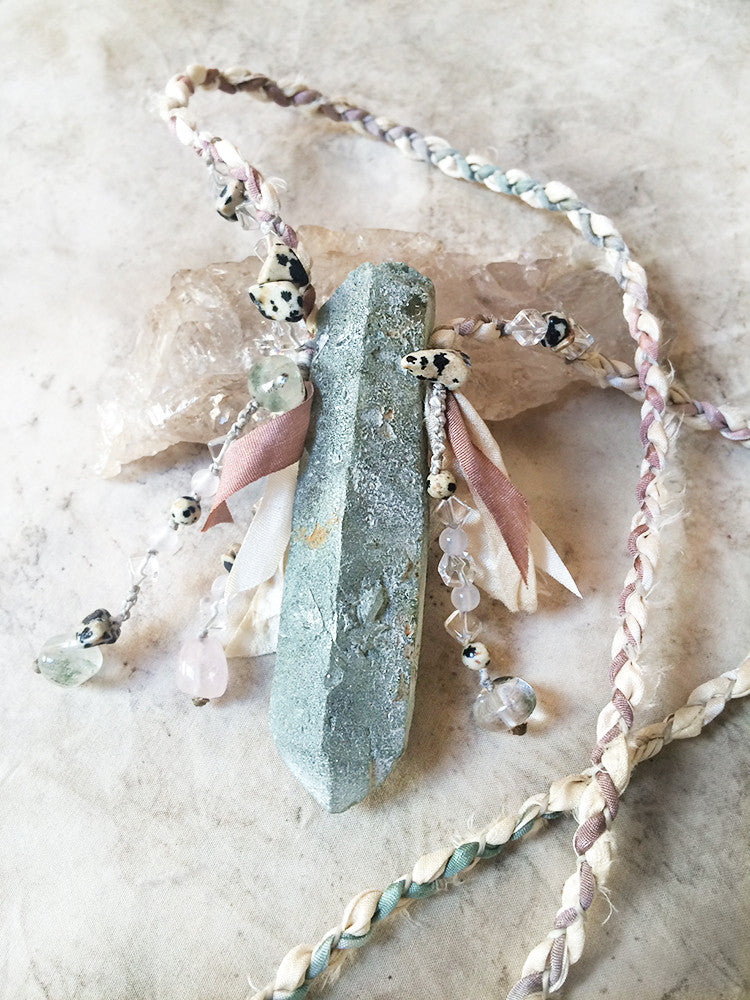 Chlorite Quartz crystal talisman in silk braid
DESCRIPTION
Here's wonderful old soul of a crystal to both wear and to hold - due to its size, this natural Chlorite Quartz talisman has quite a presence. The necklace braid is a combination of un-bleached recycled sari silk, hand-dyed pure silk ribbon in tones of muted moss green and pale raspberry, as well as light grey micro-macrame cord. The highlighting crystals are Dalmatian Jasper, Shaman Dream Stone Quartz and Rose Quartz.
The necklace braid is set length, allowing the Chlorite Quartz to hang down 35 cm (13.7") measured from the back of the neck to the top edge of The Chlorite Quartz - i.e. the all-around length of the necklace braid is 70 cm (27.5"). This Chlorite Quartz is quite a large crystal at just over 8 cm (3") tall and 2 cm (0.8") at its widest.
There are no metals in this necklace so would be particularly suitable for those with metal sensitivities, energy workers and those who simply prefer not to wear metal.
You'll receive this one-of-a-kind crystal healing necklace in one of my fabric draw-string pouches, great for the safe-keeping of the necklace. Gift-wrapped at no extra charge.

Prior to leaving Spirit Carrier studio, all crystals are energy cleansed, balanced and activated for the highest good of their new keeper. 
Read here about how to take care of your natural crystal jewellery.
CRYSTAL PROPERTIES
CHLORITE QUARTZ
Known as 'Stone of Compassion', this is a purifier crystal. Chlorite is cleansing to the aura, chakras, and energy meridians. Elevates one's vibration higher than that of illness. Can help one visualise and create a more positive future, financially, emotionally, physically. Helps to resolve issues of the heart and remove blockages and resistance so one may acknowledge, forgive, release, and move forward. Great in space clearing, to ward off chaotic, negative energy.
DALMATIAN JASPER
Helps in removing barriers that prevent you from moving forward in life, and to discover your true purpose of being in the world. Brings joy and playfulness into one's life. The black spots in this stone are Black Tourmaline, which adds to this stone's protective qualities.
SHAMAN DREAM STONE (aka Lodolite, Garden Quartz)
Associated with the crown chakra, enhances one's sensitivity to invisible energies, helps in manifesting one's desires, brings harmony to one's aura, emanates strong yet gentle healing energies. Harmonises the higher vibrational energies of the aura and the light body. Gazing into this stone is said to bring about a cosmic shift of consciousness.
ROSE QUARTZ
Powerful love stone, love that is all-encompassing and unconditional. Awakens one's heart to its own innate love, compassion and acceptance. Vibrates its loving energy to all chakras, offering gentle healing. Soothing and calming. Dissolves anger and resentment. Good for raising one's self-esteem and feelings of self-worth. Balances emotions and is said to support all types of healing. Guide's one's life path towards a sense of personal fulfilment and contentment.
Recently Viewed