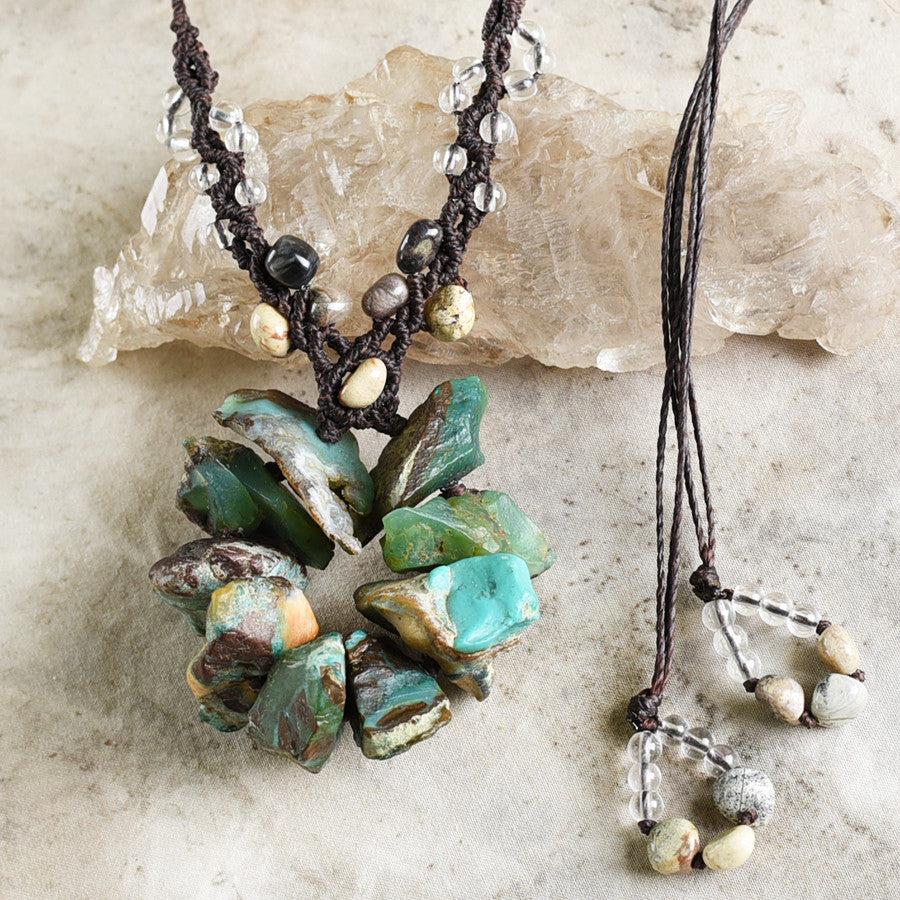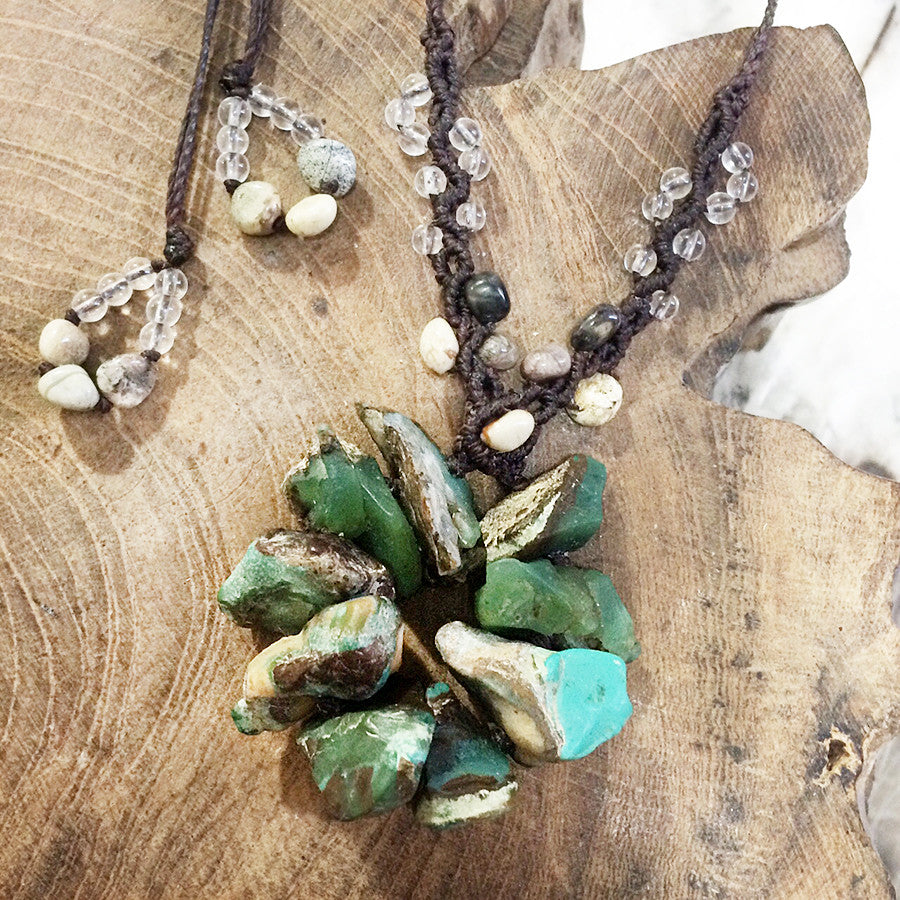 Chrysocolla crystal healing amulet with Silver Leaf Jasper & clear Quartz
DESCRIPTION
Crystal healing necklace combining the energy of Chrysocolla with Silver Leaf Jasper and clear Quartz. The circular shape of Chrysocolla consists of nine rough cut stones. The necklace is knotted with dark brown micro-macrame cord, very strong and durable, yet soft and comfortable to wear. The ends of the adjustable necklace cords are decorated with small Silver Leaf Jasper and clear Quartz crystals as well.
The length of the necklace is adjustable from very short down to solar plexus level. The Chrysocolla circle is approx. 4.5 cm (1.8") in diameter.
There are no metals in this necklace so would be particularly suitable for those with metal sensitivities, energy workers and those who simply prefer not to wear metal.
You'll receive this crystal healing necklace in one of my fabric draw-string pouches, great for the safe-keeping of the necklace. Gift-wrapped at no extra charge.
CRYSTAL PROPERTIES
CHRYSOCOLLA
Stone of the Wise Woman, of feminine empowerment. Associated with tranquility and intuition. Brings out one's inner strength, releasing old hurts such as feelings of guilt. Heals heartaches and promotes confidence, sensitivity and motivation. Helps those in position of guiding or teaching others, to communicate their knowledge and experience lovingly to others. Excellent stone for emotional balance and creative endeavours.
SILVER LEAF JASPER
Harmonious, protective stone. Considered a good amulet for times of travel (whether physical or astral). Instils a feeling of wholeness and serenity, a sense that all is well. Great support for one's will power and personal courage. Healing effect on emotional tension. Has been called a "stone of natural wisdom", awakening one's sense of joy in life.
CLEAR QUARTZ
The universal master crystal that has a harmonising effect on all levels of being. Programmable by intention, so can be used for versatile purposes. Quartz can clear, enhance, amplify, transmute, balance, focus and transmit energy. Raises one's energetic vibration. Brings clarity and filters out distractions. A deep soul cleanser, attuning its keeper to their higher self. Each Quartz crystal is unique with its own character and teachings it offers, all are known as "Stones of Power" and "Master Healers".
Recently Viewed