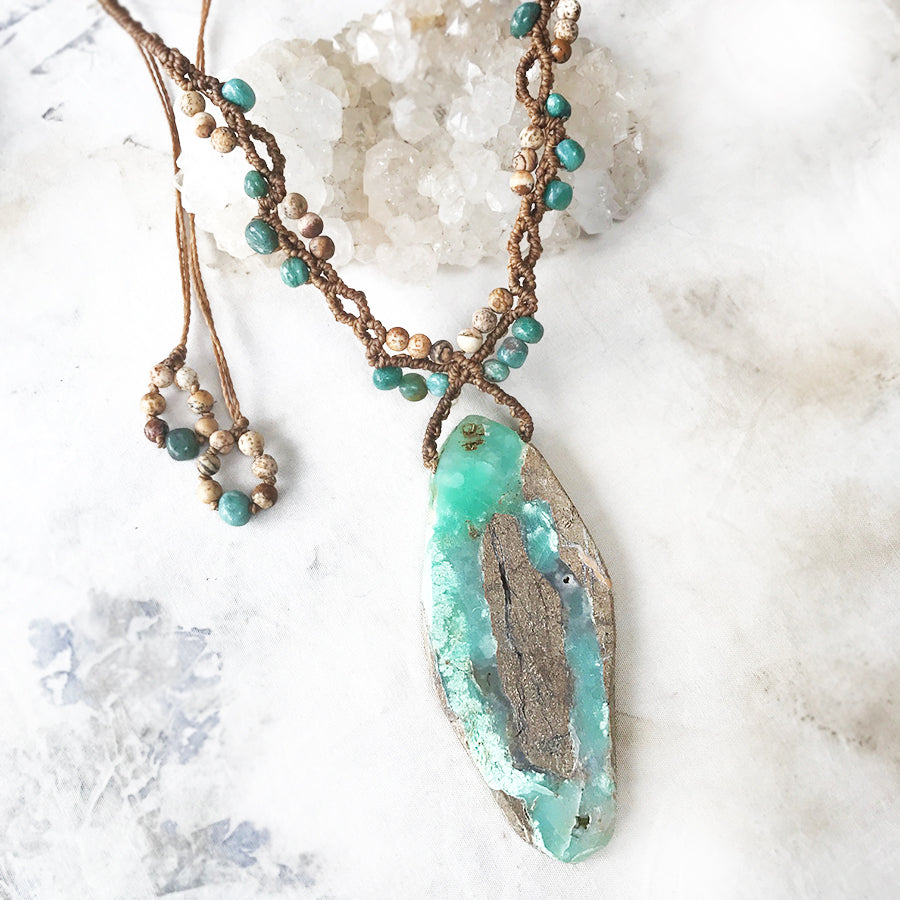 Chrysoprase crystal healing amulet
DESCRIPTION
Long, roughly oval shape Chrysoprase stone, highlighted with Dragon Stone and Picture Jasper crystals. The necklace cord is mid-brown micro-macrame cord, very strong and durable, yet soft and comfortable to wear. The ends of the adjustable necklace cords are also decorated with matching crystals.
The length of the necklace is adjustable from very short down to solar plexus level. The Chrysoprase measures just under 8 cm (3") tall and just over 3 cm (1.2") at its widest.
There are no metals in this necklace so would be particularly suitable for those with metal allergy or sensitivity, for energy workers and those who simply prefer not to wear metal.
You'll receive this crystal healing necklace in one of my handmade fabric draw-string pouches - great for the safe-keeping of the necklace. Gift-wrapped at no extra charge.

Read here how to take care of your crystal jewellery.
CRYSTAL PROPERTIES
CHRYSOPRASE
Opens and activates the Heart chakra, and helps one to live 'from the heart'. It encourages acceptance of oneself and others, as well as bringing a sense of hope into situations that may look dire. A loving and supportive stone at times of transitional phases. Initiates inner growth and the healing of heart-felt sorrows. A stone of grace and compassion.
PICTURE JASPER
Nurturing, comforting stone, associated with expanded creativity, invention and initiative. Helps in grounding one's ideas into reality. Believed to contain hidden messages from the past, connecting and grounding into the earth energies. Harmonious stone offering psychic protection during shamanic journeying as well as activating the third eye chakra. Inspires creative visualisation and is excellent for overcoming any creative blocks and clear away past hurts. Good confidence stone, particularly helpful in business pursuits. Revered in many native cultures as sacred of courage and wisdom.
DRAGON STONE (aka Dragon's Blood Jasper)
Stone of strength and courage. Supports the heart, helping one to feel love, forgiveness and compassion. Solid, soothing energy that keeps enhancing vitality and life force. Assists in achieving goals and drawing forth associated success.
Recently Viewed