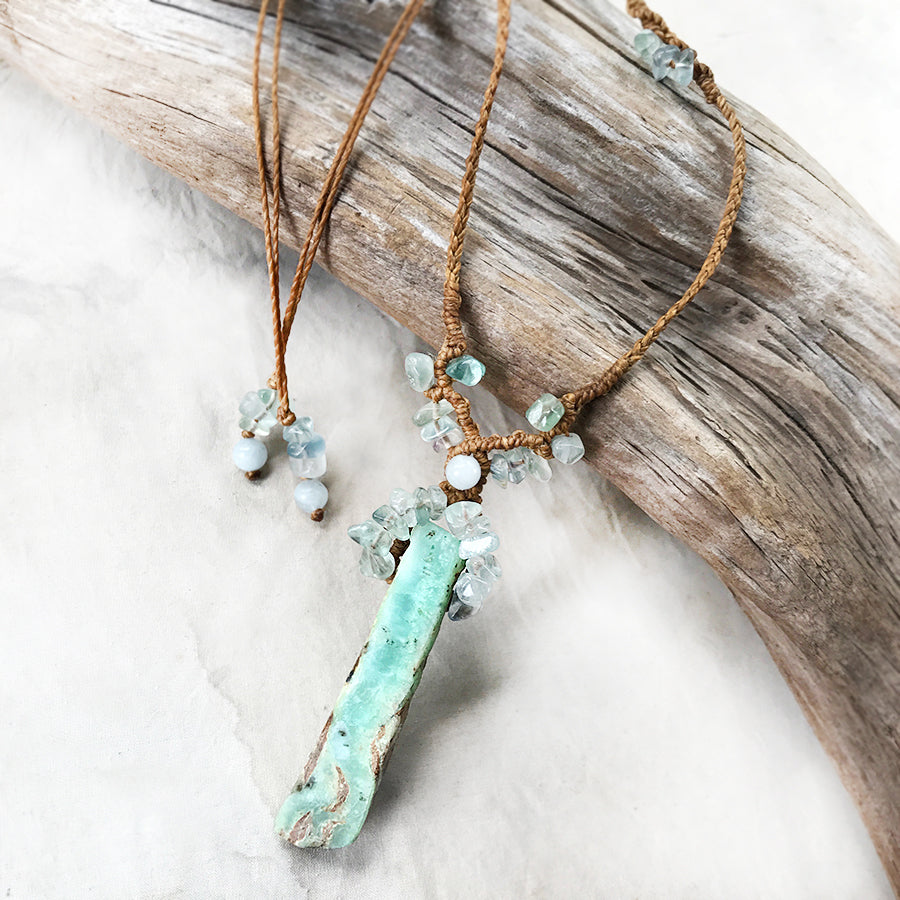 Chrysoprase crystal healing amulet
DESCRIPTION
Long, thin Chrysoprase stone, highlighted with Fluorite and Aquamarine crystals. The necklace cord is golden brown micro-macrame cord, very strong and durable, yet soft and comfortable to wear. The ends of the adjustable necklace cords are also decorated with matching crystals. This necklace is light in weight and easy to wear daily when requiring a smaller, more subtle crystal amulet.
The length of the necklace is adjustable from very short down to heart level. The Chrysoprase measures approx. 5 cm (2") tall and is approx. 1 cm (0.4") wide and thick.
There are no metals in this necklace so would be particularly suitable for those with metal allergy or sensitivity, for energy workers and those who simply prefer not to wear metal.
You'll receive this crystal healing necklace in one of my handmade fabric draw-string pouches - great for the safe-keeping of the necklace. Gift-wrapped at no extra charge.

Read here how to take care of your crystal jewellery.
CRYSTAL PROPERTIES
CHRYSOPRASE
Opens and activates the Heart chakra, and helps one to live 'from the heart'. It encourages acceptance of oneself and others, as well as bringing a sense of hope into situations that may look dire. A loving and supportive stone at times of transitional phases. Initiates inner growth and the healing of heart-felt sorrows. A stone of grace and compassion.
FLUORITE
Excellent for cleansing one's aura, also detaching unwanted energy cords. Grounds excessive energy, beneficial for all levels of healing. Helpful in achieving spiritual wholeness. Protective, stabilising and harmonising stone. Facilitates personal growth. Awareness expanding. Anchors intuitive insights into the physical plane. Offers strong psychic protection, helping to discern energies one comes in contact with. Helps in being objective and focusing on what is essential. Also known as absorbing environmental EMF.
AQUAMARINE
Connected with the throat chakra, easing verbal self-expression. Helps you communicate your own truth and find your voice. Helps in looking at emotional situations from other perspectives, assists in opening up intuition and to calmly be in the flow of life. Aquamarine also aids in reaching deep meditative states. Resonates with the energy of the ocean. Stone of courage and protection.
Recently Viewed