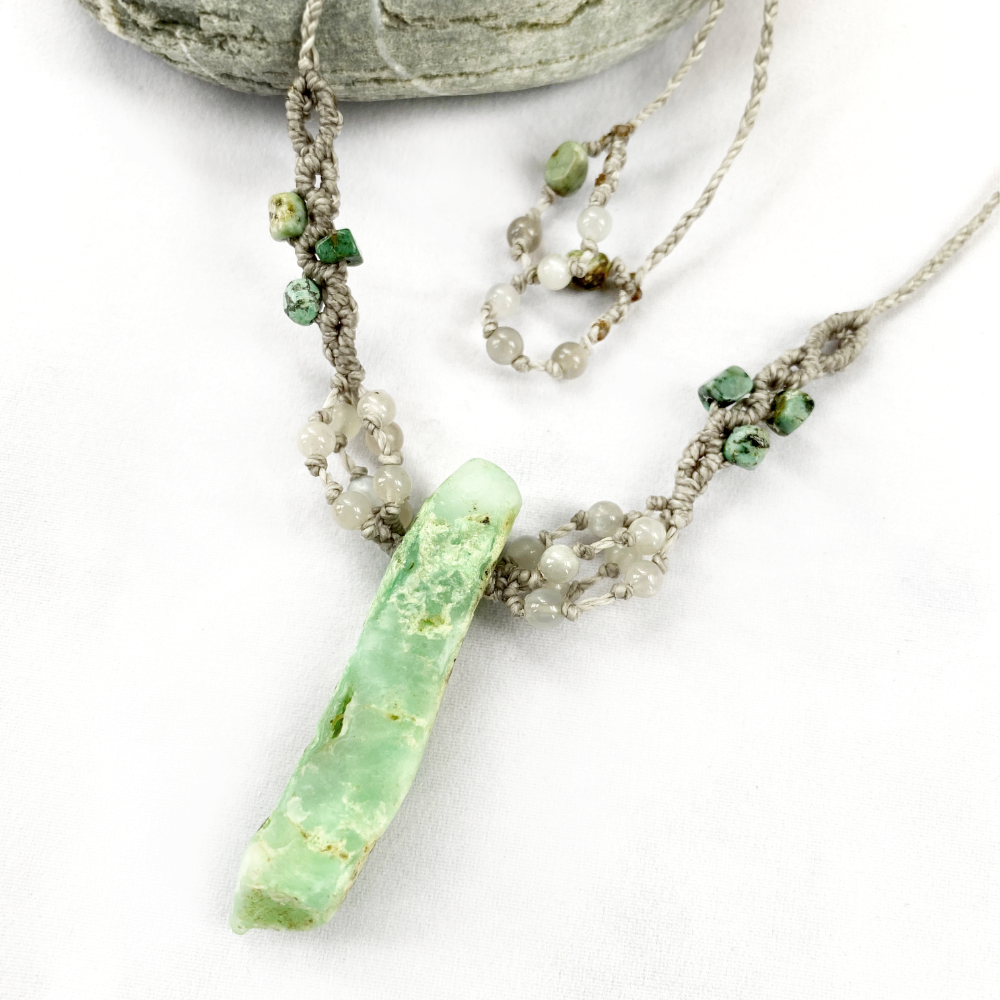 Chrysoprase crystal healing amulet
DESCRIPTION
Slender Chrysoprase stone with organic texture, highlighted with Moonstone and African Turquoise Jasper crystals. The necklace cord is grey micro-macrame cord, very strong and durable, yet soft and comfortable to wear. The ends of the adjustable necklace cords are also decorated with matching crystals.
The length of the necklace is adjustable from as short as you wish down to heart level. The Chrysoprase measures approx. 5 cm (2") tall and is approx. 1 cm (0.4") wide and thick.
There are no metals in this necklace so would be particularly suitable for those with metal allergy or sensitivity, for energy workers and those who simply prefer not to wear metal.
You'll receive this crystal healing necklace in one of Spirit Carrier's handmade fabric draw-string pouches - great for the safe-keeping of the necklace. Gift-wrapped at no extra charge.

Read here how to take care of your crystal jewellery.
CRYSTAL PROPERTIES
CHRYSOPRASE
Opens and activates the Heart chakra, and helps one to live 'from the heart'. It encourages acceptance of oneself and others, as well as bringing a sense of hope into situations that may look dire. A loving and supportive stone at times of transitional phases. Initiates inner growth and the healing of heart-felt sorrows. A stone of grace and compassion.

AFRICAN TURQUOISE JASPER
Calming and soothing stone that creates a feeling of tranquility and comfort. Encourages personal growth, opening the mind to new ideas and possibilities. Also known as an abundance stone.
MOONSTONE
Useful for feeling balanced or when changing aspects in one's life. Symbolises 'new beginnings'. Brings calmness through awareness. Provides the energy to sustain you through stages of growth. A highly intuitive stone allowing self expression and creativity to flow. Provides protection while travelling. A bringer of good fortune. Stone of feminine wisdom, inner growth and strength. Calming and soothing stone, enhancing intuition and inspiration. White moonstone is stimulating for psychic perception, vision and dream work.
Recently Viewed