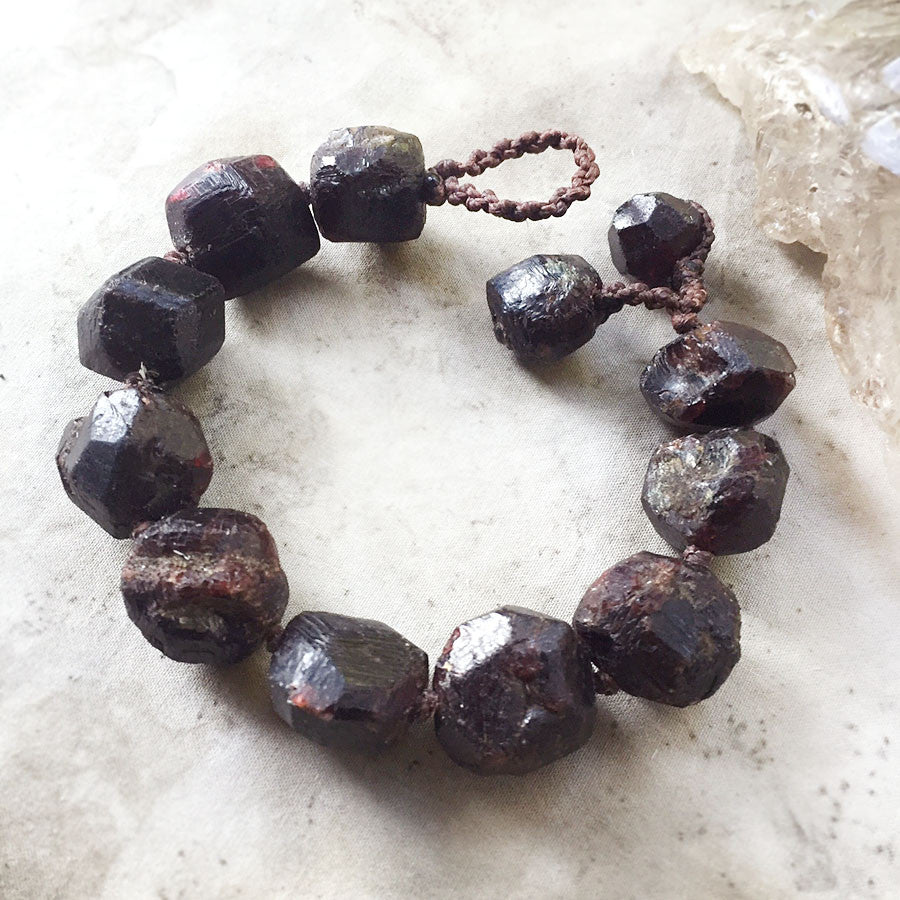 'Inner Strength' ~ chunky Almandine Garnet bracelet, for 6.5" wrist
DESCRIPTION
Unusual chunky bracelet, with rugged Almandine Garnet gemstones. Knotted with a double thickness of dark brown micro-macrame cord with the double toggle clasp also being Almandine Garnet. An eye-catching talisman accessory for an individual look.
Although the measured length of the bracelet is 7.8" (20 cm) including the toggle loop, the chunky stones make this a good snug fit for a 6.5" (16.5 cm) wrist.
The size of the Garnets varies slightly, but on average they make for a bracelet width of just over 0.6" (1.5 cm).
There are no metals used in this bracelet, so it would be suitable for those with sensitivities to metals.
You'll receive this crystal healing bracelet in one of my fabric draw-string pouches, great for its safe-keeping.
Gift-wrapped at no extra charge.
CRYSTAL PROPERTIES
ALMANDINE GARNET
Stimulates one's life force. Opens the root chakra while drawing earth energy into the body, helping you to feel secure and centred. Awakens the "inner fire" of creativity. Highly protective stone and a great companion to keep you energised. Excellent good fortune and 'success' stone in both social and career ventures, adding positive vibes both in your personal or business life. Stone of purification and cleansing. Symbolises passionate, devoted love.
Recently Viewed