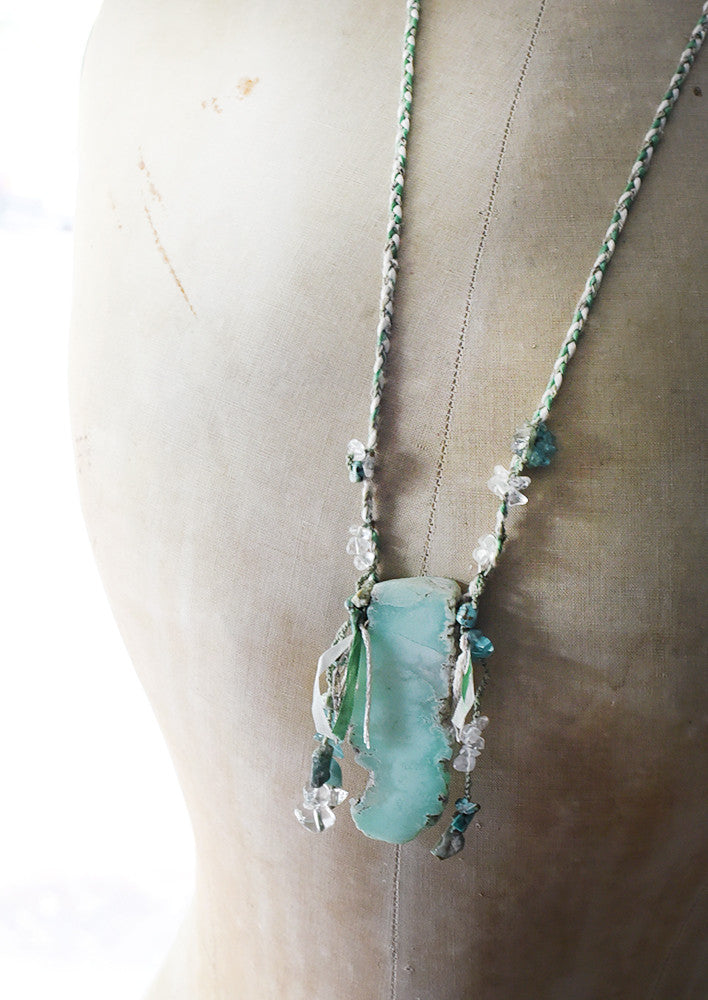 Chysoprase crystal healing amulet with Emerald, Apatite, African Turquoise Jasper & clear Quartz
DESCRIPTION
Striking, light green Chrysoprase stone in necklace braid combining pure silk (white and green), cream tone viscose blend and pale green micro-macrame cord. The amulet is highlighted with Emerald, Apatite, African Turquoise Jasper and clear Quartz.
The necklace braid is set length, allowing the Chrysoprase to hang down 37 cm (14.5") measured from the back of the neck to the top edge of the Citrine - i.e. the all-around length of the necklace braid is 74 cm (29").
The Chrysoprase measures approx. 7.5 cm (3") tall and 2.5 cm (1") at its widest.
There are no metals in this necklace so would be particularly suitable for those with metal allergy or sensitivity, for energy workers and those who simply prefer not to wear metal.
You'll receive this crystal healing necklace in one of my handmade fabric draw-string pouches - great for the safe-keeping of the necklace. Gift-wrapped at no extra charge.
CRYSTAL PROPERTIES
CHRYSOPRASE
Opens and activates the Heart chakra, and helps one to live 'from the heart'. It encourages acceptance of oneself and others, as well as bringing a sense of hope into situations that may look dire. A loving and supportive stone at times of transitional phases. Initiates inner growth and the healing of heart-felt sorrows. A stone of grace and compassion.
EMERALD
Stone of love. Opening and nurturing to the heart chakra. Benefits heart-based intuition. Promotes joyous emotions, enhances emotional and spiritual balance. Restores confidence where needed. Brings visionary insight, especially relating to one's vocation. In crystal lore, Emerald is the sacred stone of the goddess Venus. It was the symbol of eternal life in ancient Egypt. (Emerald is one of the four 'precious' gemstones, the other three being Ruby, Sapphire & Diamond. Other gemstones are considered 'semi-precious'.)
APATITE
Enhances one's insight and imagination, and gives increased self-confidence. Blue Apatite connects to high level of spiritual guidance and is helpful in letting go of anything that no longer serves your highest good. Apatite crystal is also said to be a good aid in curbing one's appetite!
AFRICAN TURQUOISE JASPER
Calming and soothing stone that creates a feeling of tranquility and comfort. Encourages personal growth, opening the mind to new ideas and possibilities. Also known as an abundance stone.
CLEAR QUARTZ
The universal master crystal that has a harmonising effect on all levels of being. Programmable by intention, so can be used for versatile purposes. Quartz can clear, enhance, amplify, transmute, balance, focus and transmit energy. Raises one's energetic vibration. Attunes its keeper to their higher self. Known as the "Stone of Power" and "Master Healer".
Recently Viewed