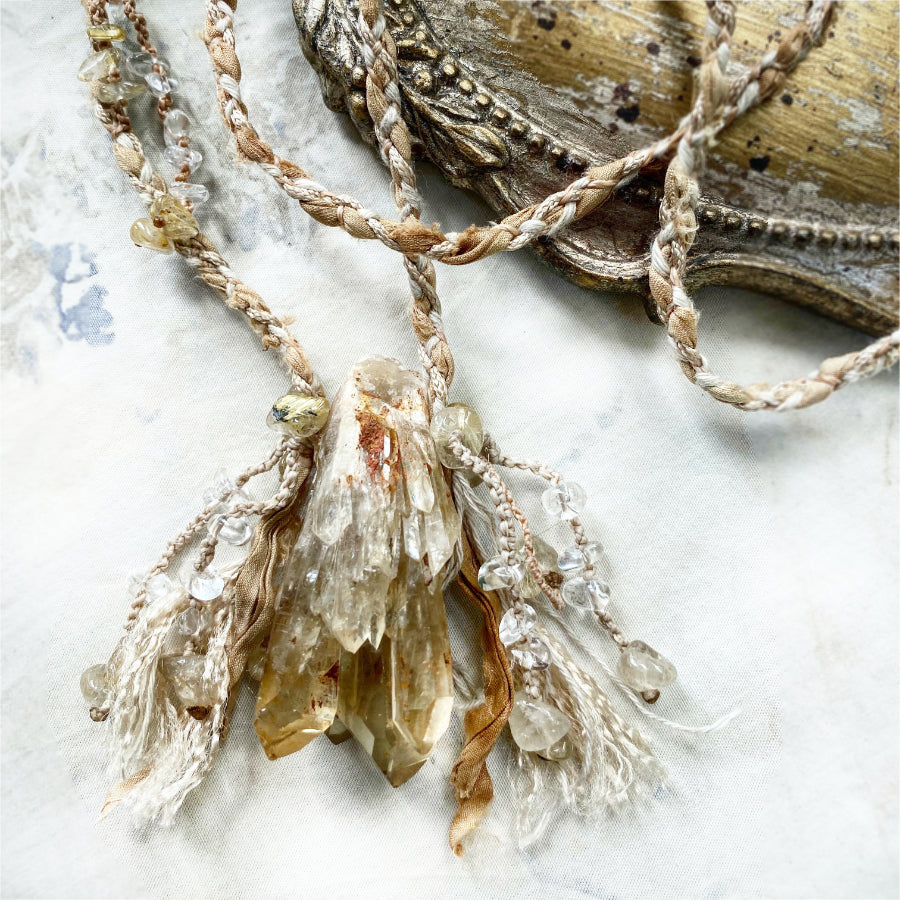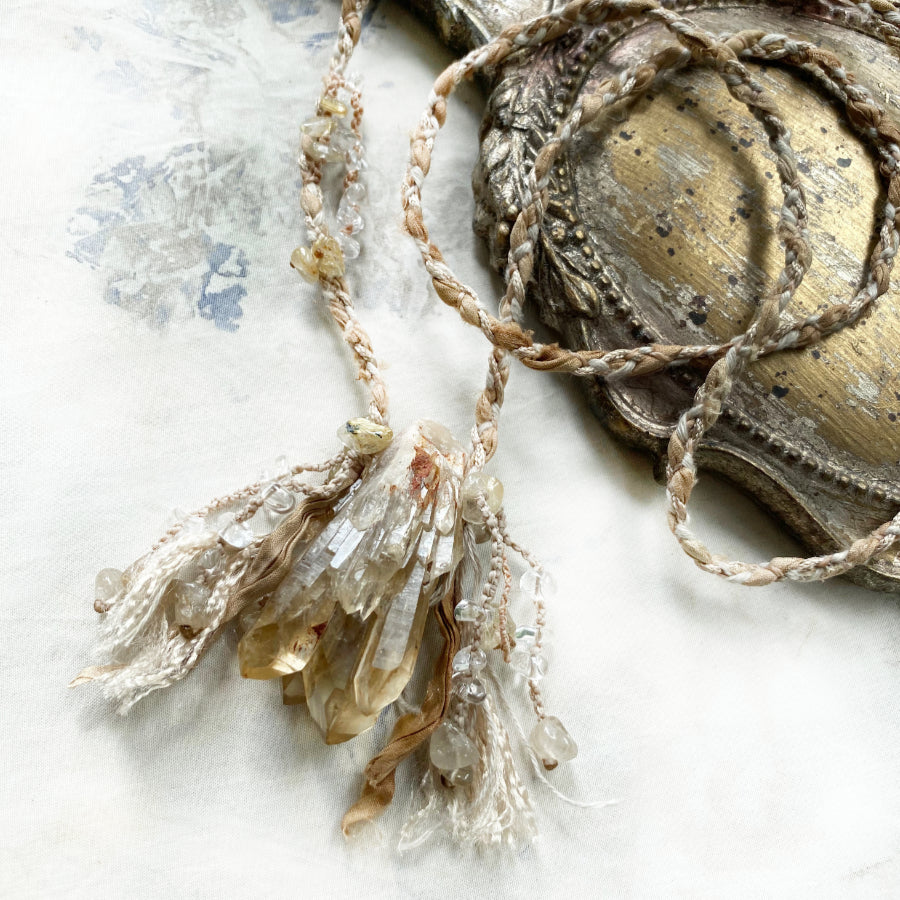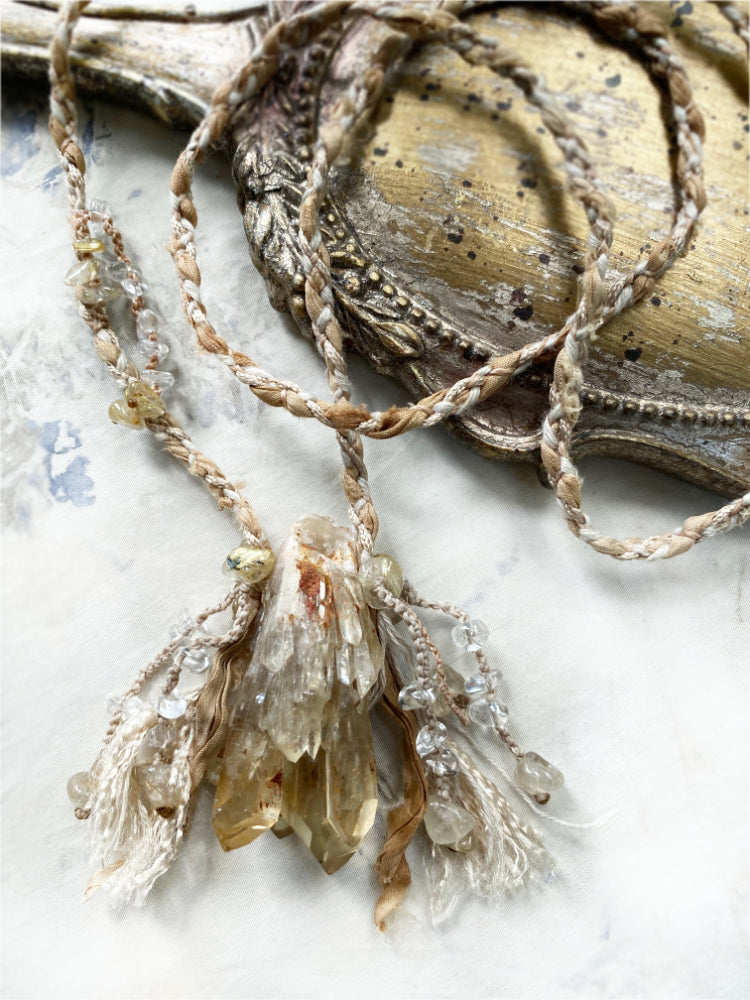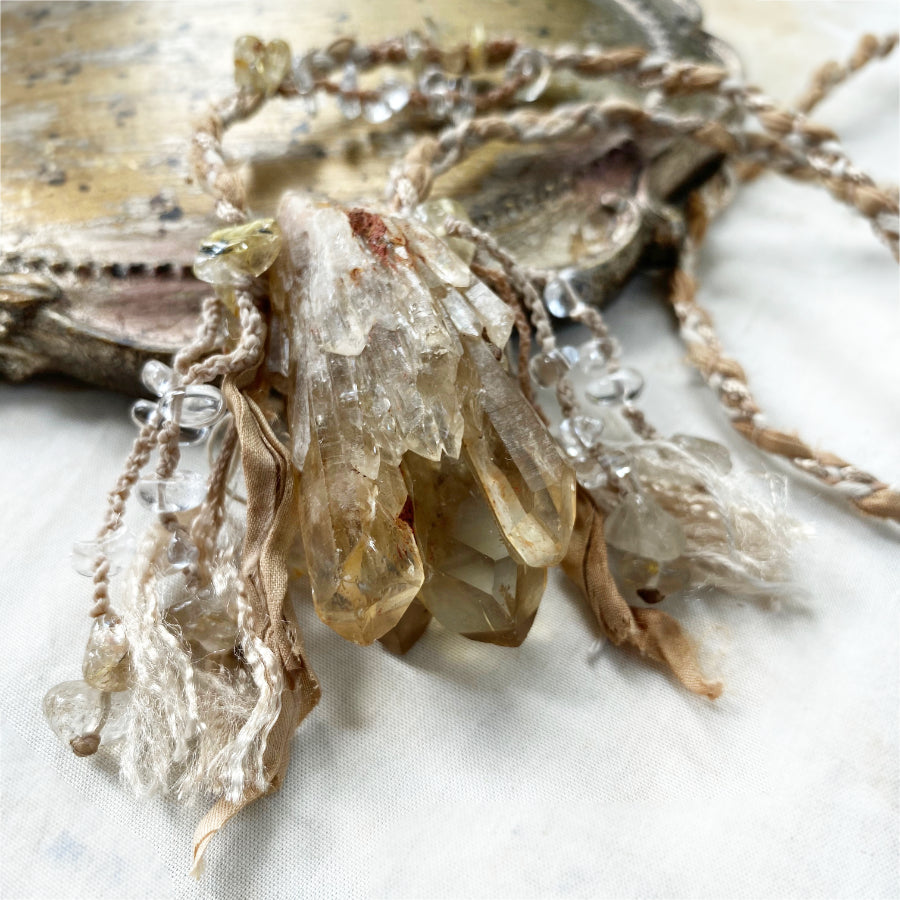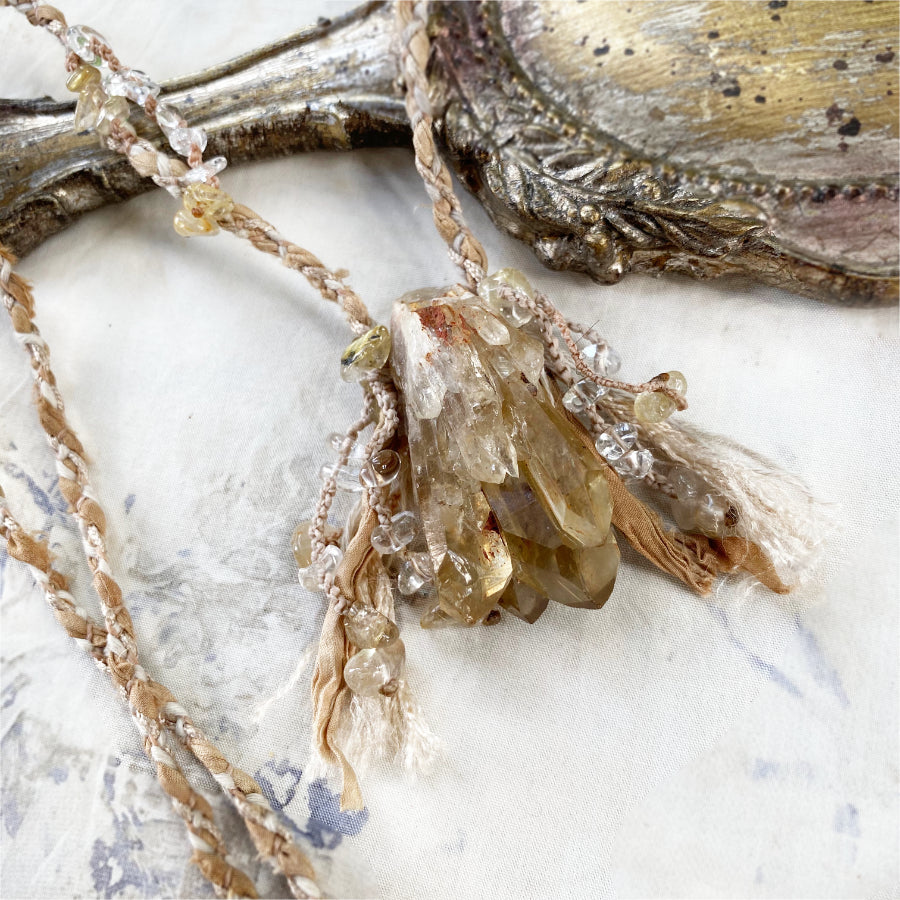 Citrine crystal healing amulet
DESCRIPTION
Stone talisman with natural Citrine from Congo, with beautiful deep honey tone - all natural and un-heated. This Citrine has cascade of points growing together and also several smaller points extending from its base, making the formation called 'abundance crystal'. Often it is also called 'kundalini Citrine'. The necklace is braided with soft cotton yarn, botanically eco-dyed recycled sari silk and satin sheen cord combined with beige micro-macrame cord for strength. The highlighting crystals are Gold Rutile Quartz and clear Quartz, hanging as tassels on both sides of the Citrine, as well as adorning one side of the necklace braid as a decorative detail. This necklace would also work well in "layering" together with other crystal amulets for an individual look.
The necklace braid is set length, just long enough to comfortably slip over your head without any need for a clasp, and the Citrine then hangs near solar plexus level. The all around measurement of the necklace braid is approx. 76 cm (30"). The Citrine is approx. 5.5 cm (2.2") tall and just over 2.5 cm (1") at its widest.

There are no metals used in this necklace so would be particularly suitable for those with sensitivities to metals.
You'll receive this crystal healing necklace in one of my handmade fabric draw-string pouches - great for the safe-keeping of the necklace. Gift-wrapped at no extra charge.

Read here how to take care of your crystal jewellery.
CRYSTAL PROPERTIES
CITRINE
Affects a powerful alignment with the higher self. Balances the emotions and helps in uplifting one's mood to be more sunny and cheerful. Brings clarity of thought, and attracts abundance and prosperity through joy. Powerful transformer in healing work. Increases self-confidence and optimism, cleanses the surrounding energies and promotes creative thinking. Releases, dissipates and transforms denser energies on all levels, mental, emotional and physical. Works to release limitations and blockages particularly around the sacral / solar plexus area.
GOLD RUTILE QUARTZ
A master assistant in self-discovery, a companion in finding one's inner truth, purpose and destiny. Joyful and energising. Thought to offer protection against psychic attacks and helps in opening up to one's Divine strength. Assists in activating one's creativity and manifesting dreams into reality.
CLEAR QUARTZ
The universal master crystal that has a harmonising effect on all levels of being. Programmable by intention, so can be used for versatile purposes. Quartz can clear, enhance, amplify, transmute, balance, focus and transmit energy. Raises one's energetic vibration. Brings clarity and filters out distractions. A deep soul cleanser, attuning its keeper to their higher self. Each Quartz crystal is unique with its own character and teachings it offers, all are known as "Stones of Power" and "Master Healers".
Recently Viewed