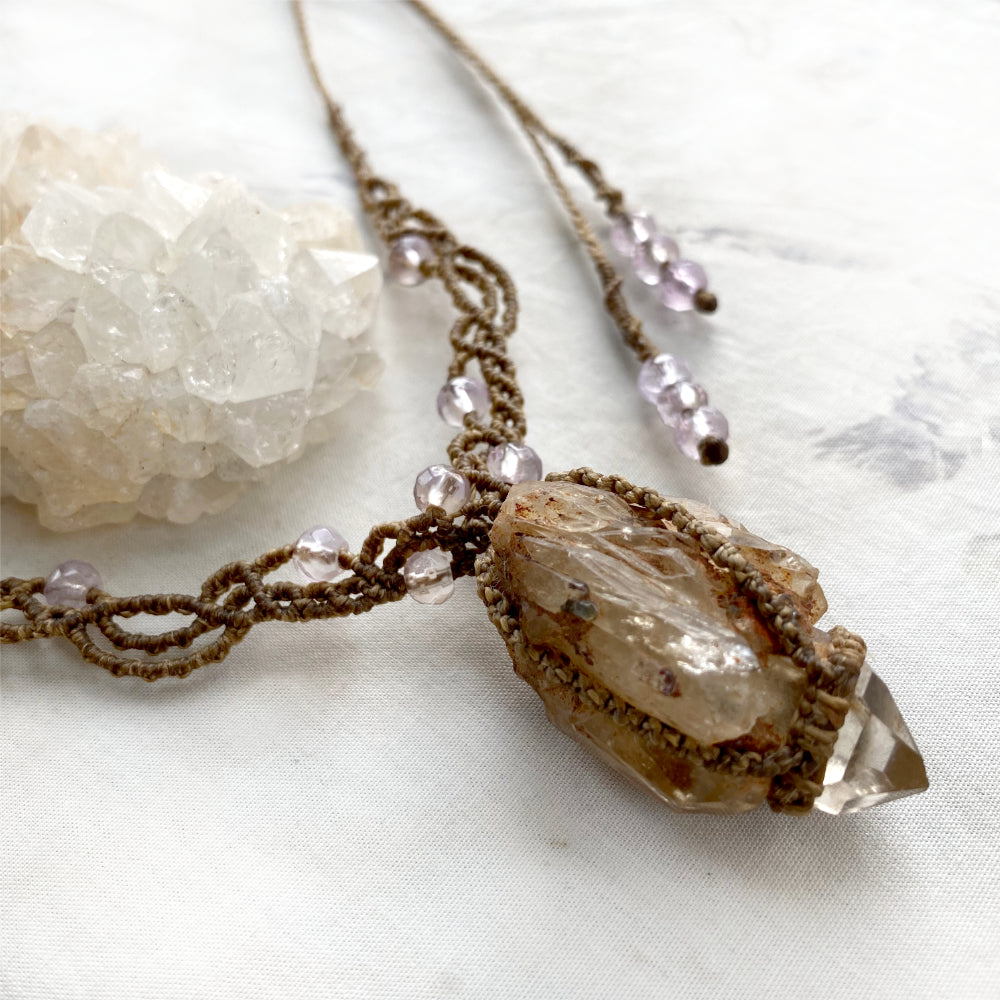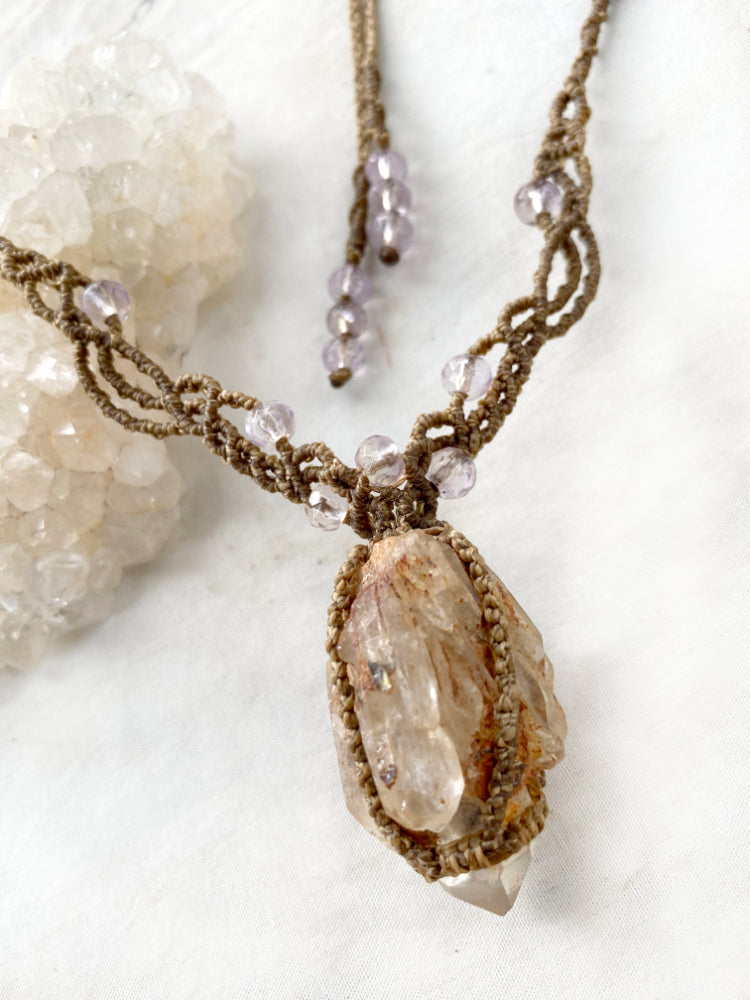 Citrine crystal healing amulet
DESCRIPTION
Lovely natural Citrine crystal point from Congo, with subtle, close to smokey tone - all natural and un-heated. This Citrine also shows 'abundance' formation, meaning there are more than nine small crystal points growing alongside the main point. This Citrine is not drilled but instead encased with the knotting cord to keep it firmly in place. The knotting with thin brown micro-macrame cord then integrally extends to form the lace-like patterning, highlighted with small faceted Amethyst crystals, which also adorn the ends of the adjustable length necklace cords. This is a stylish, luxurious amulet that would not look out of place even if worn with more formal evening dress.
The necklace length is adjustable from as short as you wish down to just above the solar plexus level. The Citrine measures just over 3.5 cm (1.4") tall and approx. 2 cm (0.8") at its widest.
You'll receive this crystal healing necklace in one of my handmade fabric draw-string pouches - great for the safe-keeping of the necklace. Gift-wrapped at no extra charge. 

Read here how to take care of your crystal jewellery.
CRYSTAL PROPERTIES
CITRINE
Affects a powerful alignment with the higher self. Balances the emotions and helps in uplifting one's mood to be more sunny and cheerful. Brings clarity of thought, and attracts abundance and prosperity through joy. Powerful transformer in healing work. Increases self-confidence and optimism, cleanses the surrounding energies and promotes creative thinking. Releases, dissipates and transforms denser energies on all levels, mental, emotional and physical. Works to release limitations and blockages particularly around the sacral / solar plexus area.
AMETHYST
Instils inner peace, promotes self-discovery and aids in relaxation. Associated with the crown chakra, known as a "stone of balance" and positive transformation. Thought to increase spiritual awareness and psychic abilities, initiating higher knowing and greater understanding. Helps in assimilating new ideas and manifesting thoughts into action. Symbolises a connection to the Divine. A well-known support stone for those wanting to break old patterns to create a new, harmonious life.
Recently Viewed