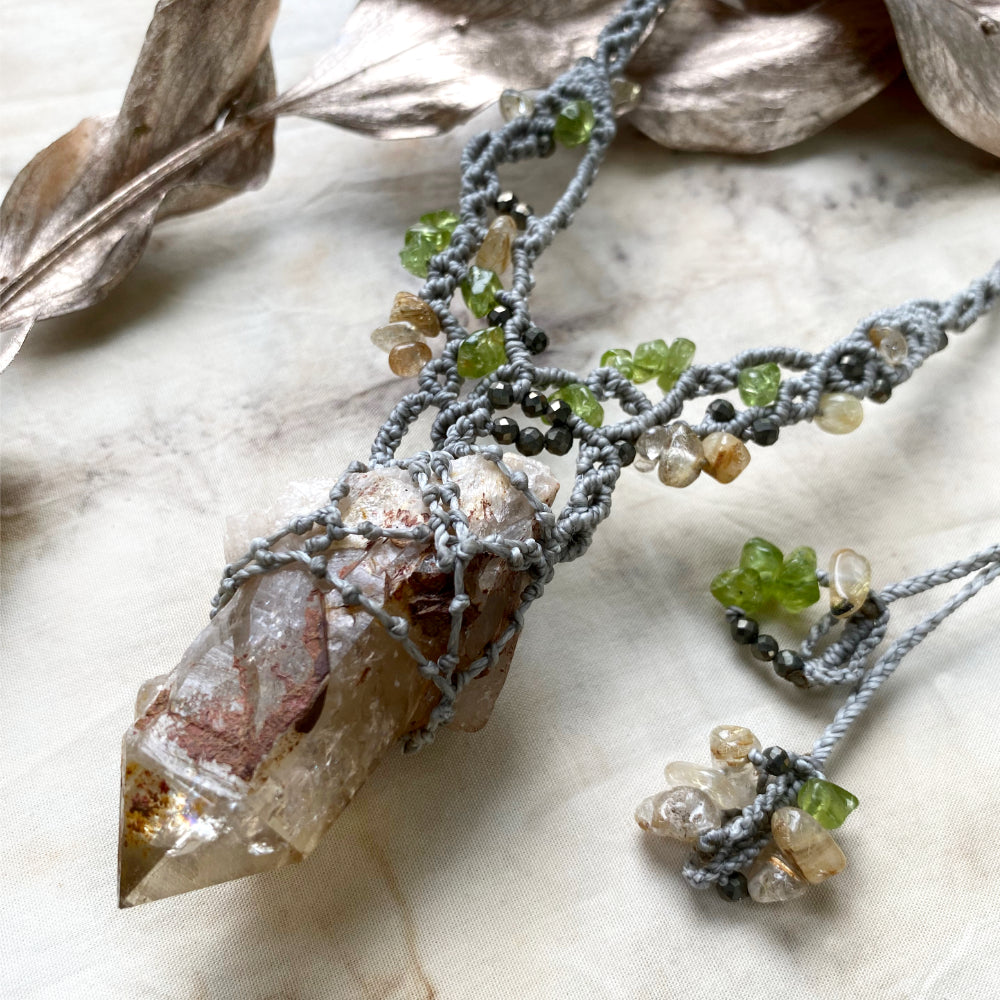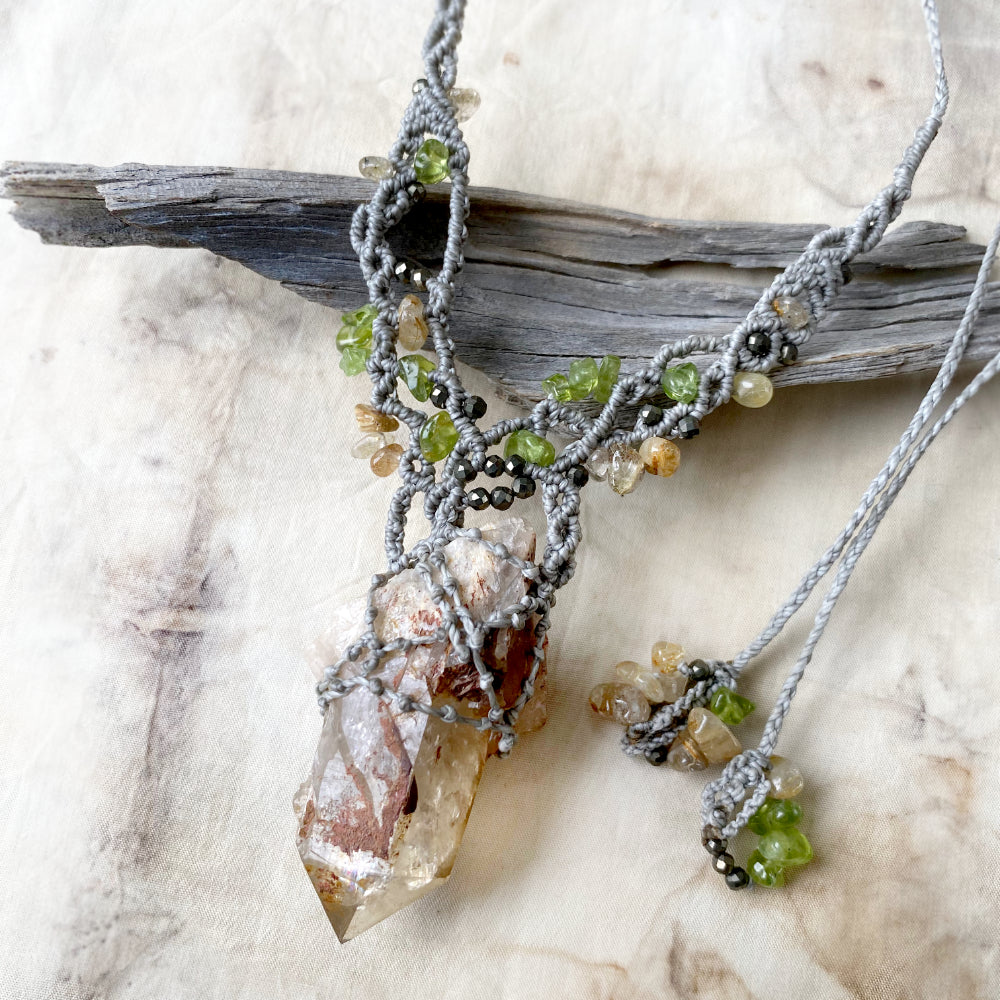 Citrine crystal healing amulet with Pyrite, Peridot & Gold Rutile Quartz
DESCRIPTION
Eye-catching natural Citrine crystal point from Congo, with subtle, close to smokey tone - all natural and un-heated, showing lovely rainbows within as well as iron inclusions on its surface too, so characteristic to these special Citrines. The intricate knotting with grey micro-macrame cord forms the purposefully asymmetrical lace-like patterning in the necklace part, highlighted with small Peridot, Gold Rutile Quartz and faceted Pyrite crystals, which also adorn the ends of the adjustable length necklace cords. This is a large, luxurious amulet that would draw attention with both casual or more formal attire.
The necklace length is adjustable from as short as you wish down to solar plexus level. The Citrine measures approx. 6 cm (2.4") tall and just over 3 cm (1.2") at its widest.
You'll receive this crystal healing necklace in one of Spirit Carrier's handmade fabric draw-string pouches - great for the safe-keeping of the necklace. Gift-wrapped at no extra charge. 

Read here how to take care of your crystal jewellery.
CRYSTAL PROPERTIES
CITRINE
Affects a powerful alignment with the higher self. Balances the emotions and helps in uplifting one's mood to be more sunny and cheerful. Brings clarity of thought, and attracts abundance and prosperity through joy. Powerful transformer in healing work. Increases self-confidence and optimism, cleanses the surrounding energies and promotes creative thinking. Releases, dissipates and transforms denser energies on all levels, mental, emotional and physical. Works to release limitations and blockages particularly around the sacral / solar plexus area.
PYRITE
Taps into your innate abilities, bringing confidence and perseverance to aim for your goals. A shielding stone that helps you see the truth in the motives of others. Increases vitality and enhances your assertive qualities. Helpful in turning melancholy into feeling empowered and more light-hearted. Helps in letting go thoughts of misfortune and worry, thus making it an excellent stone for manifesting abundance. Symbolises the warmth and presence of sun, attracting also abundance of love, friendship and success. Also excellent stone against electromagnetic fog.
PERIDOT
Upbeat and comforting, Peridot reduces stress and amplifies intuitive awareness. Soothes hurt feelings, supporting renewal and personal growth. Brings in-depth heart based awareness, extending from healing to understanding and offering protection against negative emotions. Known also as the stone of prosperity and happiness. 
GOLD RUTILE QUARTZ
A master assistant in self-discovery, a companion in finding one's inner truth, purpose and destiny. Joyful and energising. Thought to offer protection against psychic attacks and helps in opening up to one's Divine strength. Assists in activating one's creativity and manifesting dreams into reality.
Recently Viewed