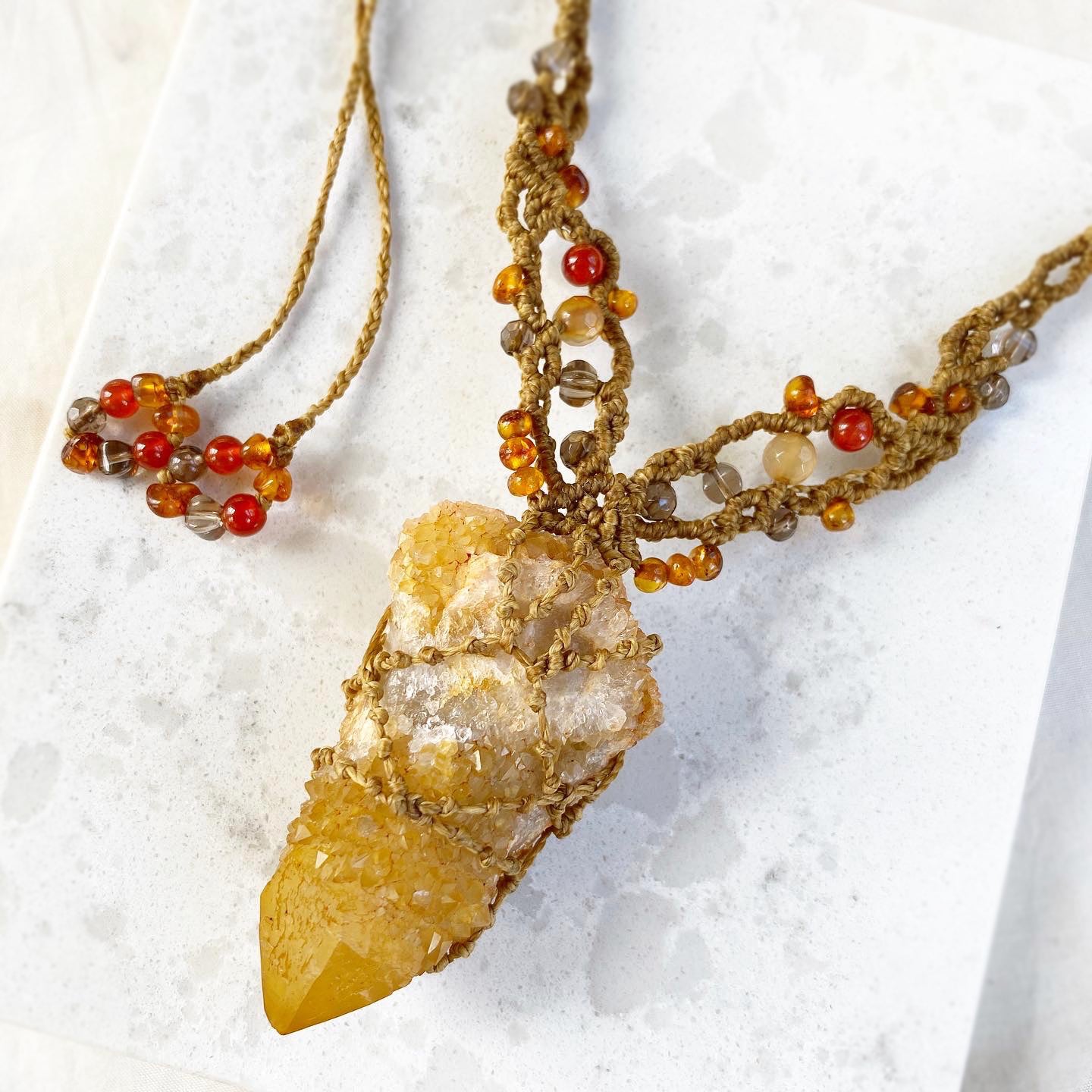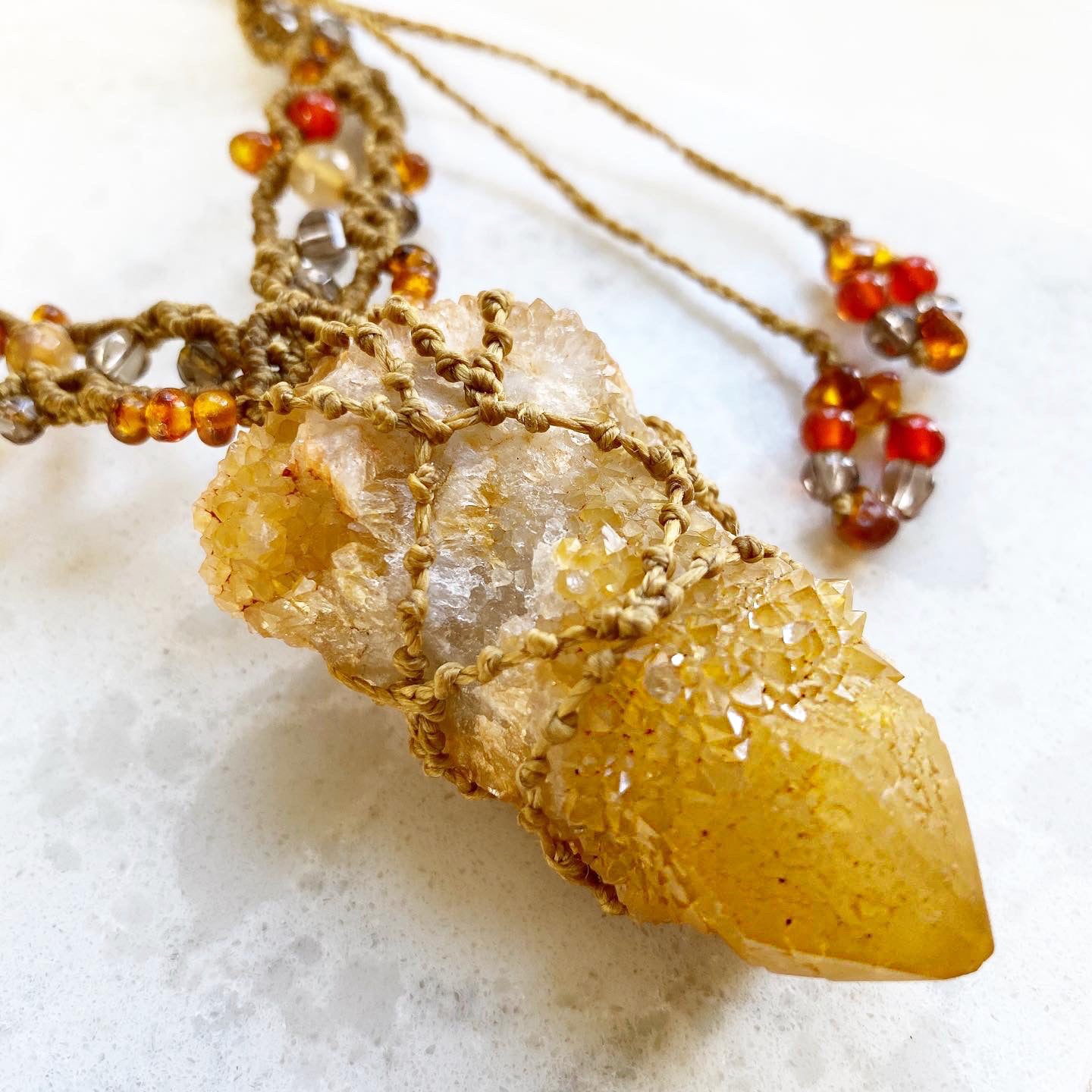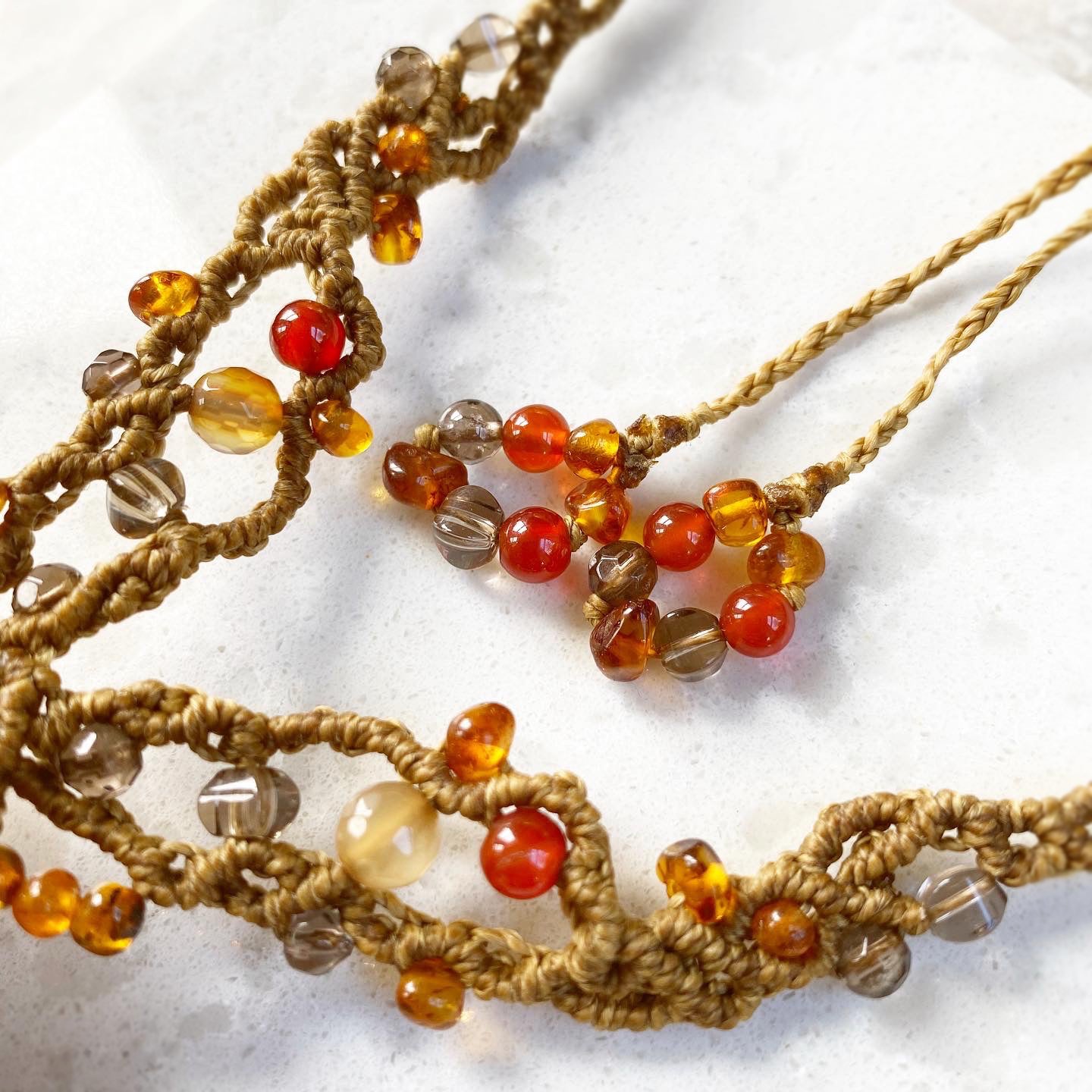 'Citrine Spirit Quartz' crystal healing amulet
DESCRIPTION
Crystal healing amulet with an un-drilled  Spirit Quartz point, highlighted with Amber, Smokey Quartz and Carnelian crystals. This uplifting, bright amulet is knotted with golden brown micro-macrame cord, strong and durable yet comfortable to wear. This yellow variety of Spirit Quartz is most often referred to as 'Citrine Spirit Quartz' or 'Golden Healer Spirit Quartz' with its natural coating of Limonite that gives this crystal its yellow hue.
The length of the necklace is adjustable from very short down to solar plexus level. The Spirit Quartz is approx. 6 cm (2.4") tall and approx. 2.5 cm (1") wide at its middle.
There are no metals in this necklace so would be particularly suitable for those with metal sensitivities, energy workers and those who simply prefer not to wear metal.
You'll receive this crystal healing necklace in one of Spirit Carrier's fabric draw-string pouches, great for the safe-keeping of the necklace. Gift-wrapped at no extra charge.

Read here how to take care of your crystal jewellery.
CRYSTAL PROPERTIES
SPIRIT QUARTZ
Only found in South Africa. Radiates a very high, strong vibration with its many tiny crystals that grow on a central stone - all working together in harmony. Helps in releasing peacefully the old from your life that no longer benefits you, whilst creating emotional balance with a view to the future. A wonderful stone to aid spiritual growth and to support your life's work. The yellow variety of Spirit Quartz is particularly empowering, providing focus and direction in life. It enhances willpower, aligning personal will with the Divine Will. Increases energy, vitality and enthusiasm in life. Supports sense of self-worth and contentment. Attracts success and helps in manifesting true abundance while releasing unhelpful material attachments.
AMBER
Amber is like sunshine solidified, offering a wonderful sense of health and wellbeing. Transmutes negative energies into positive, excellent for psychic protection. Cheers you up and helps you take action to make your ideas reality - ideal manifestation aid. Cleansing effect on the body, mind and spirit, promoting self-confidence and creative self-expression. Encourages spontaneity, patience and inner wisdom.
SMOKEY QUARTZ
A grounding and calming stone that elevates moods and dissipates negative emotions. "A Stone of Serenity", it is comforting and protective for one's aura. Smokey Quartz is thought to assist in creative endeavours and also in setting personal boundaries. Offers protection against electromagnetic rays. A good healing stone for improving general feeling of well-being. Relieves anxiety and worry, wards off confusion. Shielding crystal to create a calm, safe environment.
CARNELIAN
Known as a stone of motivation and courage. Stimulates creativity and increases one's sense of self-worth. Balancing for body's energy levels, restoring vitality and motivation. Said to attract prosperity, new resources and good luck. A success stone that helps you follow through with plans. Stone of action that aids in overcoming procrastination. Helps in gaining more understanding of one's inner self. Stimulating to the Sacral Chakra, which, when in balance, allows one to enjoy life, feel its joys and pleasures, be flexible and 'go with the flow'.
Recently Viewed