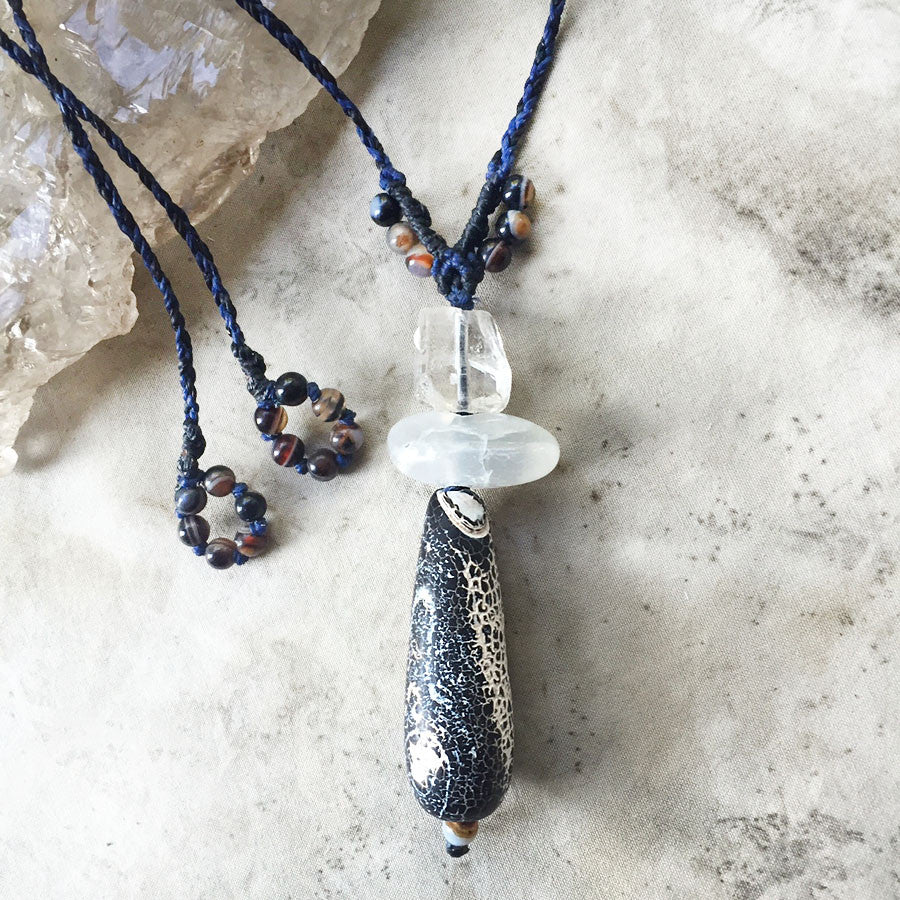 'Clear Knowing' ~ crystal healing amulet with Agate & Topaz
DESCRIPTION
Crystal healing necklace combining the energy of clear Topaz and Agate (included are weathered, white and banded Agates). The necklace is braided with a combination of midnight blue and black micro-macrame cords, and highlighted with small banded Agate crystals.
The length of the necklace is adjustable from very short down to solar plexus level. The combined height of the Topaz/Agate pendant is approx. 6.5 cm (2.5") tall.
There are no metals in this necklace so would be particularly suitable for those with metal sensitivities / metal allergy, energy workers and those who simply prefer not to wear metal jewellery.
You'll receive this crystal healing necklace in one of my fabric draw-string pouches, great for the safe-keeping of the necklace. Gift-wrapped at no extra charge.
CRYSTAL PROPERTIES
AGATE
The oldest good luck amulet. In ancient times Persian magicians were, according to legend, diverting storms with the powers of Agate. Considered a protective stone (especially for travel), said to shield its keeper against dangers. Increases inner stability, enhances personal courage and fosters self-confidence. Grounding and soothing. Balancing stone for one's yin-yang energies.
TOPAZ
Stone of success and good fortune. Aligns and recharges body's meridians. In ancient legends, Topaz was said to make its wearer invisible if needed at times of emergency. Clear Topaz aids in spiritual development and in clarifying one's life purpose. With the strong magnification energy of Topaz, you may reach your heart's goals and desired manifestations faster. Increases energy and vitality. Increases cosmic awareness by activating the crown and the soul star chakras.
Recently Viewed